A commission is a sculpture created by request, and can be of a particular person or pet, or a composition designed for a place in a garden, home or office, or for a special occasion.
Subject, size and location
On contacting the artist Subject, Size and Location can be discussed, after which you'll receive a quotation. In the case of larger comissions, the client may wish to request one or several clay or wax, three dimensional maquettes to show the artist's ideas. 
A Dog  (or other animal) commission
When taking a commission such as a family dog the artist will come and visit, to see and get to know the dog. If this is not possible, or if the pet has passed on, then photos will be used. In both cases you will be invited to show the artist photos of poses that particularly characterise(d) your dog. In the case of a visit, the artist will watch the dog, talk to you about their character and mannerisms, take photos and measurements, then discuss a pose with you that captures him or her, and confirm the size of the sculpture. The artist will begin by build an armature in her studio, and then modelling in clay or wax. When possible, sometimes a second sitting at my studio with the sculpture and the dog together can be helpful, particularly when the artist would like further inspiration, but it is not always necessary. 
Timing
Depending on the size of the commission, the process from start to finish is likely to take from 6 – 12 months. Where possible, I will work to a specific date if you have one, smaller pieces particularly may be easier to fit to a tighter timeline. The lead time for starting will depend on the time of year and what other work I have, so this would be discussed.
Pricing
Prices include VAT at 20% (sales tax), but do not include delivery or installation. If you are buying from outside the EU you do not have to pay sales tax, but your country's customs duty will apply.
You will need to make a decision about whether the sculpture will be in Foundry Bronze or Bronze Resin. Information follows about the two different materials and their pricing. Prices below are approximate, as the size of the dog (or animal), the length of its fur and its pose all affect commission estimates. The rarity of the breed or animal, and how close a dog is to the breed standard may also alter the quoted price of the commission.
 Approximate Price Guide
LIFE SIZE – SIZE TO SHOULDER
BRONZE RESIN
FOUNDRY BRONZE
Small dog: Approx. to shoulder 250mm (ed. 25)
(£2,900 – £3,480)
(£4,450 – £5,340)
Medium dog: Approx. to shoulder 350mm (ed. 25)
(£3,750 – £4,500)
(£6,450 – £7,740)
Large dog: Approx. to shoulder 550mm (ed. 25)
(£5,100 – £6,120)
(£9,500 – £11,400)
Extra large: Approx. 700mm (ed. 25)
(£6,200 – £7,440)
(£11,600 – £13,920)
SMALLER – TOTAL HEIGHT OR LENGTH
depending on pose, whichever is the greater
Total height or length of sculpture 300mm (ed. 25)
(£2,850 – £3,420)
(£4,300 – £5,160)
Total height or length of sculpture 300mm (ed. 50)
(£2,200 – £2,640)
(£3,850 – £4,620)
Total height or length of sculpture 180mm (open edition) – only possible if popular dog and breed standard.
(£1,900 – £2,280)
(£2,150 – £2,580)
PLEASE DO READ:
Where you'd like a commission of your pet, travel to sittings (where I take their photos and measurements) may cost extra, depending on your location.
The prices above do not include delivery of final sculpture. I can estimate these if you tell me your location.
All Commissions permit the artist to make an edition of 25 (or an open edition where stated) of the sculpture for sale. The subsequent copies will vary in price. For example, you may see the sculpture being sold at a lower price because later buyers are not buying a bespoke sculpture or dedicated time spent sculpting. Unique sculptures (edition of 1) would be approximately 4 times the price estimated above.
Usual Payment Schedule: 50% on commissioning, 50% on approval of the clay models.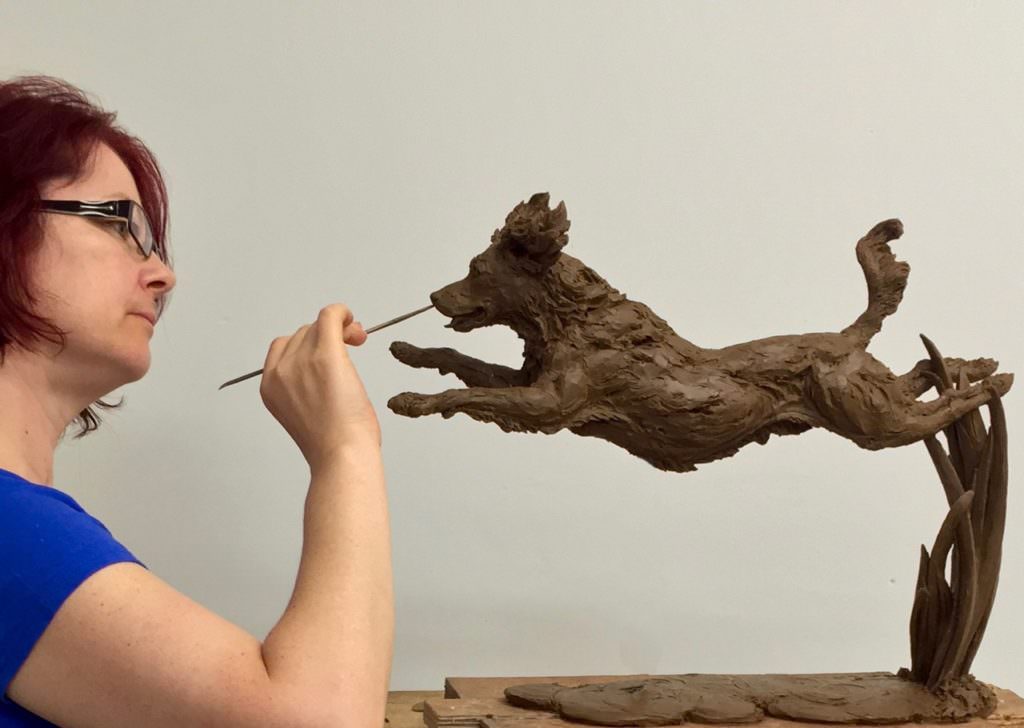 The difference between Foundry Bronze and Cold Cast Bronze
Foundry bronze is the traditional method of bronze casting, using the lost wax process – used by sculptors in ancient Greece. The bronze is melted at extremely high temperatures and then poured into a ceramic mould.
The lost wax method of casting is a highly skilled, complex, time-consuming and labour intensive process. This, combined with the innate value of the bronze (which is made from copper and tin), gives rise to the comparatively high price of a bronze sculpture.
Foundry Bronze sculpture lasts indefinitely and is considered an investment, considered by many to be the premier and most authentic sculptural material. It is much harder to repair than cold cast bronze if it is damaged, but damage is much less likely due to its strength and durability.
Bronze Resin sculpture also known as "cold cast bronze" or bonded bronze, is made of real bronze powder, mixed with polyester, epoxy or another resin and poured into a rubber reusable mould. This is backed up with very strong fiberglass and resin. Because real bronze powder is used over its surface, cold cast bronze can be colored or patinated (a chemical reaction with the metals in bronze) to look very similar to Foundry Bronze.
Other powders other than bronze may be mixed into the polyester or painted onto the surface to enable the resin to achieve the appearance of different materials, such as iron, copper or stone. Casting a cold cast sculpture is faster and less expensive than casting bronze. It is also much lighter and is still relatively strong, as it can be reinforced with an internal steel structure.
Cold cast bronze can last outside for over 35 years, and most last between 50 to 100 years. Depending on the shape some cracking may occur over time, if water pools constantly in one area,  some cracking may occur over time, particularly along seam lines if water sits and then freezes.
Indoors bronze resin treated with care can last indefinitely. It is more fragile than foundry bronze and knocking or dropping can break or crack vulnerable parts of the sculpture. However, it is also quite easily repaired and is a fantastic bronze substitute. It's generally very durable and much more affordable, normally approximately half the cost of Foundry Bronze.