The Leaping Spaniel sculpture by Tanya Russell, ARBS. Limited edition, from the 'Affection' range. Handmade in England. Available either with an undocked tail, or with a docked tail.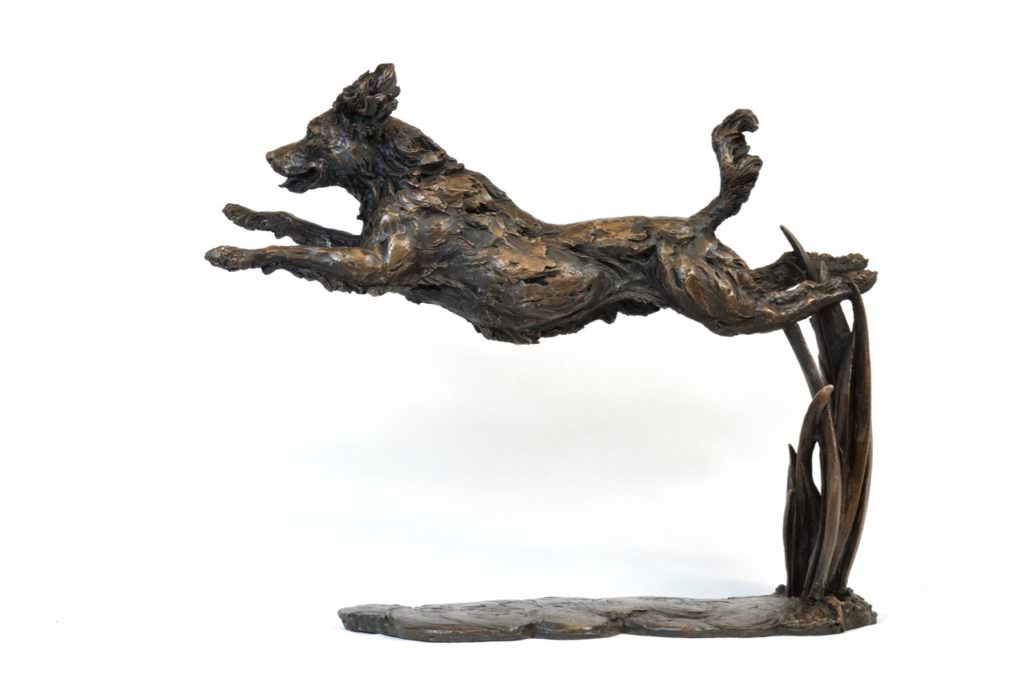 Material: either Bronze Resin or Foundry Bronze
Size: H:400 W:500 D:140 mm, H:15 3/4 W:19 11/16 D:5 1/2 inches
Bronze Resin Weight: 4kg, 8.8lb
Bronze Resin Price £640
Foundry Bronze Price £1,890
(Excludes delivery)
To purchase this Leaping Spaniel sculpture please contact the artist. As this artwork is handmade colour can vary slightly.
Materials explained
Bronze Resin (known as Cold Cast Bronze) is made from a polyester epoxy resin blended with bronze powder for colouring.  The final product may be painted in a bronze powder paint.
Foundry Bronze is made from molten metal using the lost wax method. Bronze metal is a blend of copper and tin along with other metals to give different characteristics to the final product.
Both forms begin as a clay or wax sculpture, from which a mould is taken, but Foundry Bronze casting is a costly and time-consuming process. Cold Casting allows for faster production and a more affordable sculpture.
The intention behind the Leaping Spaniel sculpture
This sculpture was modelled on Bracken. Bracken belongs to our moulder and casters Robert and Heather at Carter Technical Mouldings and I sculpted him because there had been a great deal of interest in the sitting Cocker Spaniel at Chelsea. I visited Bracken and took lots of photographs of him in a variety of poses, watching his expressions and mannerisms, and hearing about the way he behaves at home with his family. Then I began to model Bracken in modelling wax.
Once I'd sculpted Bracken a rubber mould was taken, with 'keys' placed in the rubber to ensure proper positioning. Then a shell of fibreglass was applied, to protect the mould and support it during the casting process.
The first Bracken I sold was in Foundry Bronze and was cast at Art of a Fine Nature foundry in Surrey, using the lost wax method. This involves painting wax into the mould and rotating it to achieve an even coating. The wax is inspected and worked (or 'chased') until the seam lines are removed and the artwork is ready to be cast in bronze metal. Wax rods ('sprues') are attached along with a cup, into which the molten bronze will eventually be poured.
The wax will then be covered with a ceramic shell by dipping it into a liquid binder solution (called 'slurry) and applying a fine silica sand. Several coats are applied and allowed to dry between coatings. The shell is then placed in an oven and the wax melts out. The hollow shell is now inspected for cracking.
Bronze ingots are now heated to a high temperature, then the molten bronze is poured into the hollow ceramic shell and allowed to cool and solidify. The ceramic shell is removed (or 'devested'), and sometimes a water or sand blaster will be used to remove shell from any intricate detailing.
Usually larger sculptures will have been sectioned into multiple pieces. These are now carefully reassembled and welded together. Care is taken to align them correctly and repair any surface defects. The sculpture is then polished to remove any sign of welding and prepare the bronze for colouring.
The finished colour (the 'patina') is created using a variety of different chemicals, depending on how I want the finished artwork to look. Finally, the sculpture is sealed with wax or lacquer to protect the finish.