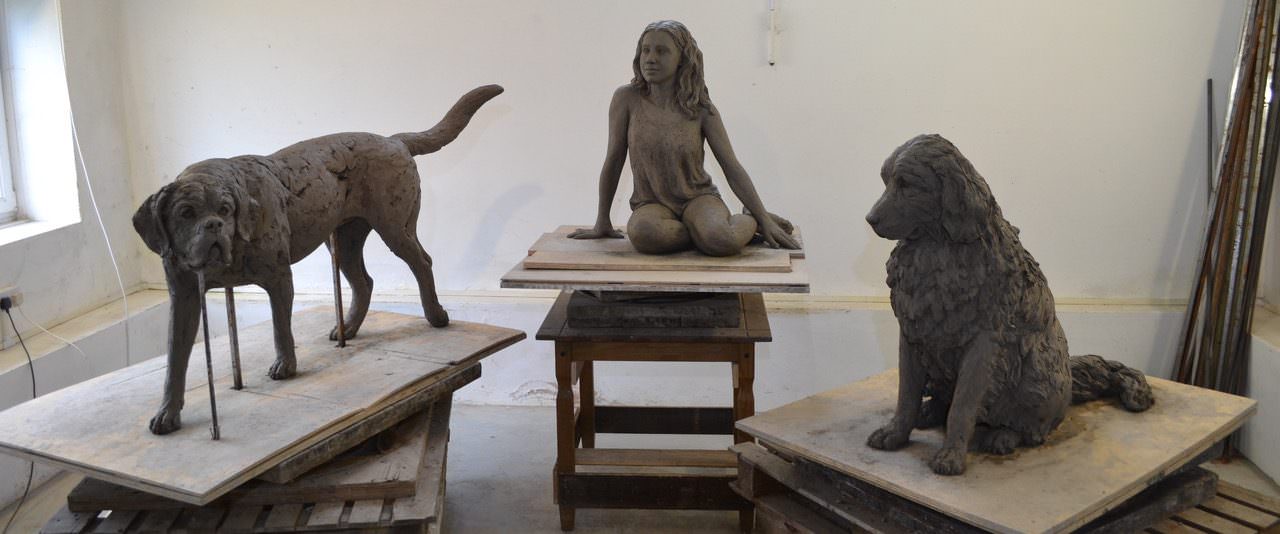 Sometimes a wonderful commission comes along that involves a more challenging scale or composition. Last year, after showing my sculpture at Chelsea Flower Show, I took a commission for a life-sized Newfoundland, St Bernard and Girl. The girl will be seated on a stone bench at the end of the lawn with the two dogs in pleasant company beside her. Together, each in foundry bronze, they should make a stunning focal point in the garden.
Kirsty (the girl), Monty (the newfoundland) and Ella (the St Bernard cross), made a beautiful three. Monty was a staturesque and gentle dog, while Ella was shy of the camera, but very warm and friendly. The first step was going to meet them all, and taking some initial photos and measurements. Next, I created a maquette, to try to convey the composition. Monty sat quiet and watchful by Kirsty's side. Ella pacing around them. I wanted a more modern look to Kirsty in her clothing and pose. She has her legs tucked under her to one side, looking at ease and comfortable with her two companions. And she wears a strappy top and short shorts. Here is the maquette that I made. It's in wax, which is better than clay for smaller, detailed work, because it doesn't dry out the way that clay does.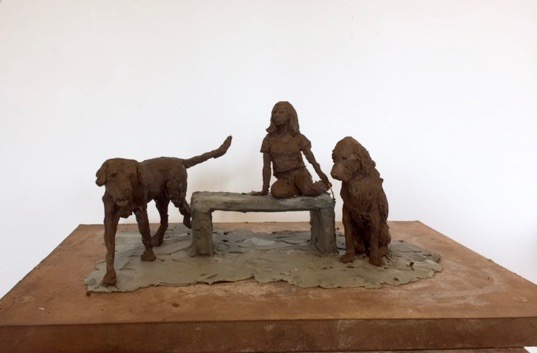 When I make a maquette, I'm not trying to make a comprehensive miniature. I'm just trying to convey the sense of the sculpture. For me, it's also important for creating the full-sized work that I spend my creative energy sculpting something wonderful, and not trying (and failing) to copy a miniature.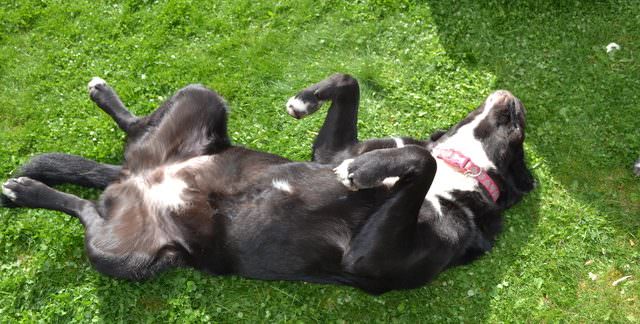 After the client confirmed that they were happy with the concept for the Newfoundland, St Bernard and Girl, I returned to my studio. There I worked out a design for a steel backirons, (the steel reinforcements that holds the weight of the clay). Charles welded them for me, then I attached a frame of wire mesh, bulked out with polysterene. This also supports the clay, but also prevents the need for too much of it. Clay is very heavy, and can't be too thick if yoo are to prevent it falling off the armature.
Here you can see how the walking St Bernard sculpture is formed with steel support, and a supplementary aluminium support. Jubilee clips hold the aluminim to the steel frame. The aluminium is left long in areas, like the tail and legs. That's because once it's clipped, it's much harder to make the limb longer again. If you look closely, you can see a coil of wire around each leg and the tail too. This creates a better hold on the clay than the smooth metal would. Aluminium is a lovely, soft metal that can be moved around by hand quite easily. But the thicker stuff is still quite strong, and will bear a reasonable amount of weight. The next step is to apply the clay, which is done by hand, using wood bats to push it into the chicken wire. It's a fairly exhausting process, especially for a commission as big as the Newfoundland, St Bernard and Girl. Luckily Charles helped me, get it on and bashed firm. Then he helped me roughly shape the sculptures out.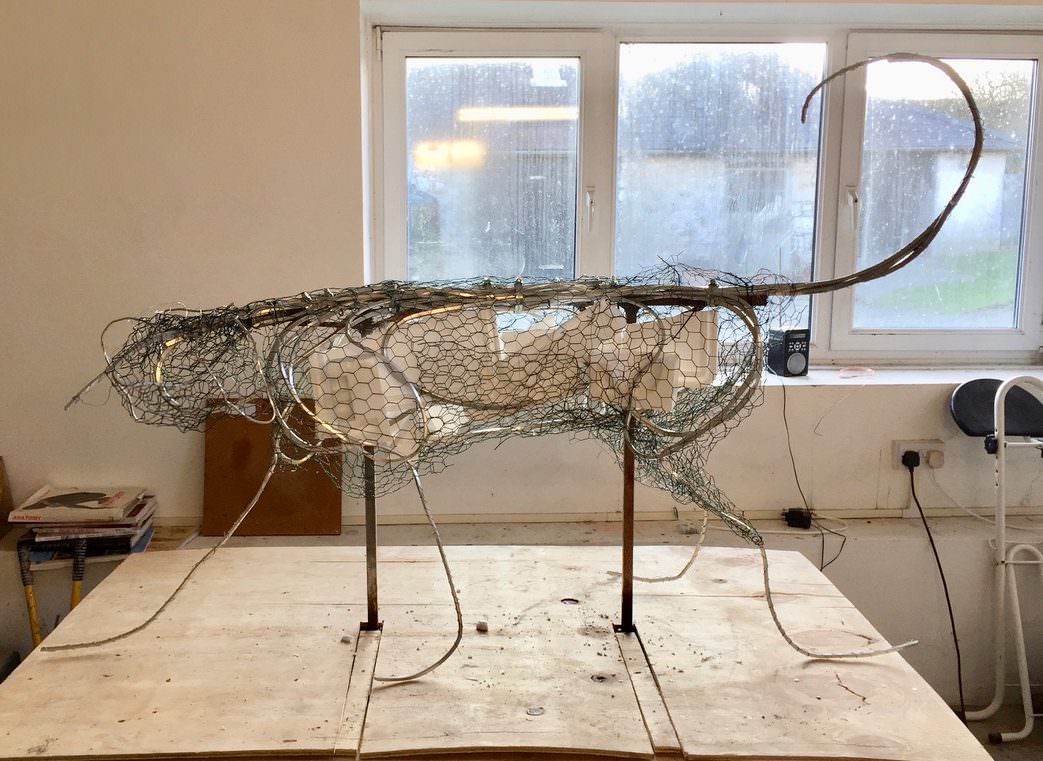 Together the two dog sculptures and the girl took roughly 300kg of clay (or around 660lbs). That's almost a third of a tonne!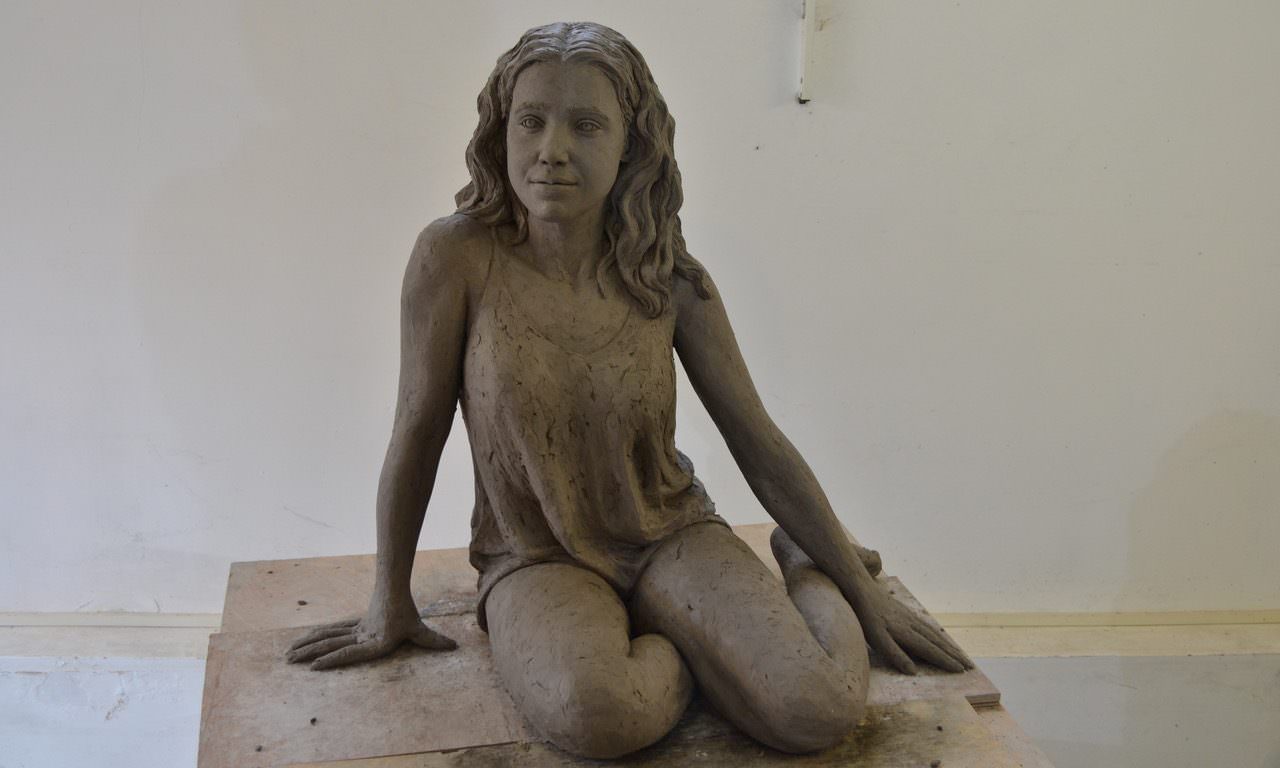 And here's Kirsty, nearly done. She was really challenging! There was something enigmatic about the slight tilt of her head, and her expression. It was very difficult to capture, and she took about the same amount of time as the Monty and Ella combined!
I'll make sure that you get to see the three pieces all cast in foundry bronze. The Newfoundland, St Bernard and Girl sculpture will be my biggest commissioned set so far. It's actually part of the reason why I had to move house! Needing a studio space big enough to sculpt the three of them together really sped things up. They should alll be done after May, and I'm hoping that they'll look beautiful together once they're in place in the client's garden. It will be a lovely opportunity to see Kirsty, Monty and Ella again. That, for me, is the most fun part of the whole job!