Public Commissions – by Tanya Russell and Lorne McKean
Together, Tanya Russell and her mother Lorne McKean have a combined 90 years of experience creating public and private sculpture commissions.
Whenever possible, they work together on the largest public commissions.
Contact us about your public commission
As a team, we bring expertise at every stage, from design to installation. We have found it invaluable to have more than one creative mind to look at the brief from different angles, to come up with a variety of ideas and to ensure that every step of the process is considered and cared for.

We always work very specifically to the site and the client's brief. With our experience and many connections we can create public artworks in very different styles and materials. Get in touch and we will help you with yours.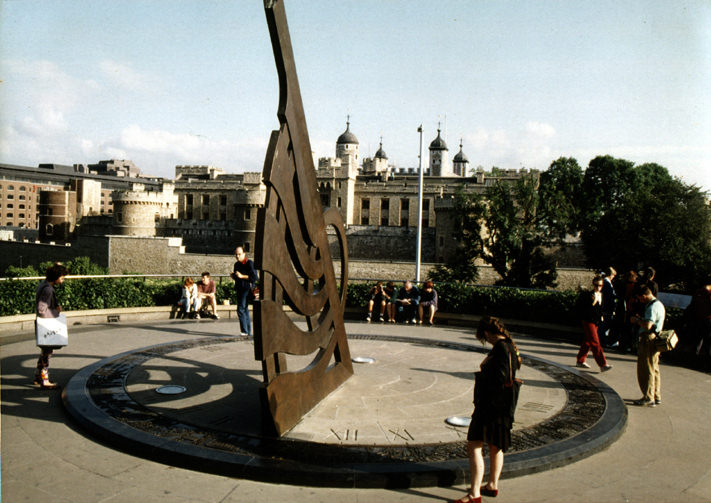 History of London Transport
On top of Tower Hill underground station.
8 ½ metres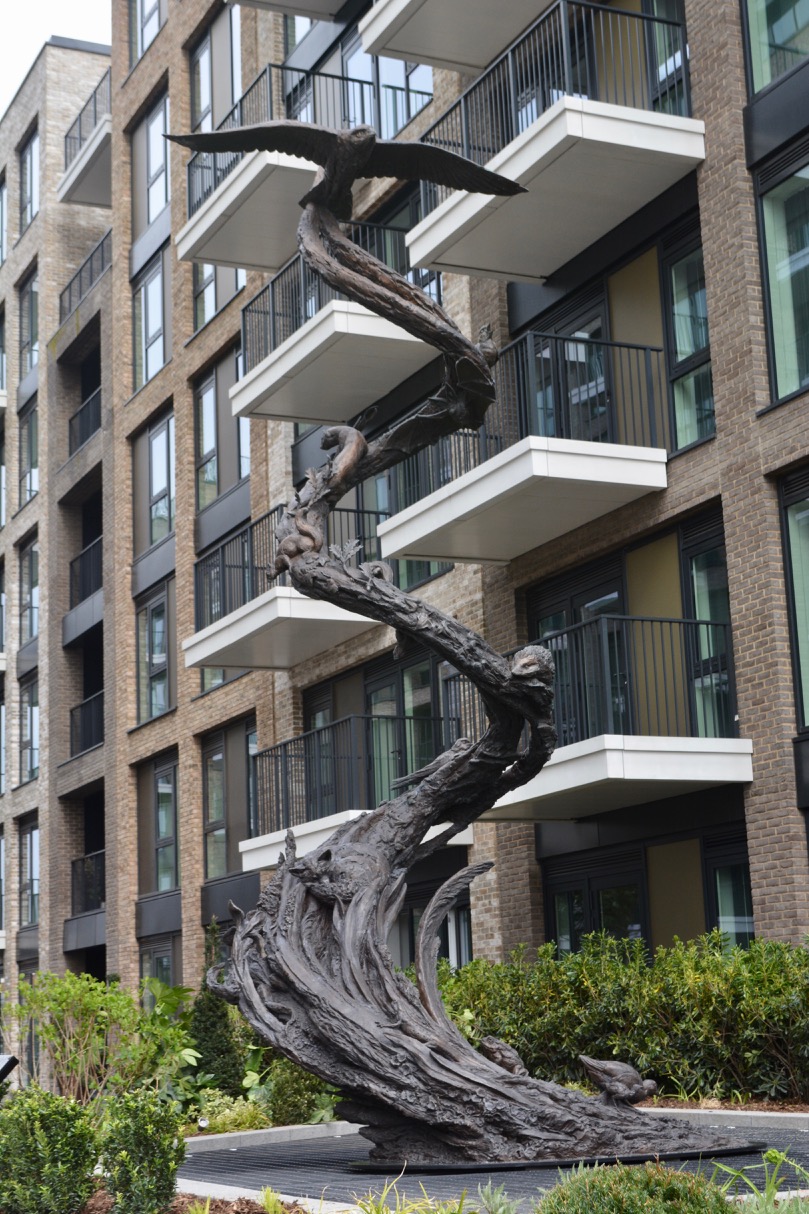 Space for Nature Spiral
UK – London, Fulham
2023
6 metres (16 1/2 feet)
Commissioned by UK developer St George Ltd for their luxury residential complex Chelsea Creek, beside the River Thames in London. 
This large spiral statue symbolises life and growth in an urban environment. Representing the revival of wildlife in London through sympathetic development, Space for Nature is covered in local plants and animals that can be found in Fulham and are being encouraged by St George in Chelsea Creek. The sculpture references all the work that has gone into restoring habitats in the 70 years since the Thames was declared ecologically dead. It depicts St George's work at Chelsea Creek, clearing and restoring the canals, and introducing new waterways to the site of the old gasworks and its service basin.
St George City Ltd is a subsidiary of Berkeley Homes.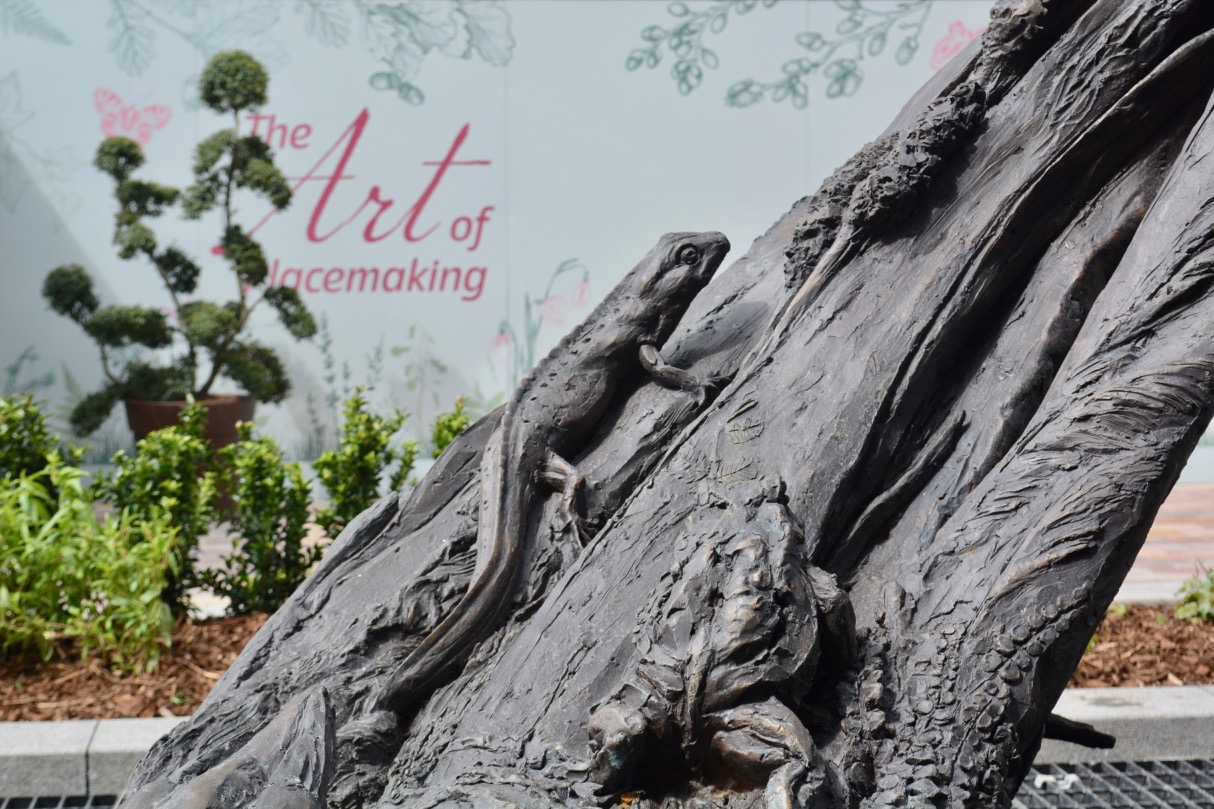 Your Concept
We will work closely will you or your team to develop a concept that satisfies your objectives.  The first step will be the presentation of several different visions for your sculpture, to stimulate discussion and focus on a single preferred concept. 
We have several ways of bringing this 'to life' through smaller wax or clay models, or where appropriate, full-sized cardboard models. This second step allows further conceptual revisions so that we can ensure you like your finished sculpture.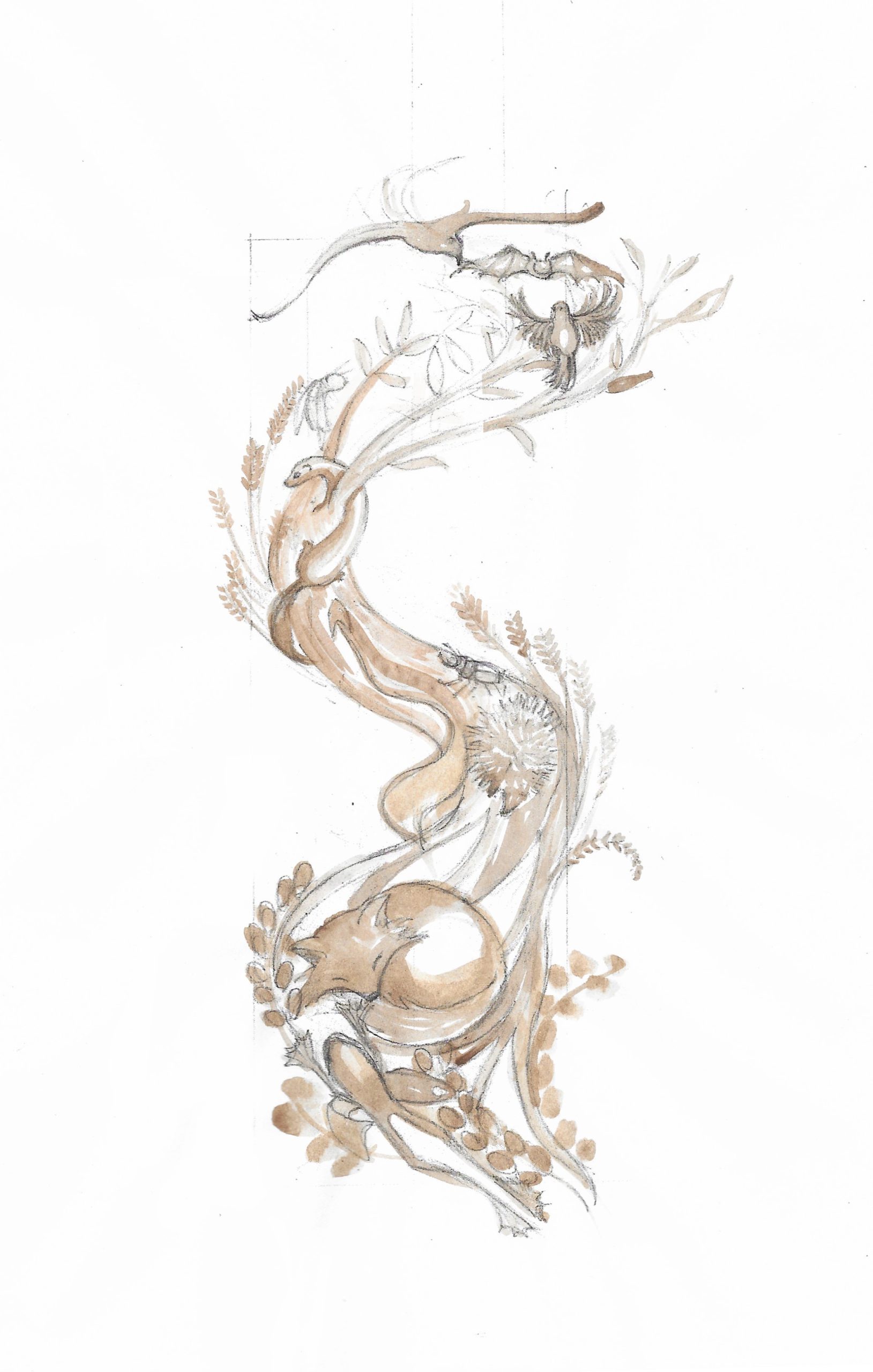 Left and Below: models for site-specific sculptures in London
'Space for Nature Spiral' & 'Hermit Crab' concepts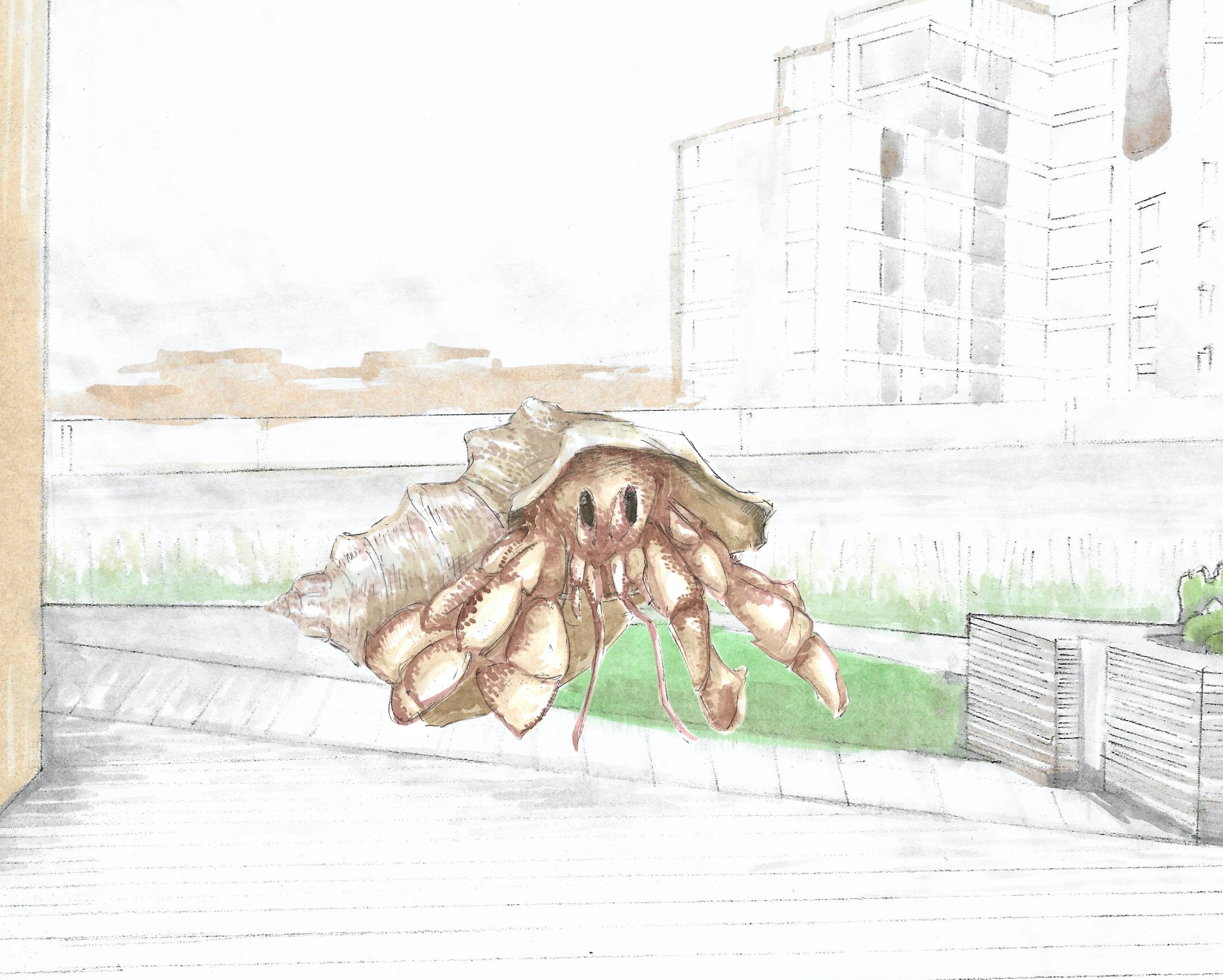 Below left: full-sized cardboard mock up for proposed site-specific sculpture in St Pauls.     Below right: Full size House Martins mock up in Fulham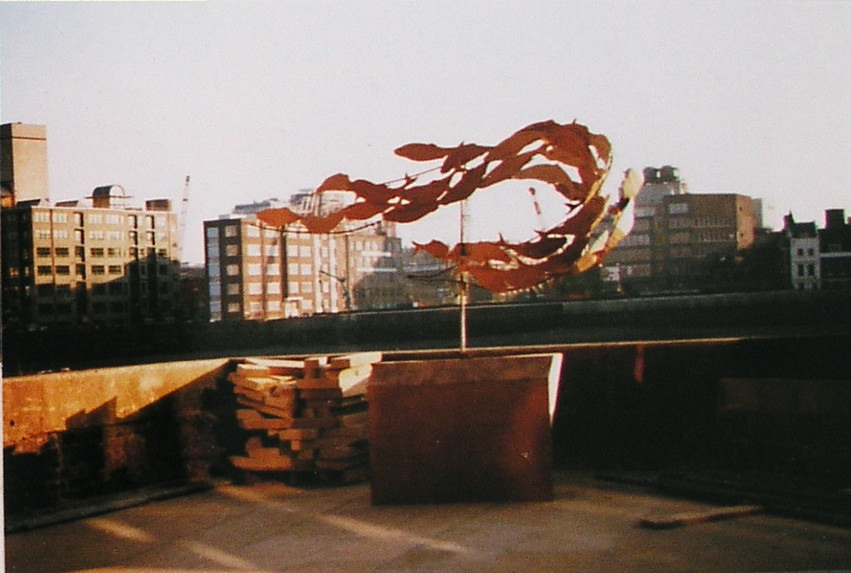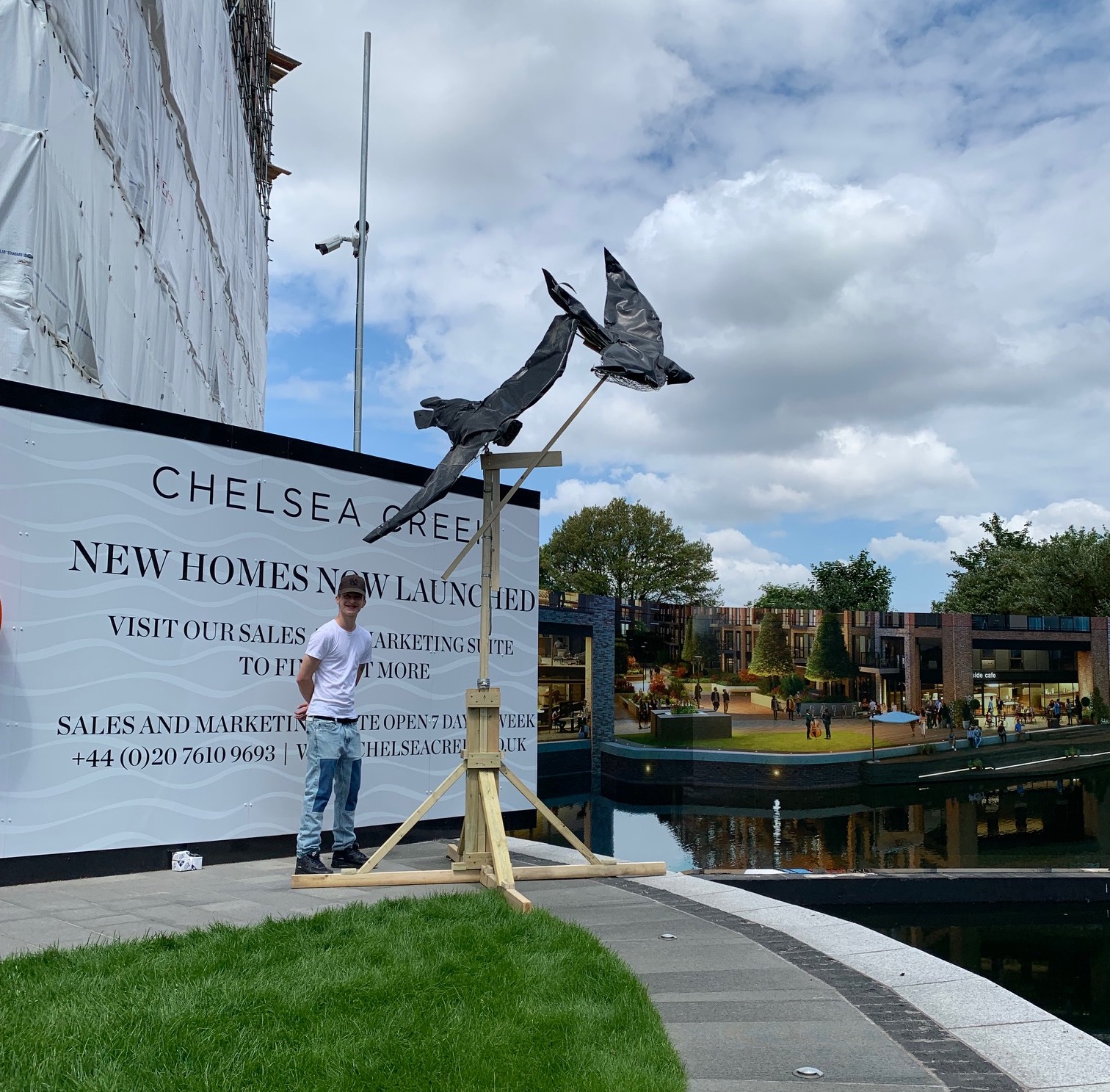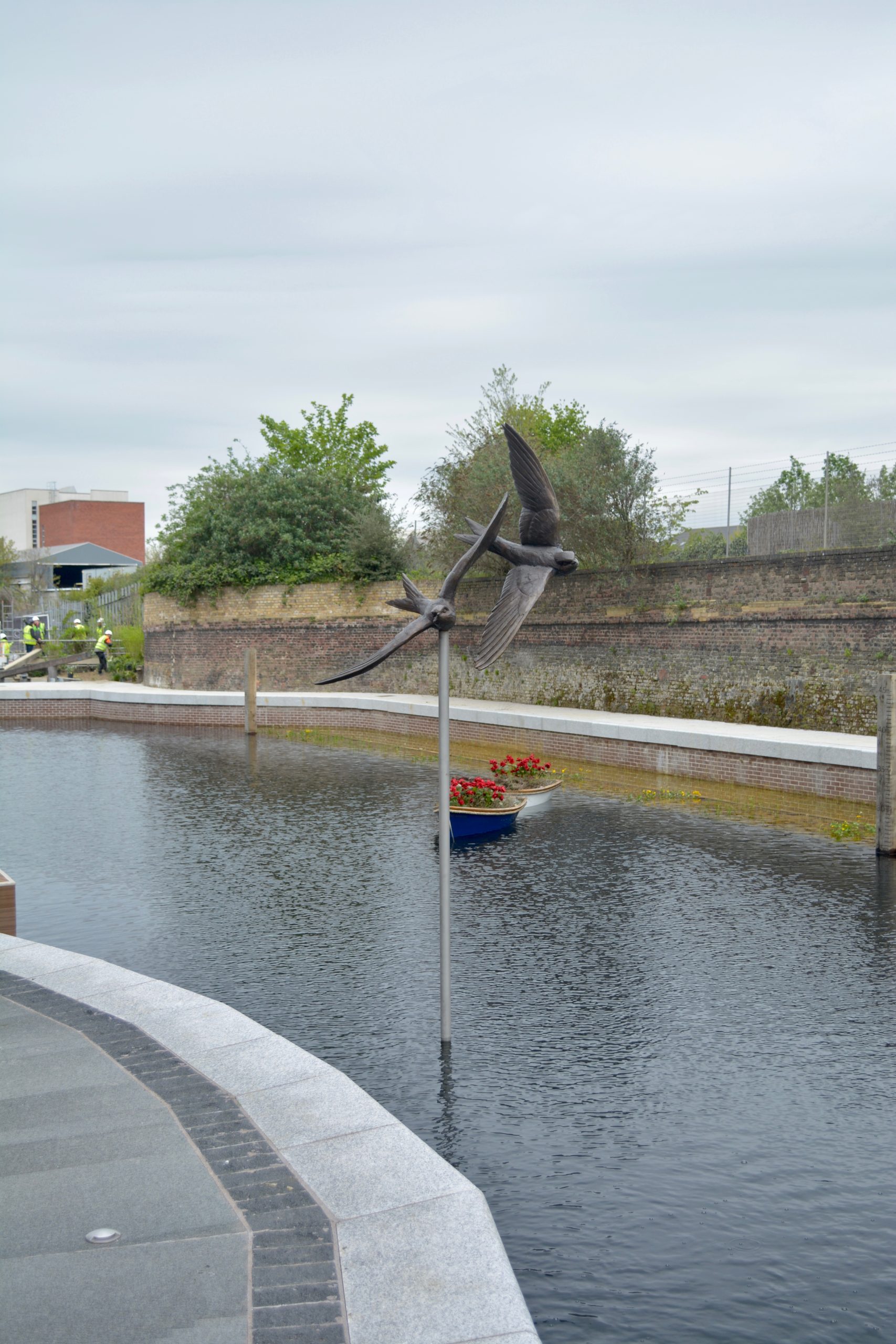 Swooping House Martins
UK – London, Fulham
2023
7 metres (22 feet), the bronze element is 3 metres (10 feet)
Commissioned by UK developer St George Ltd for their luxury residential complex Chelsea Creek, beside the River Thames in London.
Depicting a pair of house martins feeding over the newly restored canals of Chelsea Creek, the two birds reference the largest colony of house martins in London, which reside just to the north of the site. The Swooping House Martins sculpture seeks to capture the dynamism of these beautiful birds as they swoop and catch insects above the water. These local birds were chosen to appeal to residents and visitors, in the familiarity of their rapid, iconic flight. They highlight the work being done onsite to revive the waterways, creating clean, planned habitat for waterbirds, insects and many local species of animals, amphibians and fish.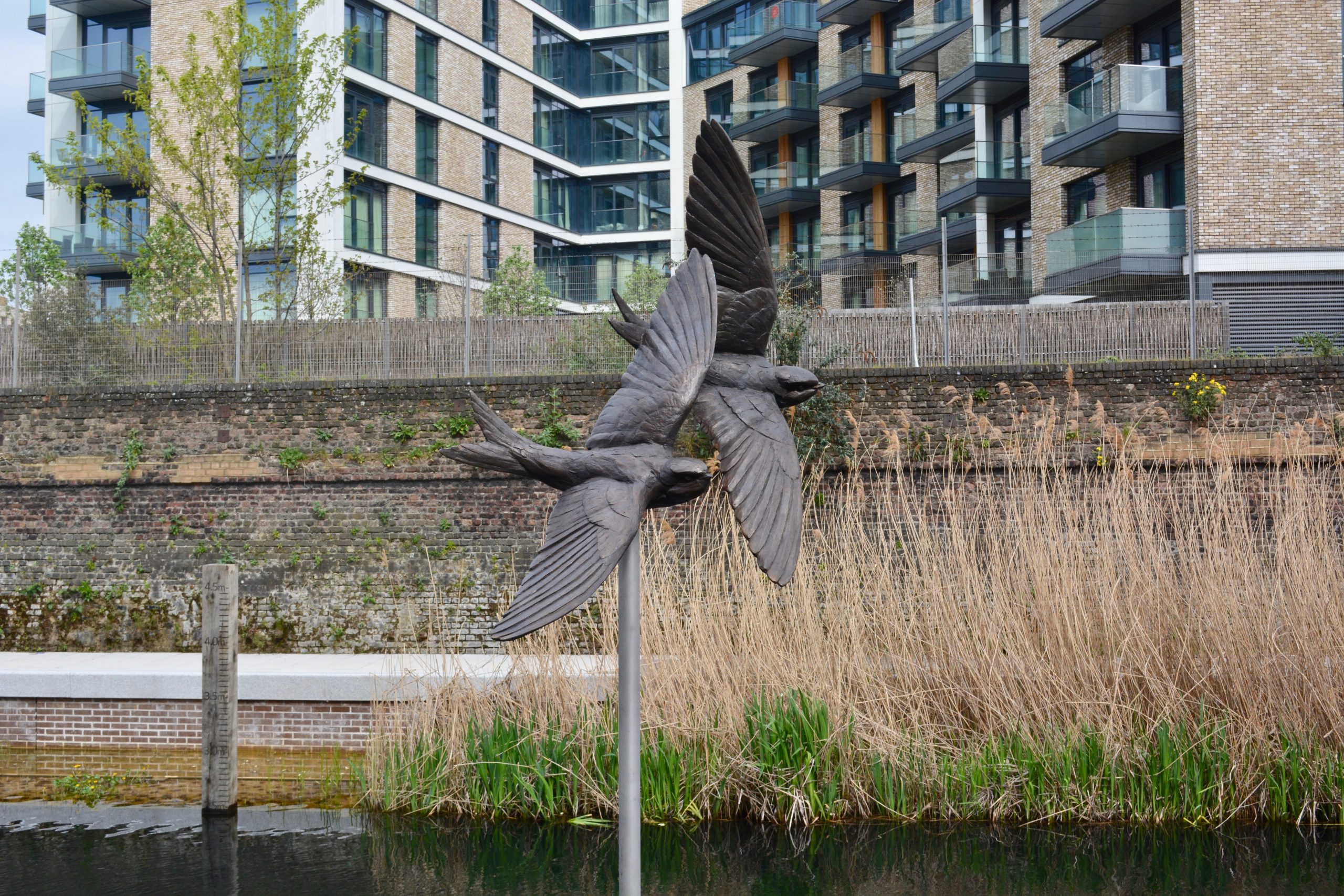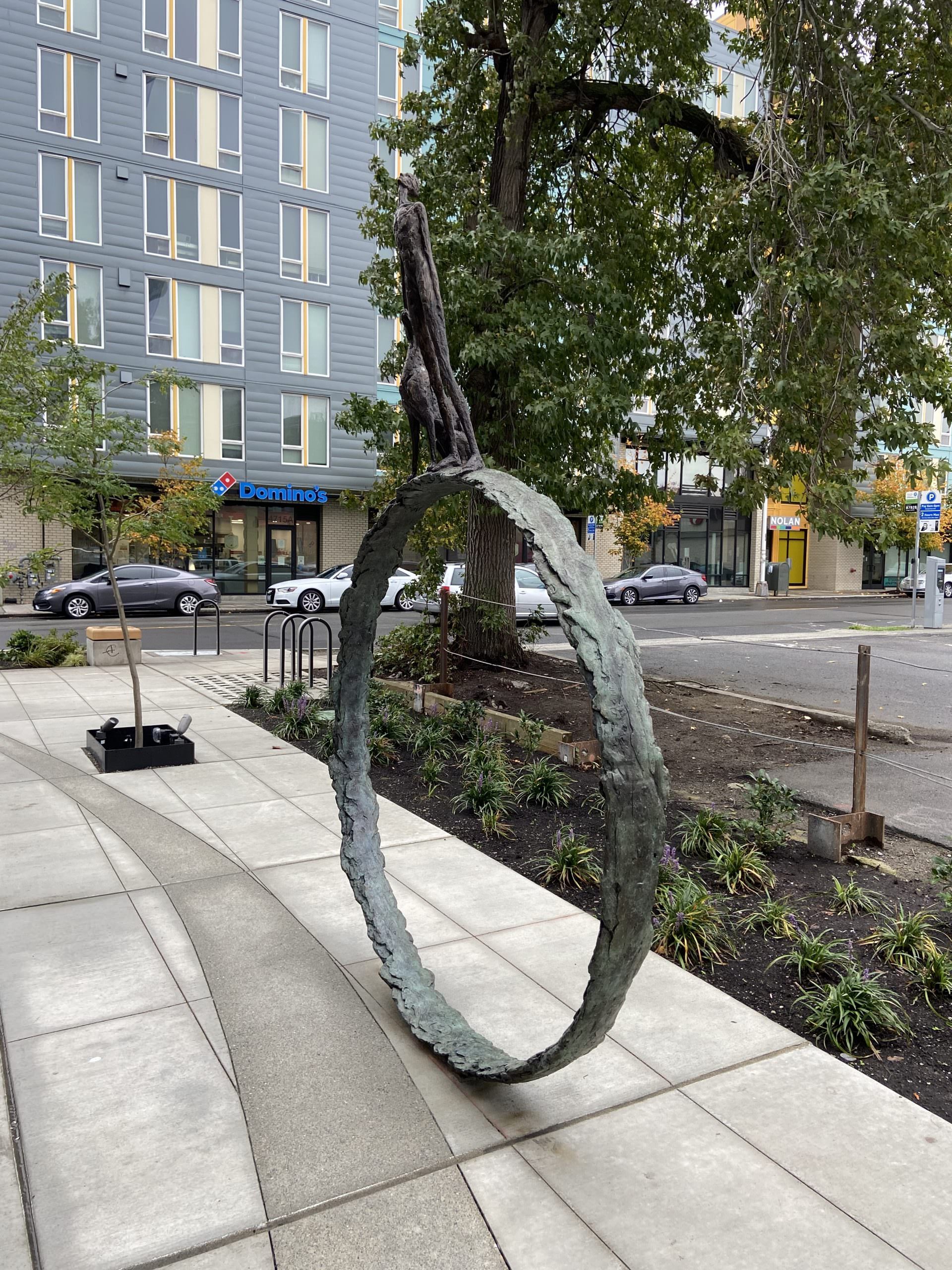 Large Stargazers Ring
USA – Seattle
2020
2 ½ metres (8 feet)
Commissioned by US developer FH Brooklyn for their luxury 24-storey residential 'M' Building in Seattle.
The stargazers ring was created to explore simple lines and elegant forms. It draws the viewer's eye upwards to the figure and dog standing on the top of the ring to reflect their upward gazing pose. The sentiment is uncomplicated, allowing the viewer to identify with the companionship and shared experience of the figure and their dog. The two stand upon a textured ring, which symbolises that shared experience, and also the world they share and stand upon, within its context of the starry night sky.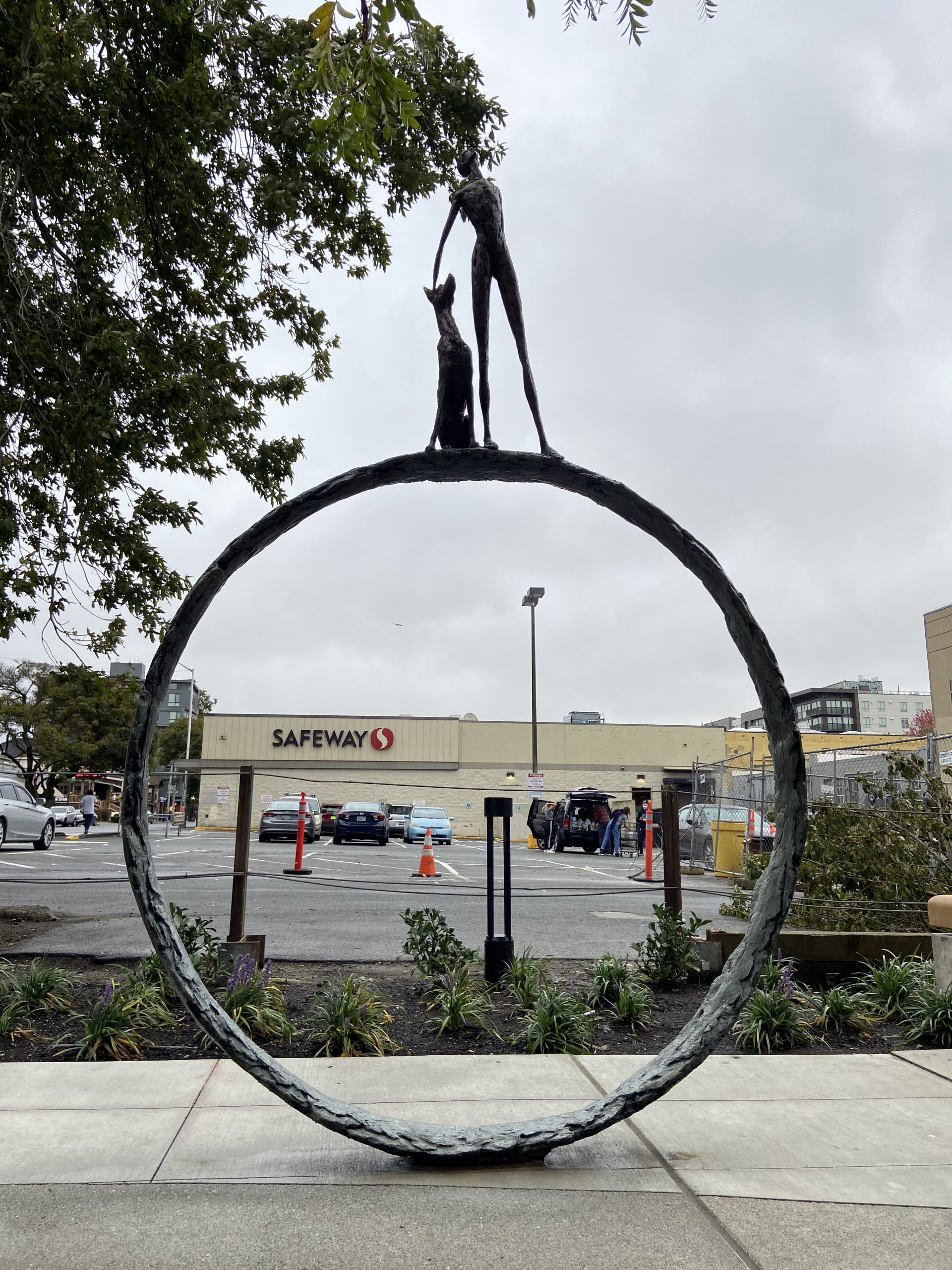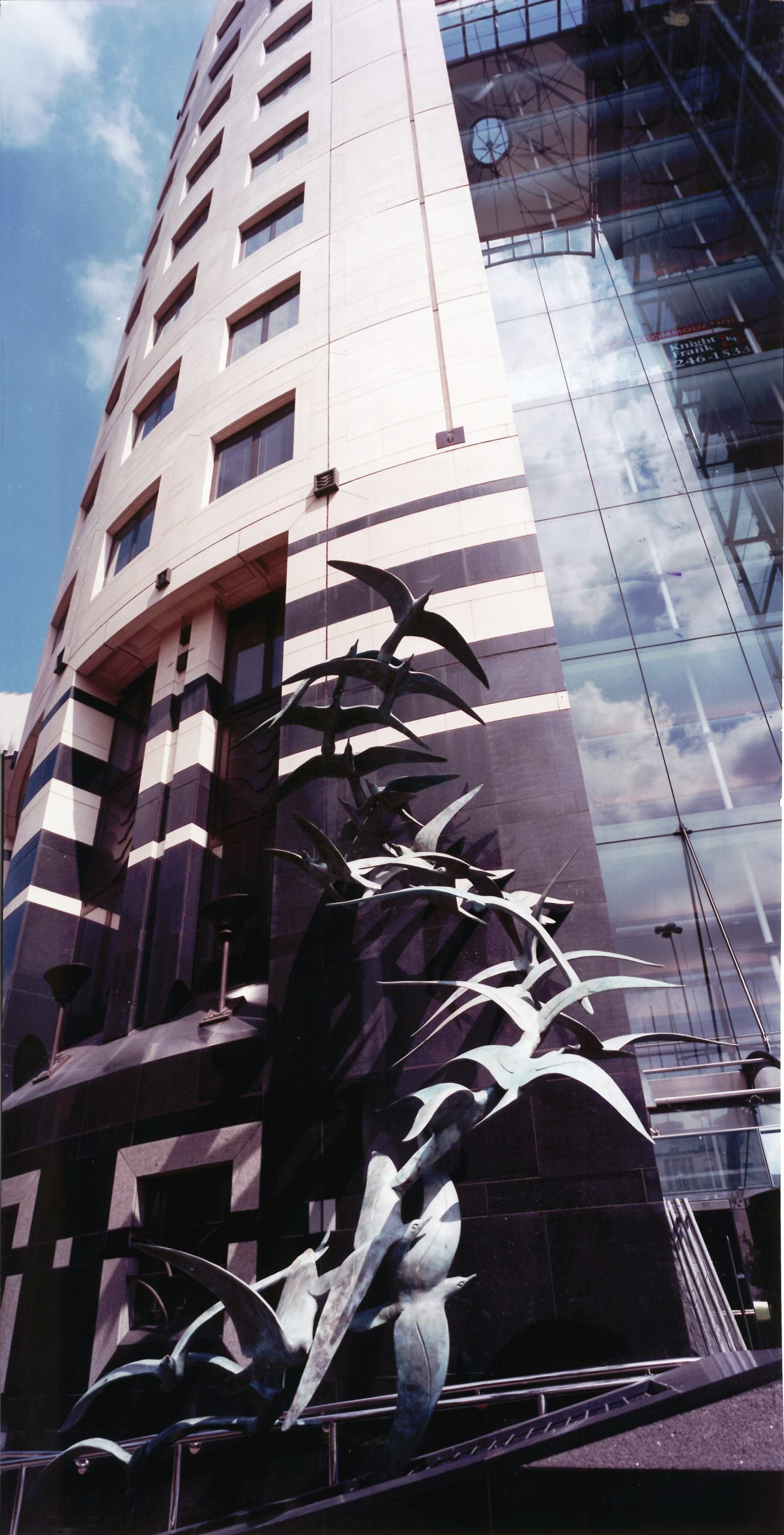 Flight
1 City Square – Leeds
1999
8 ½ metres (27 feet)

Norwich Union wanted to decorate a large blank wall. With very traditional Victorian statues in the main square, we felt their building needed something airy, 'see-through' and appreciable from multiple angles. We designed a sculpture that rose up a long way to inspire people, giving them a sense of lightness and space, while lifting their views up out of the busy square.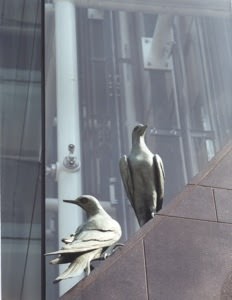 Lorne is one of the most experienced sculptors in the UK, and originally apprenticed under the close colleague of Rodin, Prince Serge Yourievitch. She has long experience of designing and installing a wide variety of large public artworks internationally and has worked for many corporate patrons. Her clients include HM The Queen.
Tanya apprenticed with Lorne for seven years, later joining with her to create large outdoor works. Tanya founded The Art Academy London, bringing together prominent sculptors and brilliant practitioners from other disciplines, to protect against the erosion of skills tuition in UK fine art higher education.
Charles managed The Art Academy, bringing three more buildings to its portfolio and purchasing its main London Bridge building. At the academy Charles coordinated artist commissions and exhibitions. He now manages the financial, organisational and delivery elements of Lorne and Tanya's commissions.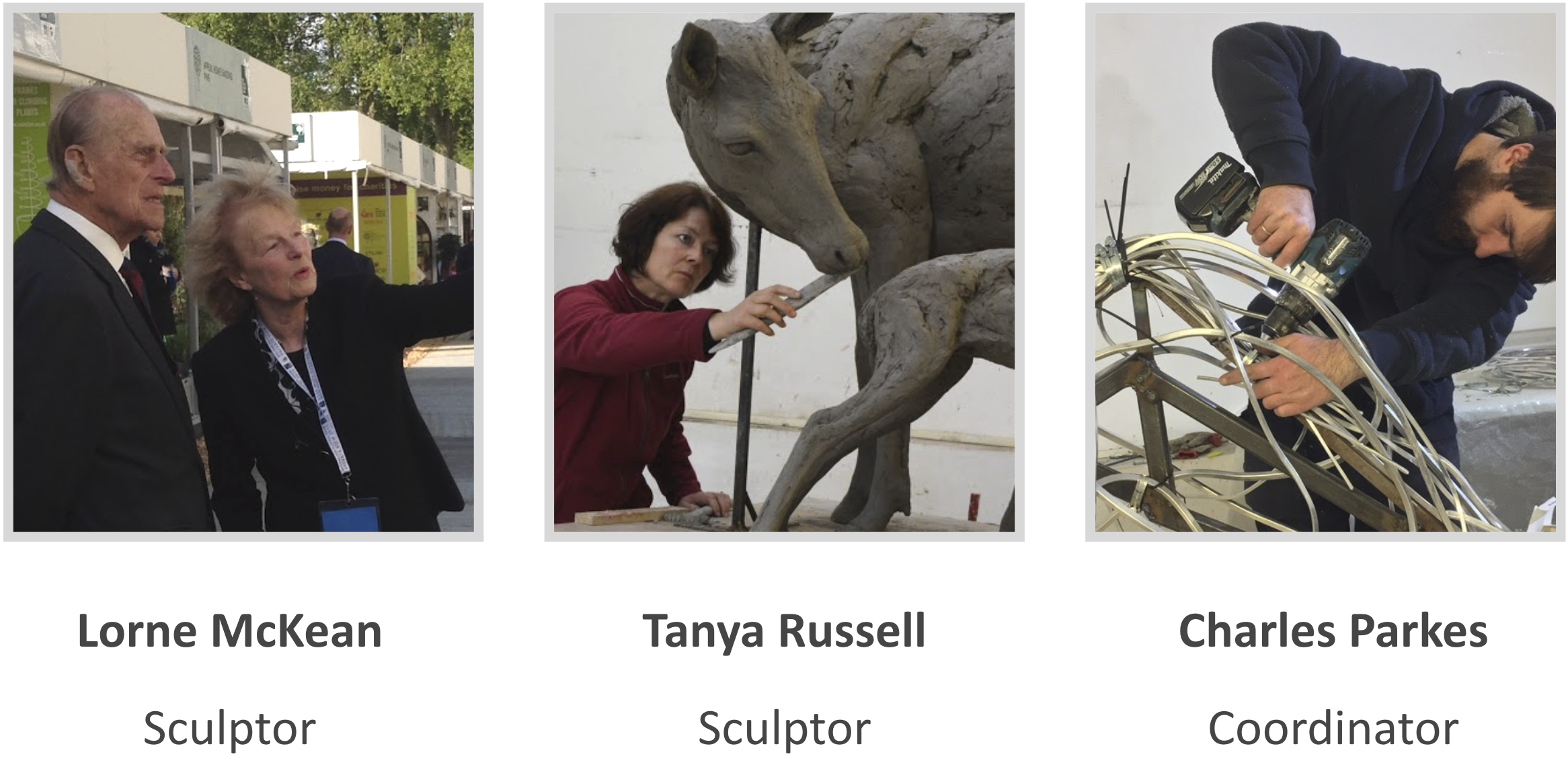 Right: Lorne McKean and Tanya Russell working on an outdoor commission in 2020 for the Royal Family of Bahrain.
The Falcon and Globe is installed outside their Hôtel de Bourbon-Condé, in Paris.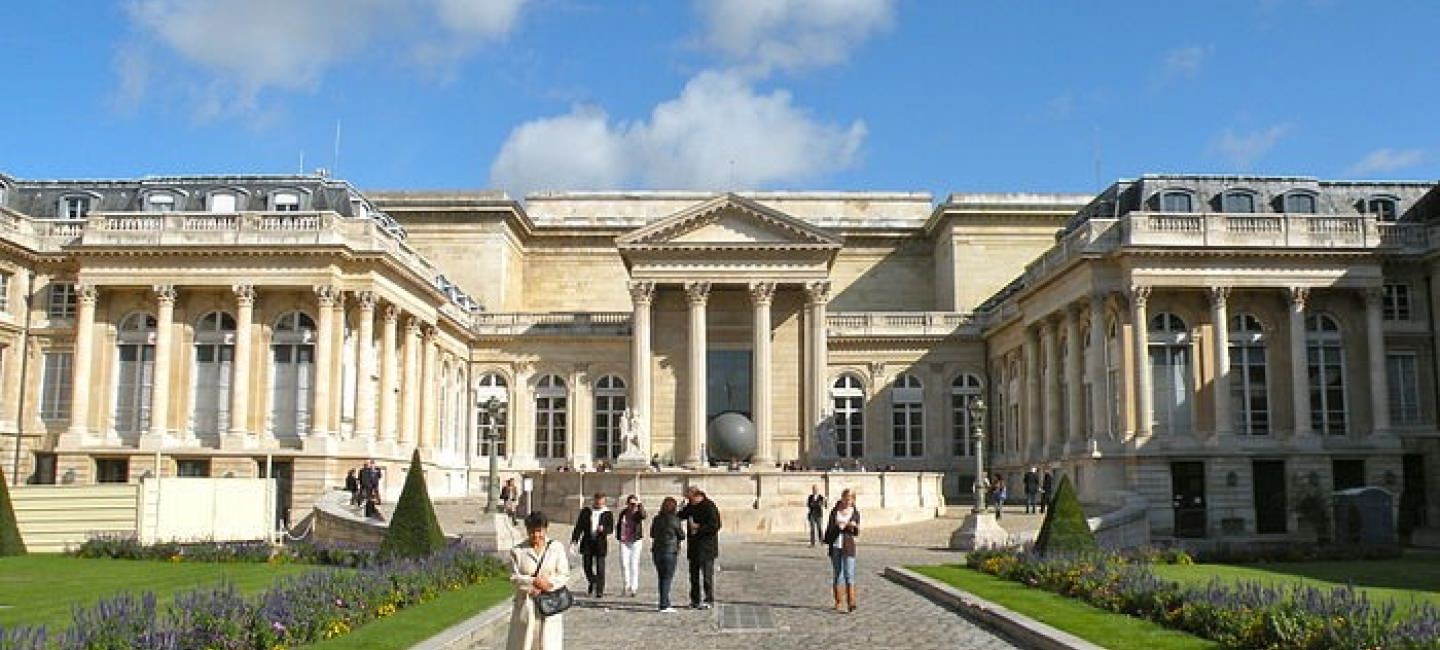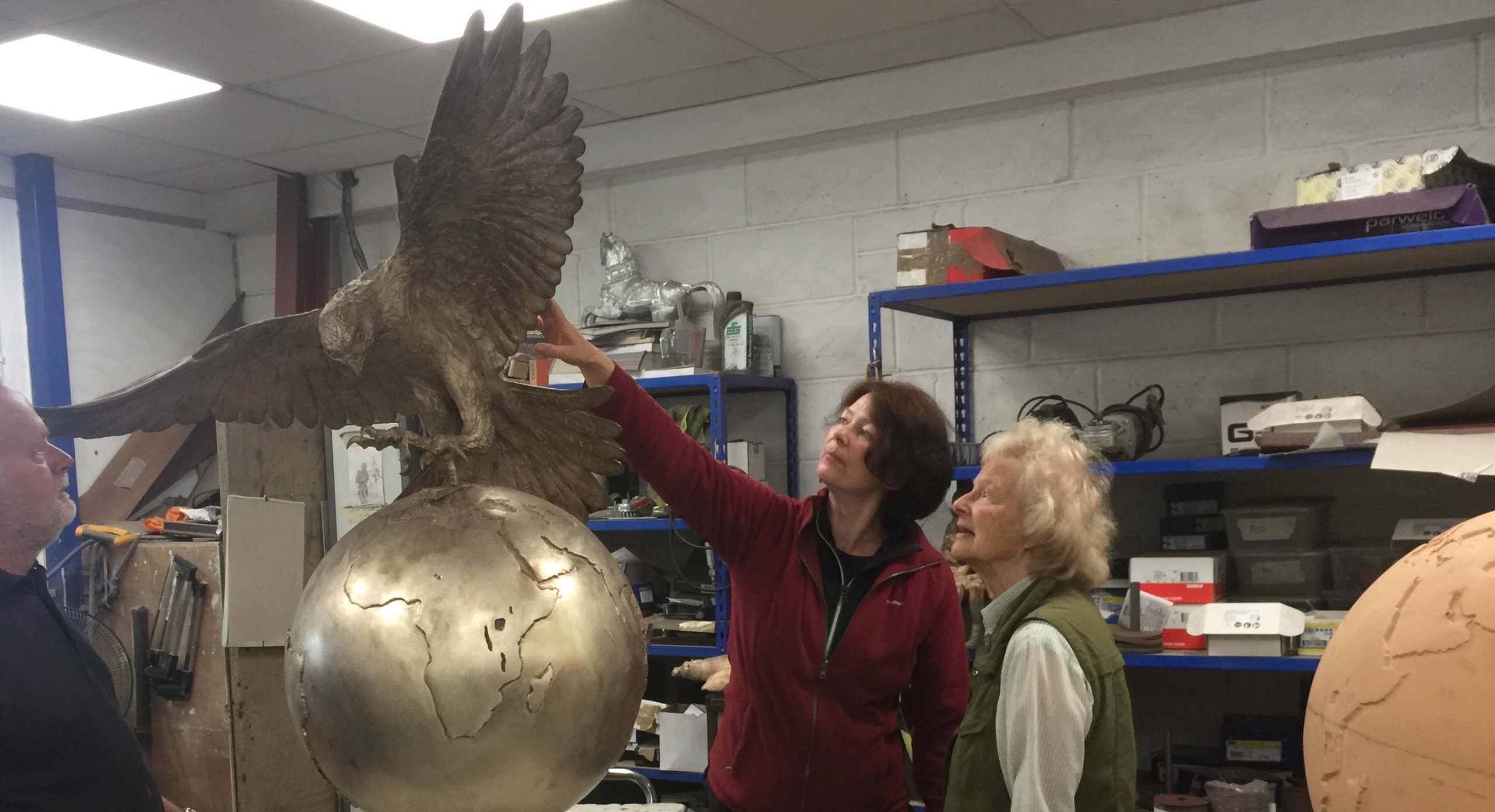 Horsham Heritage Sundial
Horsham – UK
2003
The council wanted a heritage trail, beginning with a large sculpture. Paid for by Tesco and Aldi, and conceptualised as a peek at the other attractions on the trail, elements include dinosaurs and a roman road. In line with the brief, the ring had a great deal of detail, so residents and particularly children could return and find things they'd never noticed before.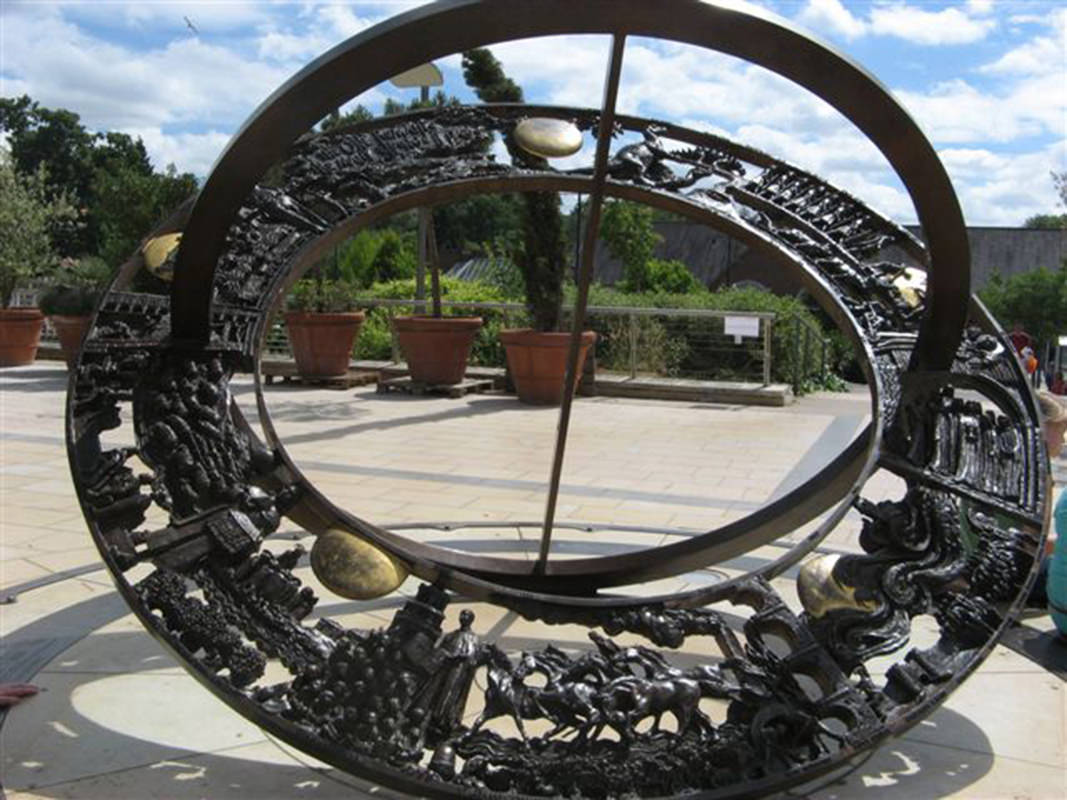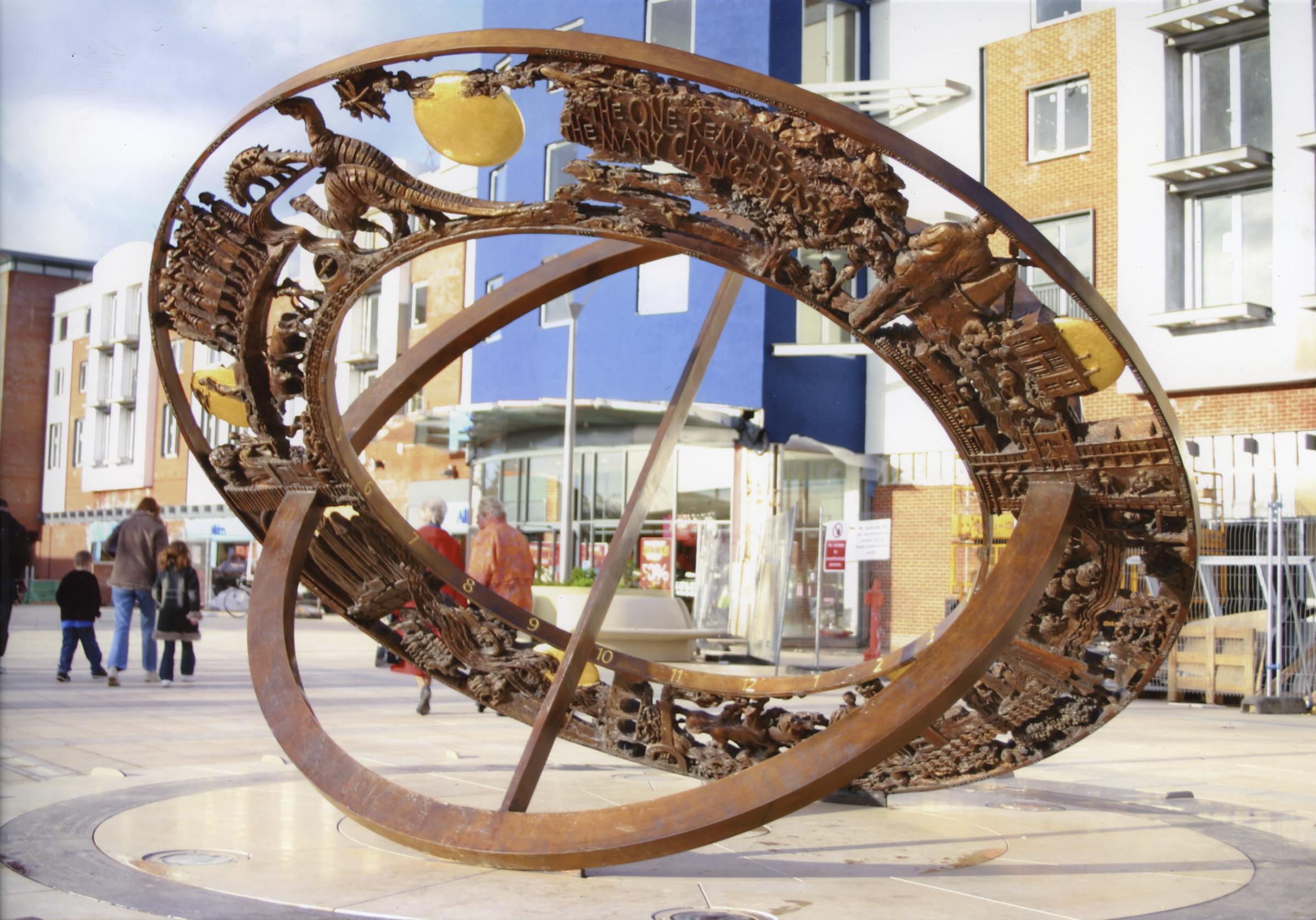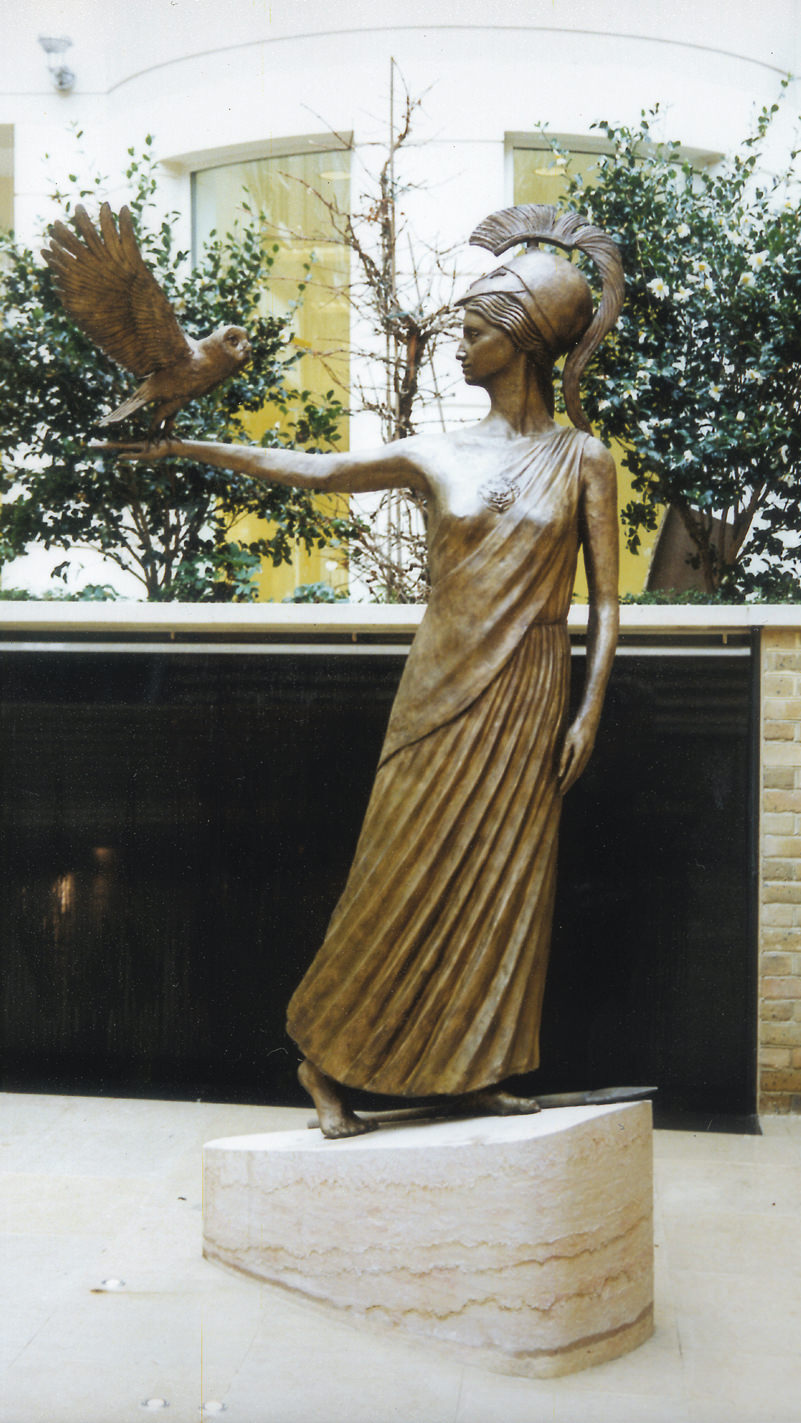 Minerva
 London, UK
2005

2.5 metres

Designed for the Headquarters of Minerva plc in Wigmore street. The brief was to emphasise their brand and draw people from the street down the narrow corridor into the courtyard in which the building was located.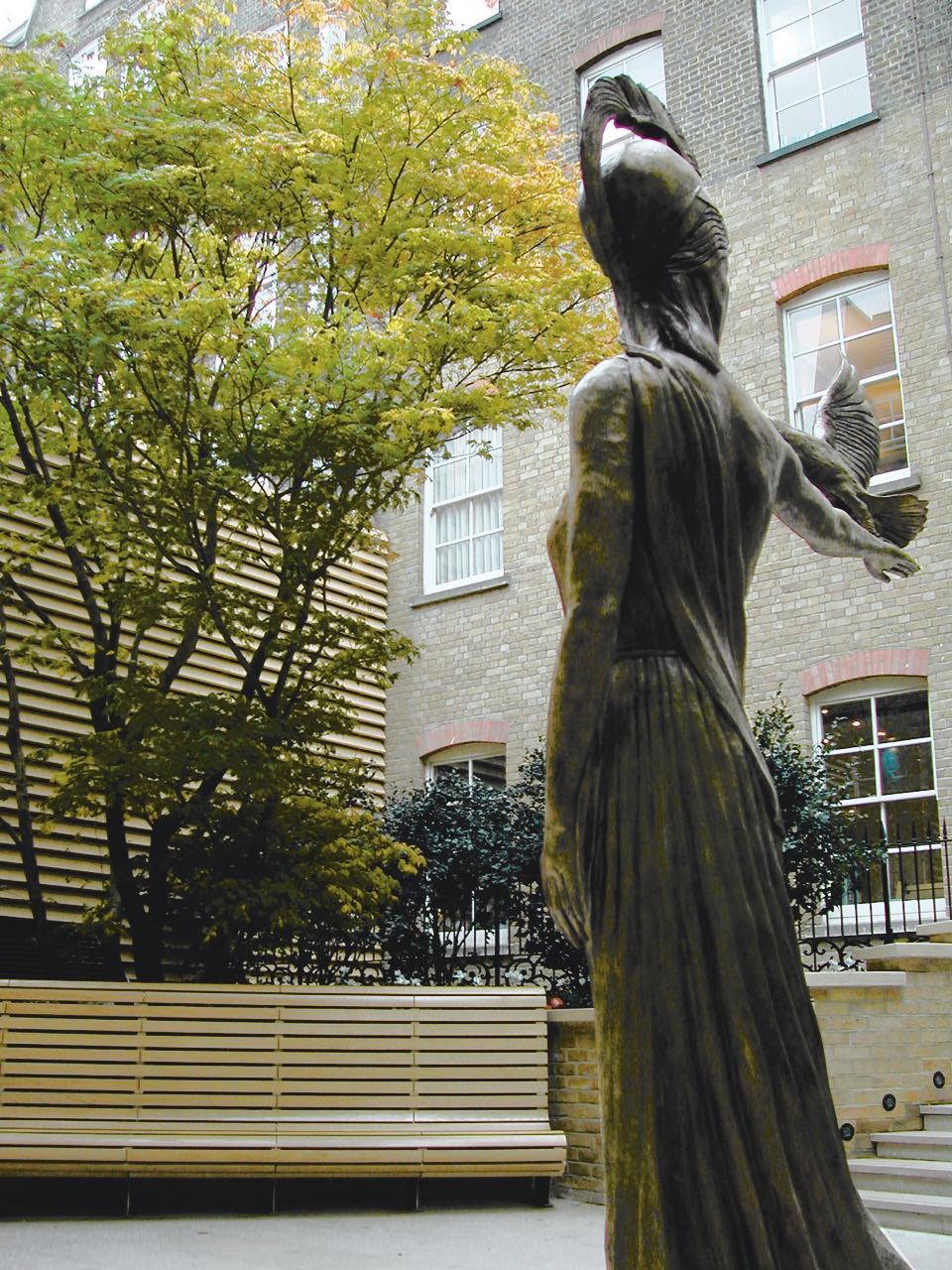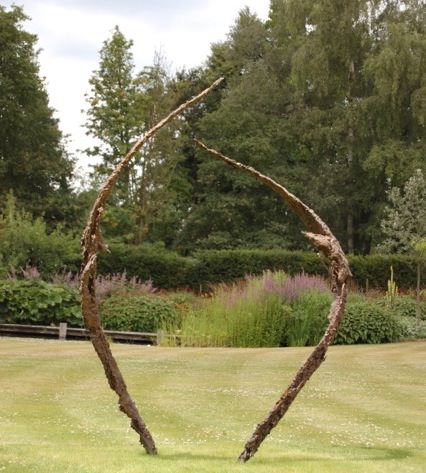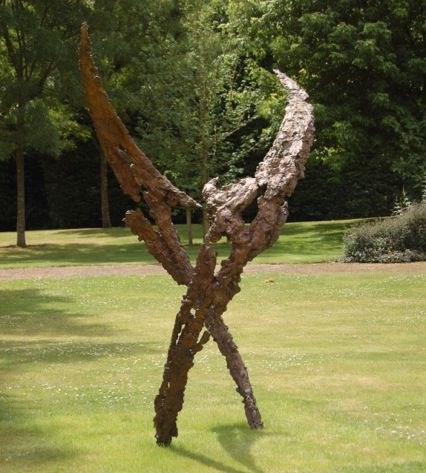 Space Dance
Surrey – UK
2005
2.7 metres
Space Dance was sculpted for a garden in Surrey. 9ft Tall. It is a beautiful garden and we wanted the sculpture not to obstruct the garden views. We also wanted the sculpture to change as you moved through the space around it.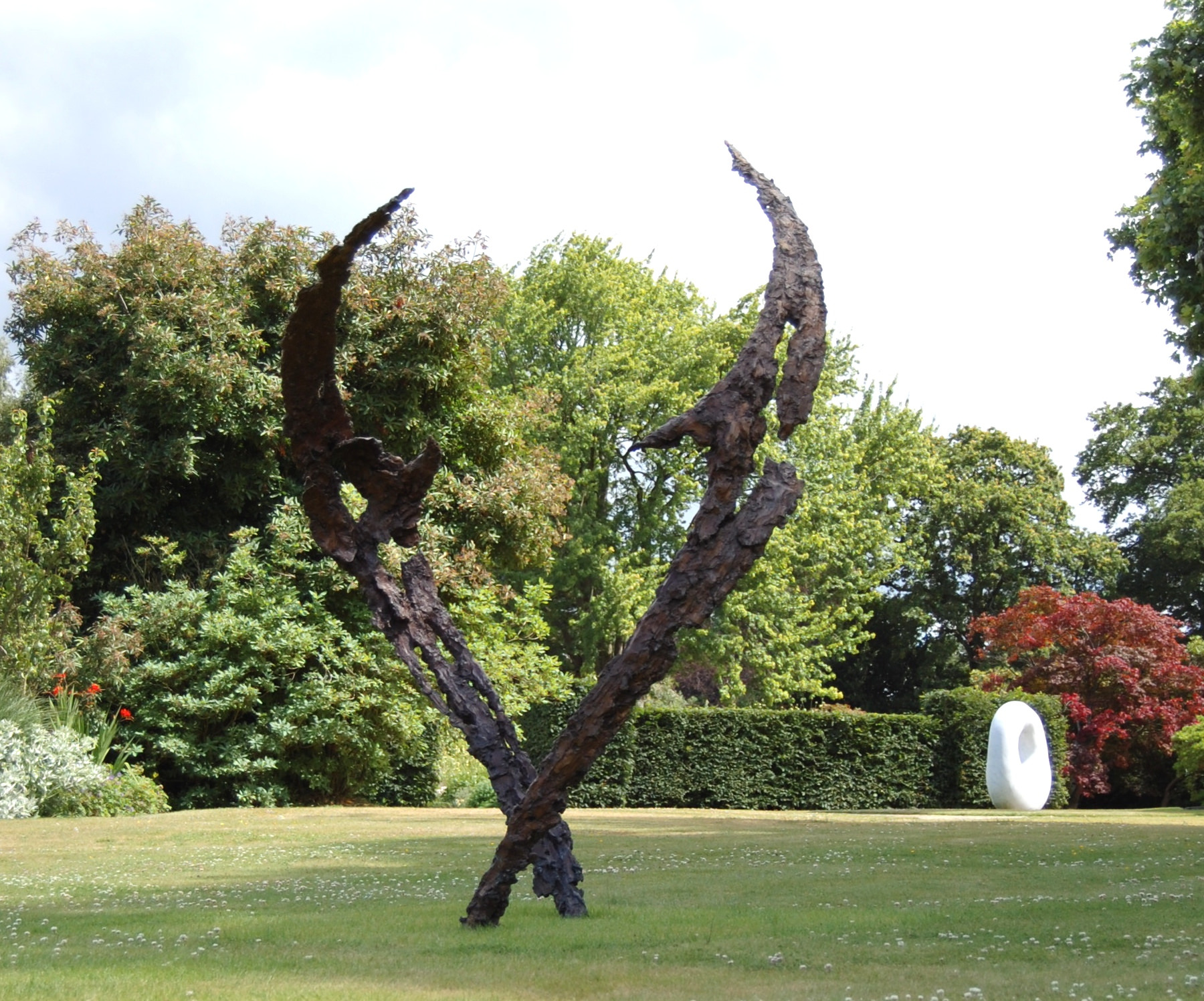 Hands of Justice
London, UK
2005
2.5 metres
Commissioned by the Honourable Society of the Inner Temple. The Hands of Justice are analogous to the hands of a potter – one hand holding the balance, the other hand nurturing and developing.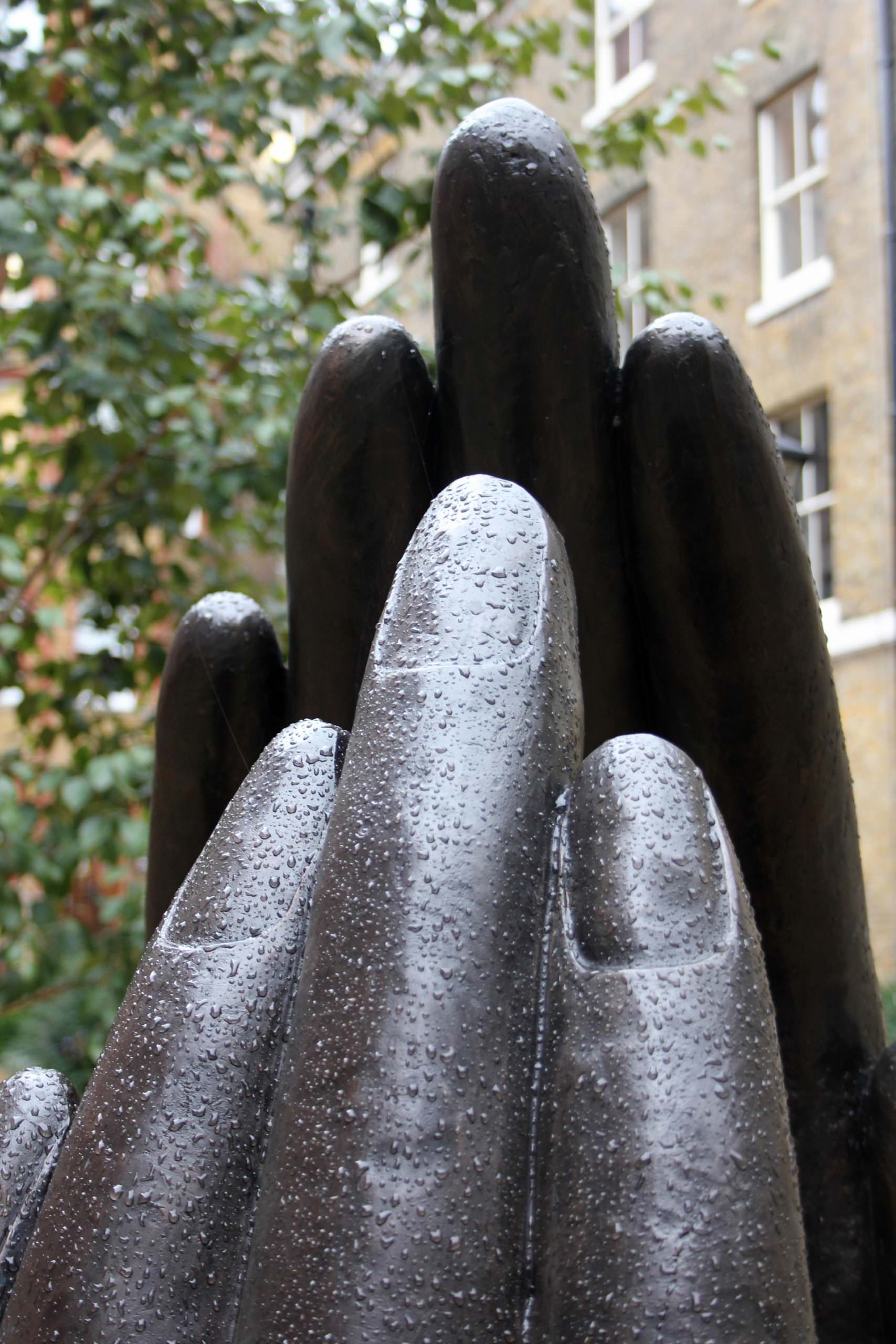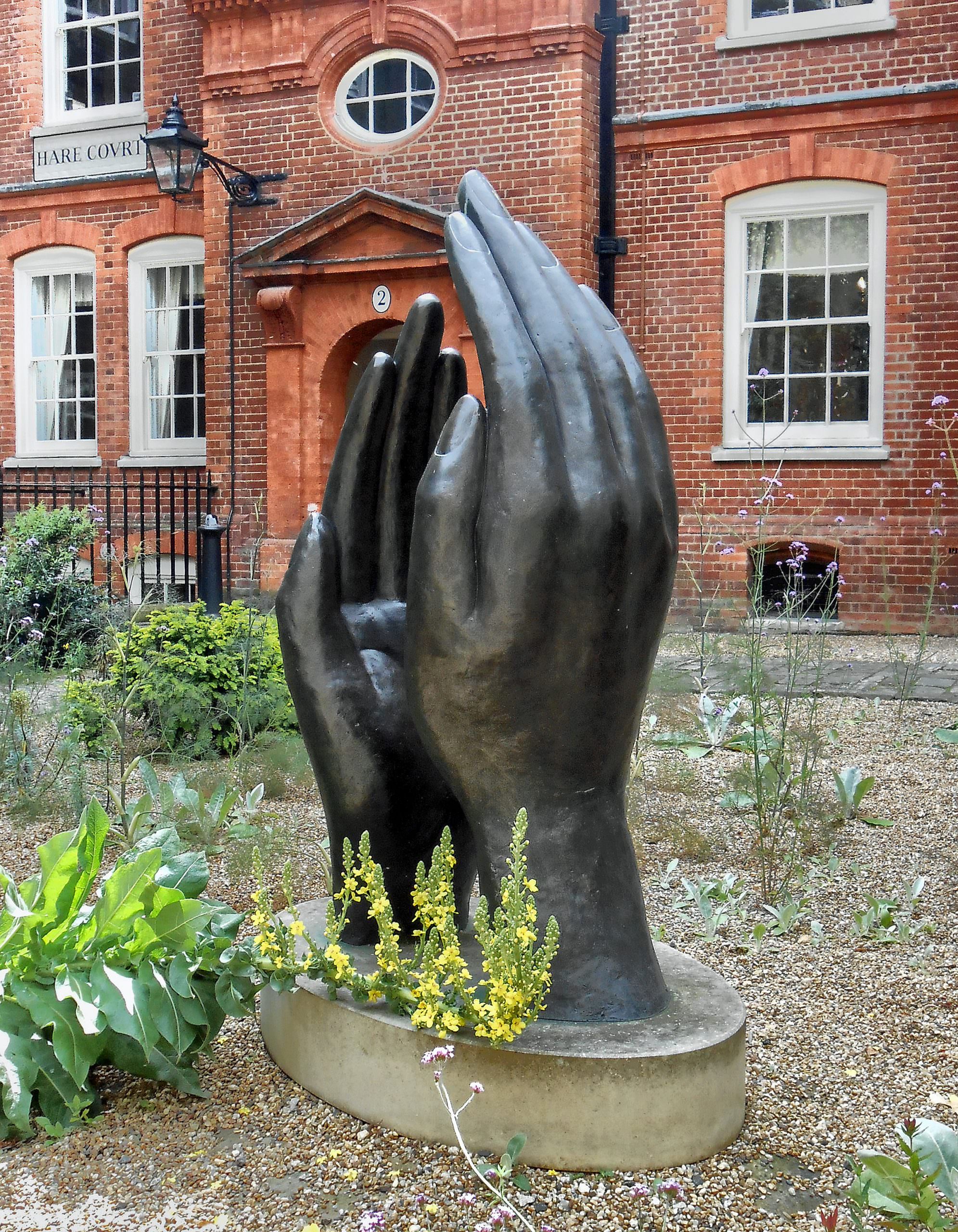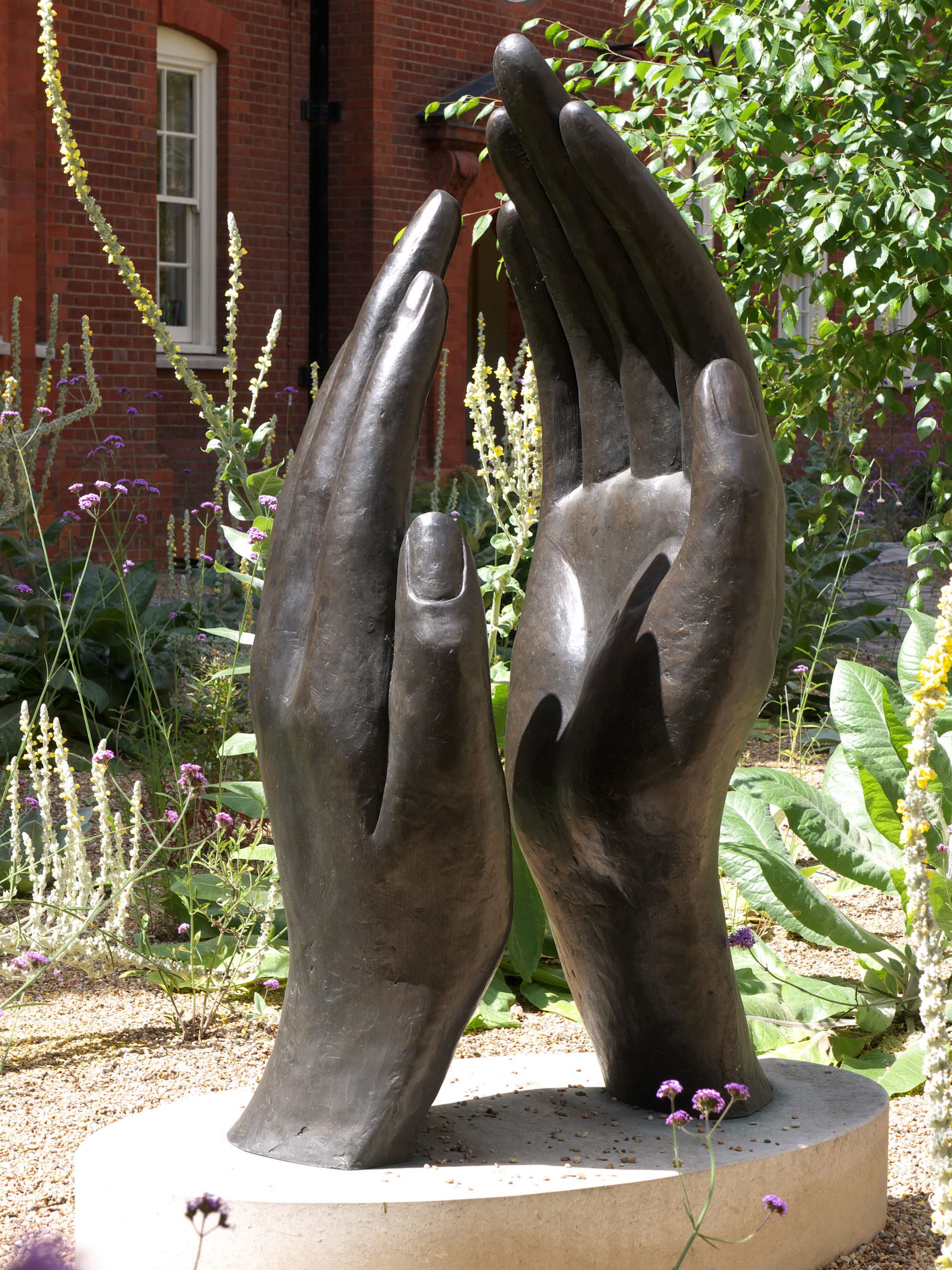 Fulmars
Edinburgh, UK
2005
2 ½ metres
Opposite the Scottish Parliament at Holyrood, the Fulmars were commissioned by Dynamic Earth – the contemporary Scottish attraction that exhibits the history of Planet Earth.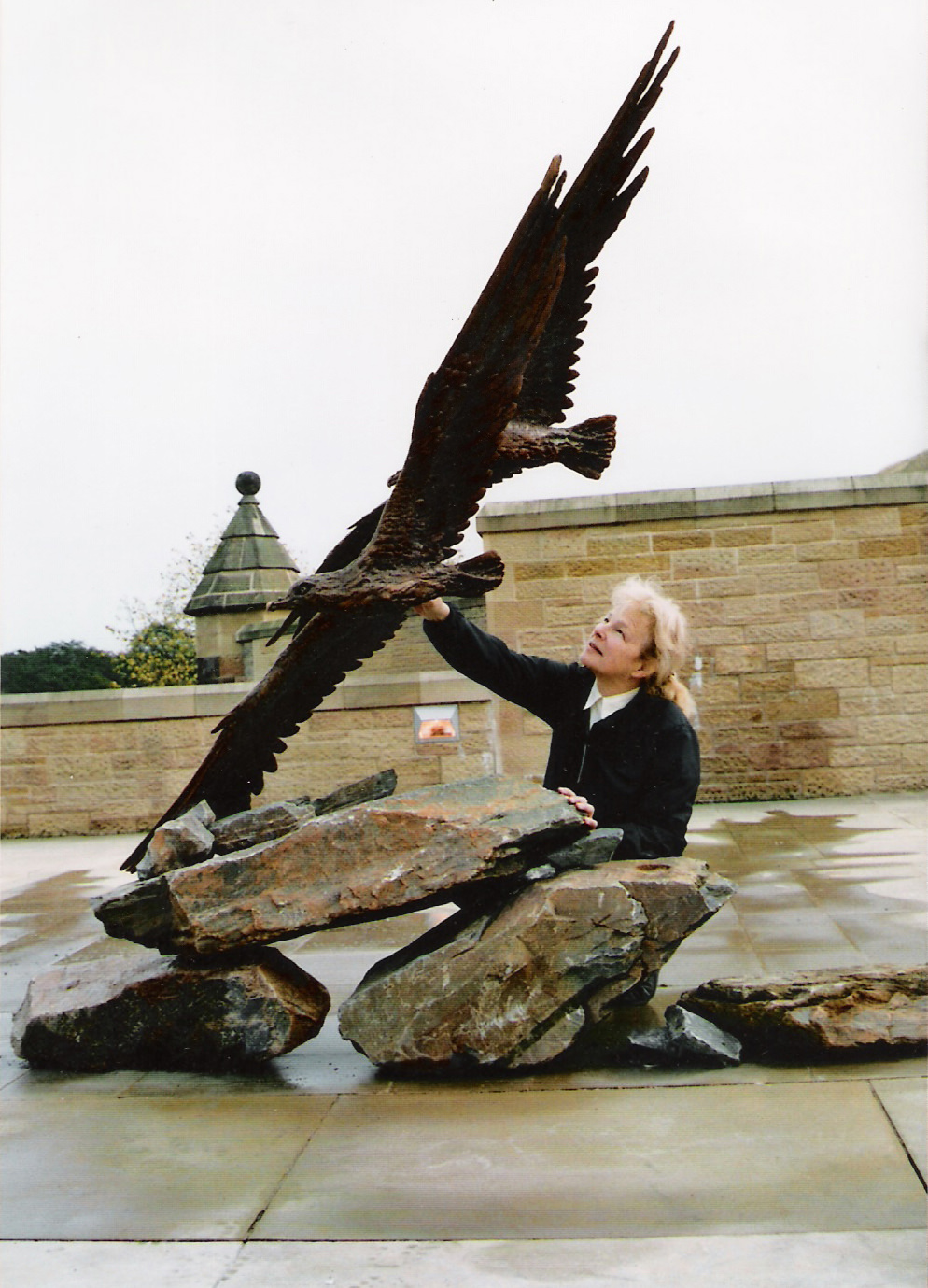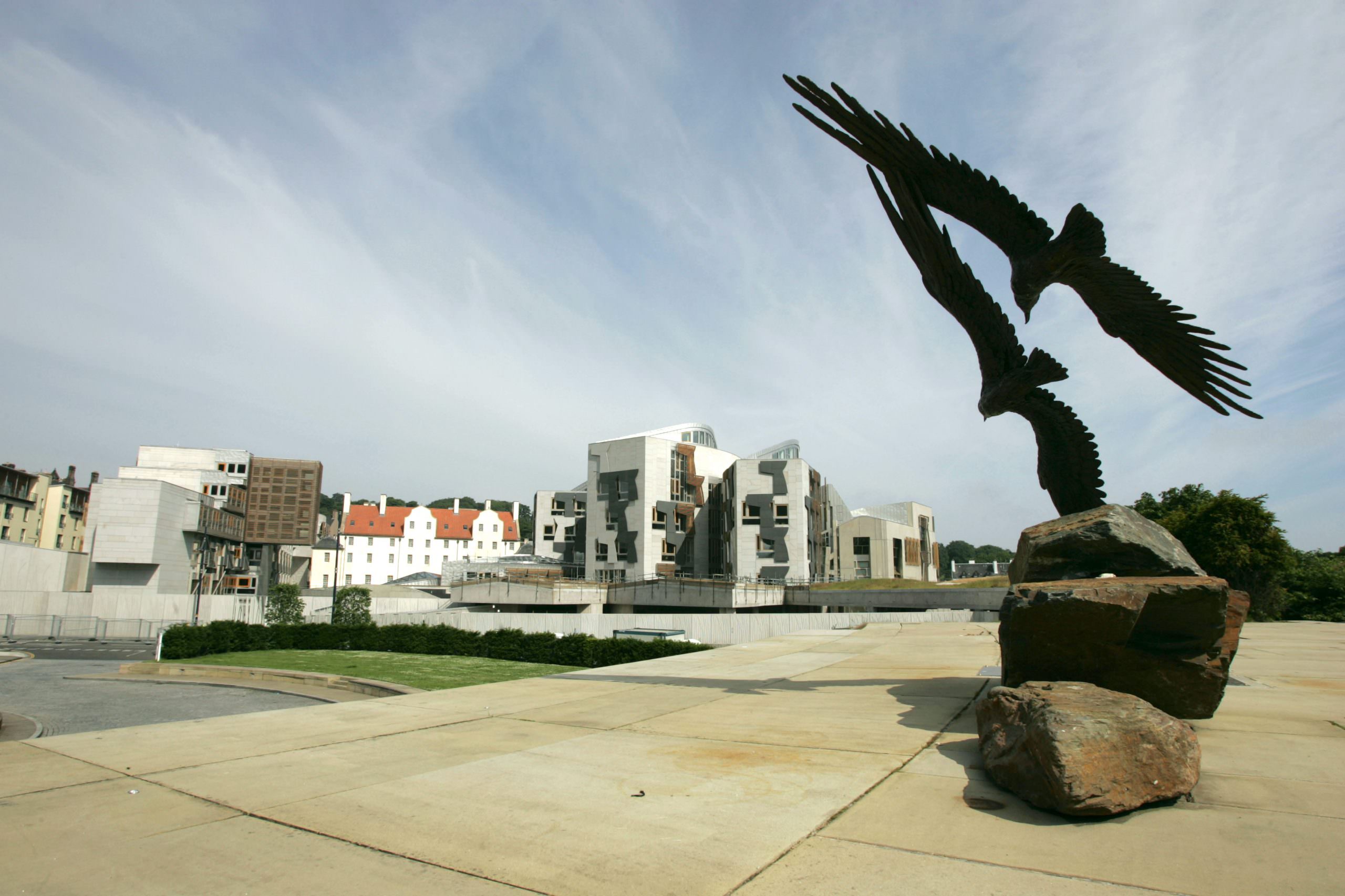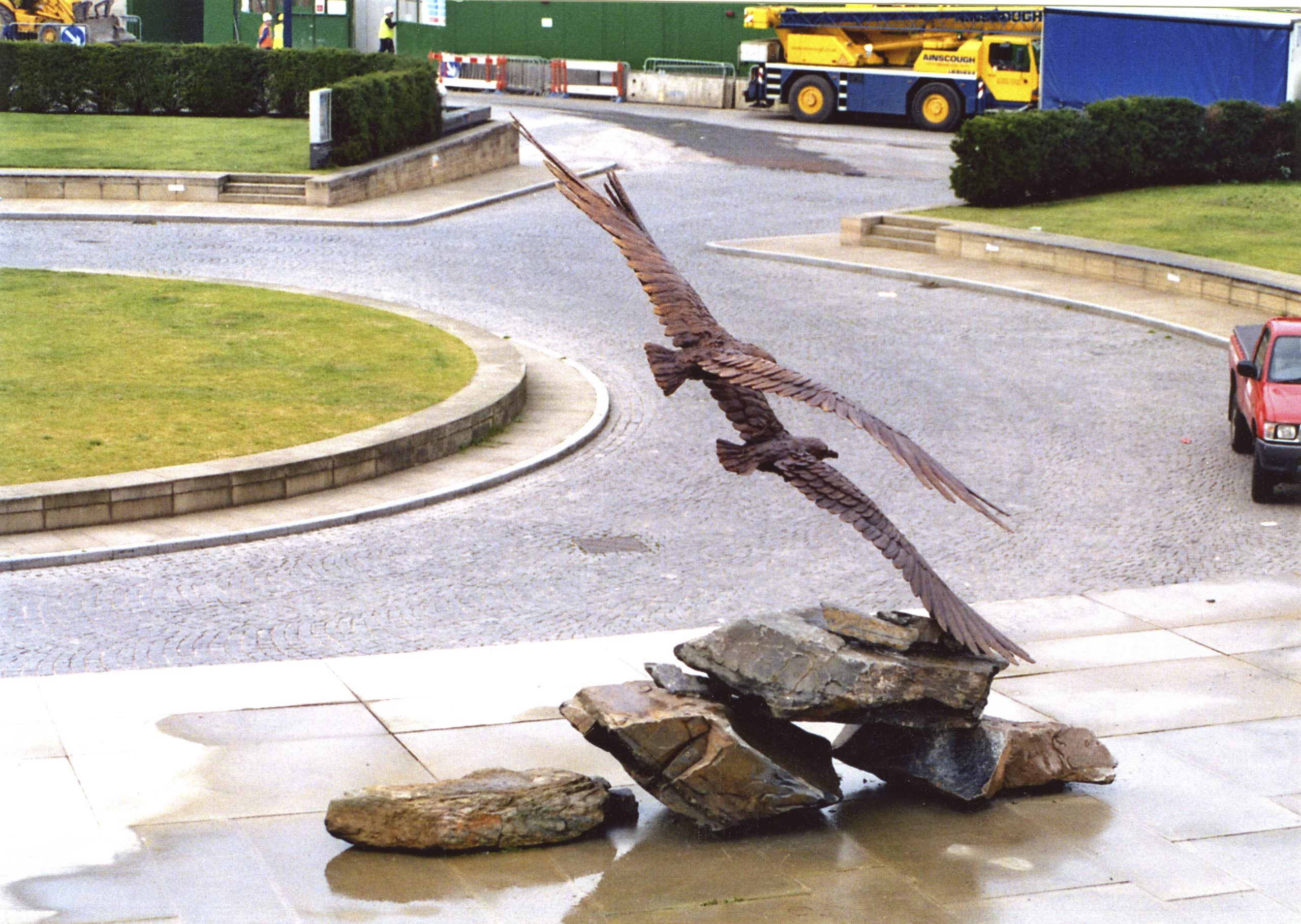 Fragile Life
Kent, UK
2019

2.1 metres


Fragile Life is jagged and feels as though it is beginning to fall apart. It holds a disproportionately large bee aloft, symbolising humanity's (and life's) symbiotic relationship with pollinators, particularly with bees. We rely on these creatures to pollinate the plants that we eat and that we use in countless industries. They rely on us to protect important habitats and food sources, while also managing parasites and disease.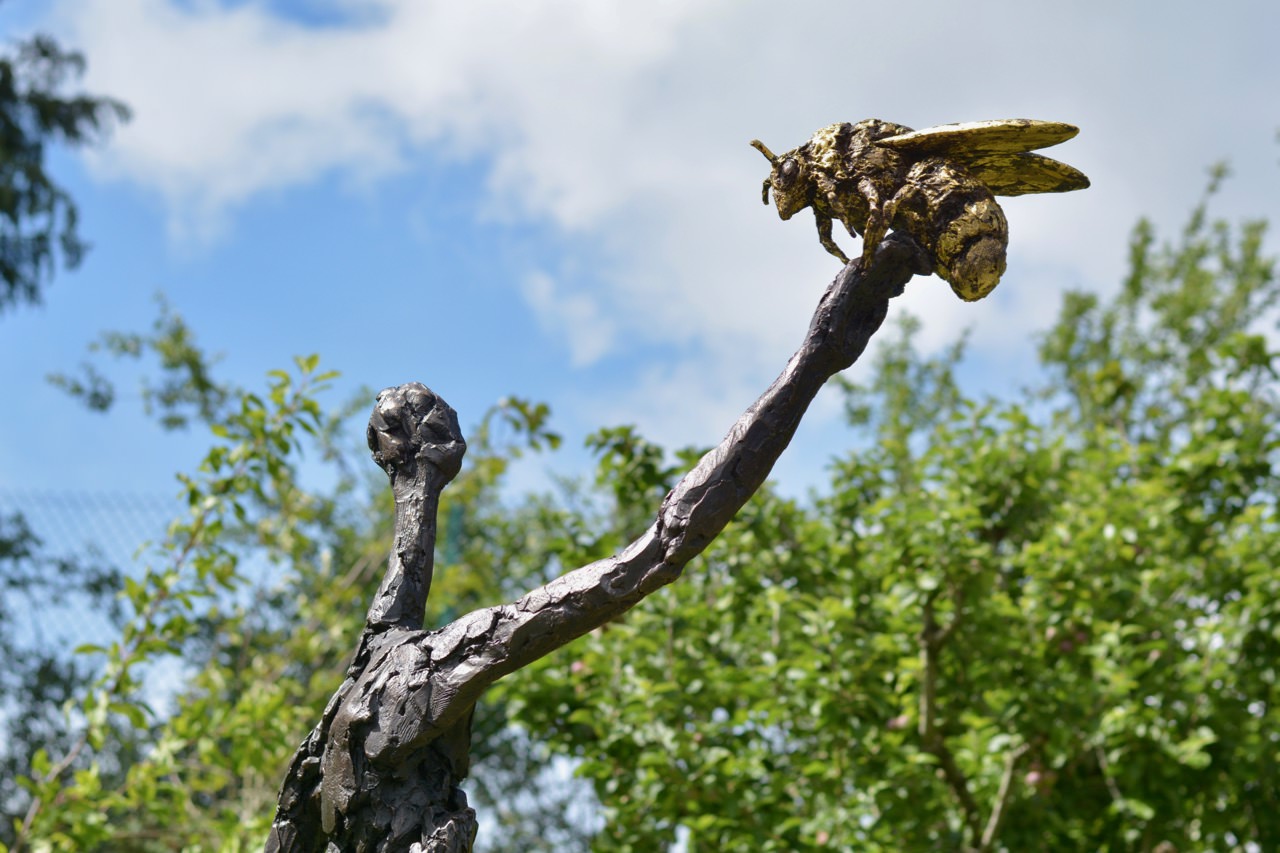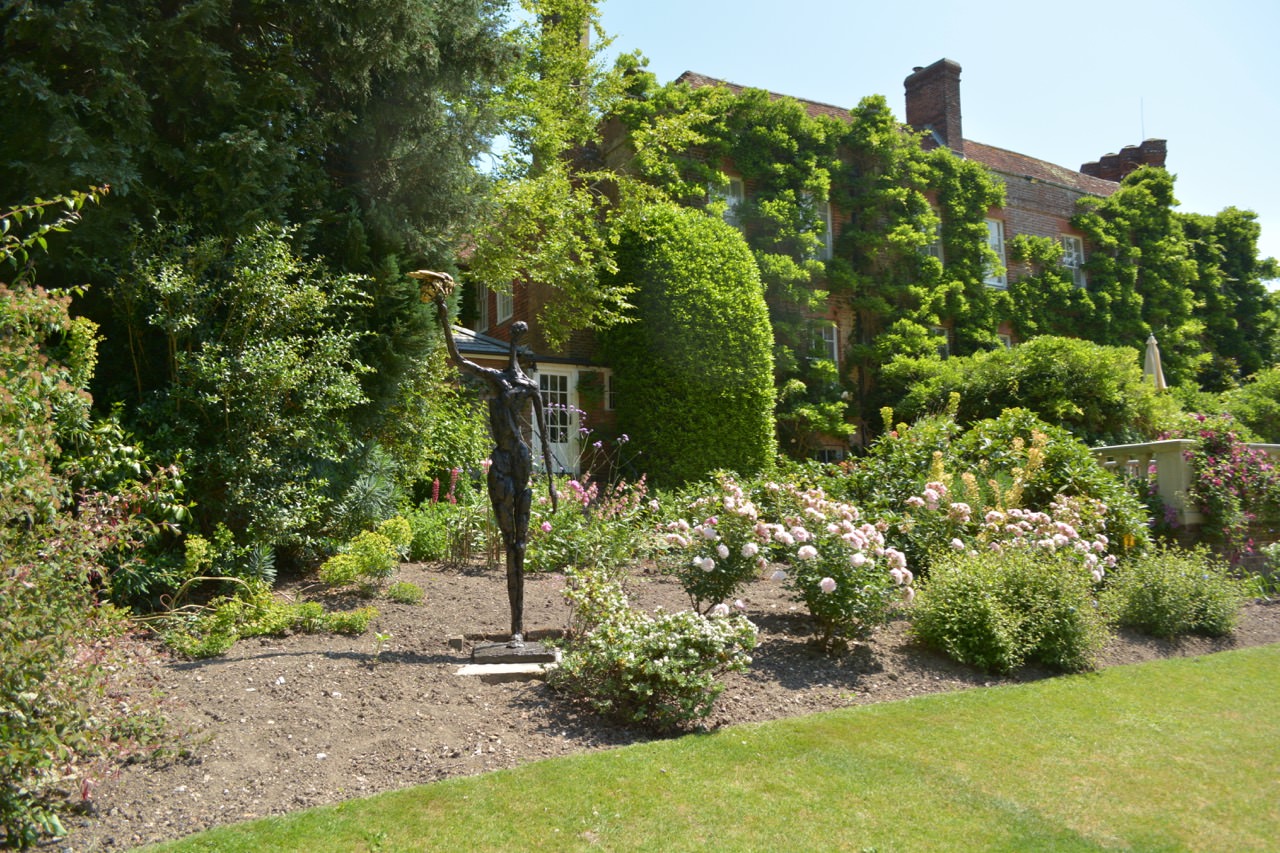 Dubai Creek Sundial
Dubai, UAE
The Dubai Creek Sundial was commissioned by the Royal Family after they saw our piece in Oman and wanted something twice the size. The sculpture has been positioned in two different locations in front of the Ruler's Court and the Diwan Mosque.
Top Right: View from the Creek of the Ruler's Court

Bottom left: In front of Diwan Mosque.
Top right: A view of the Dubai Creek

Bottom Right: At another location in front of the Ruler's Court, photo taken during Dubai Commemoration Day ceremony.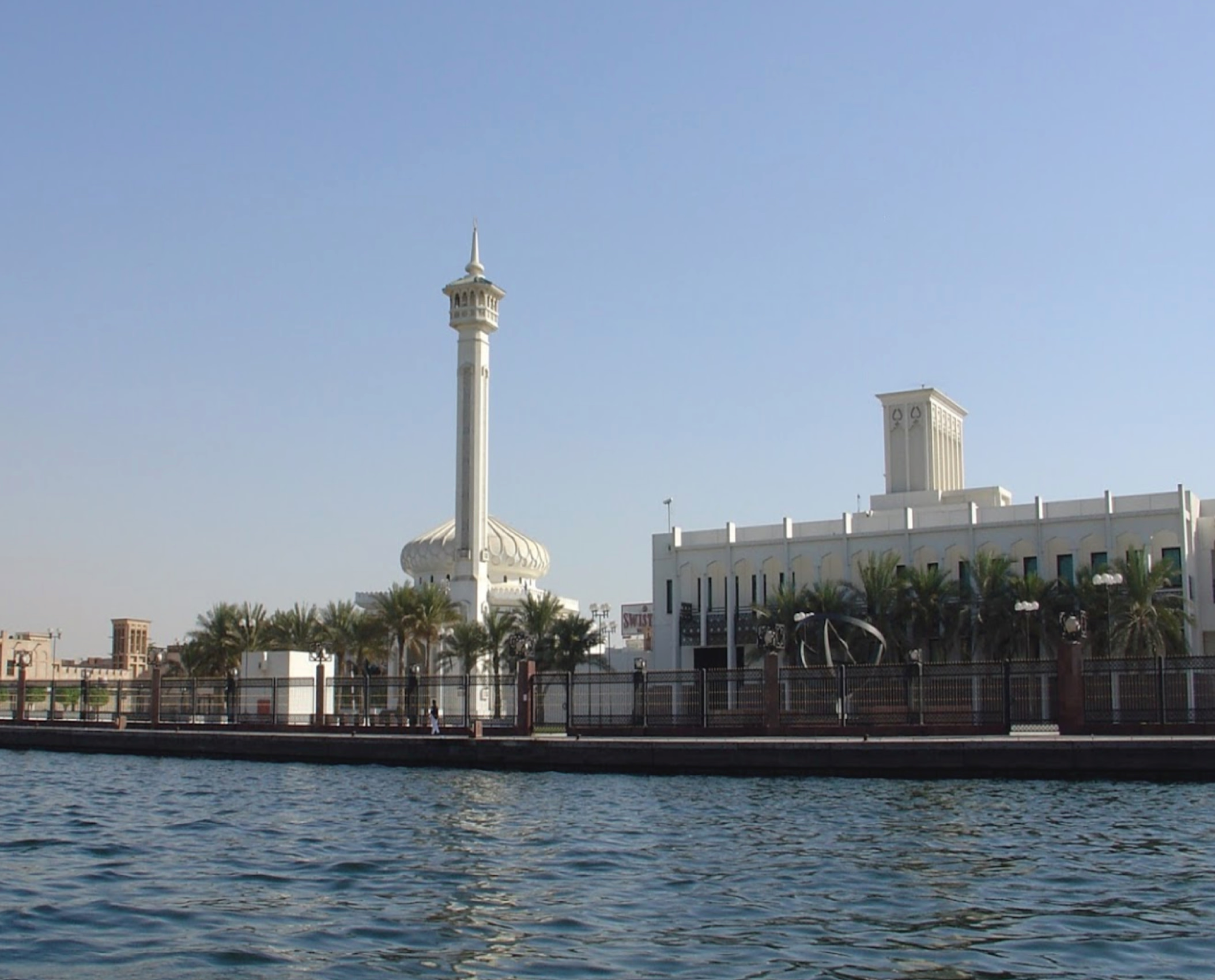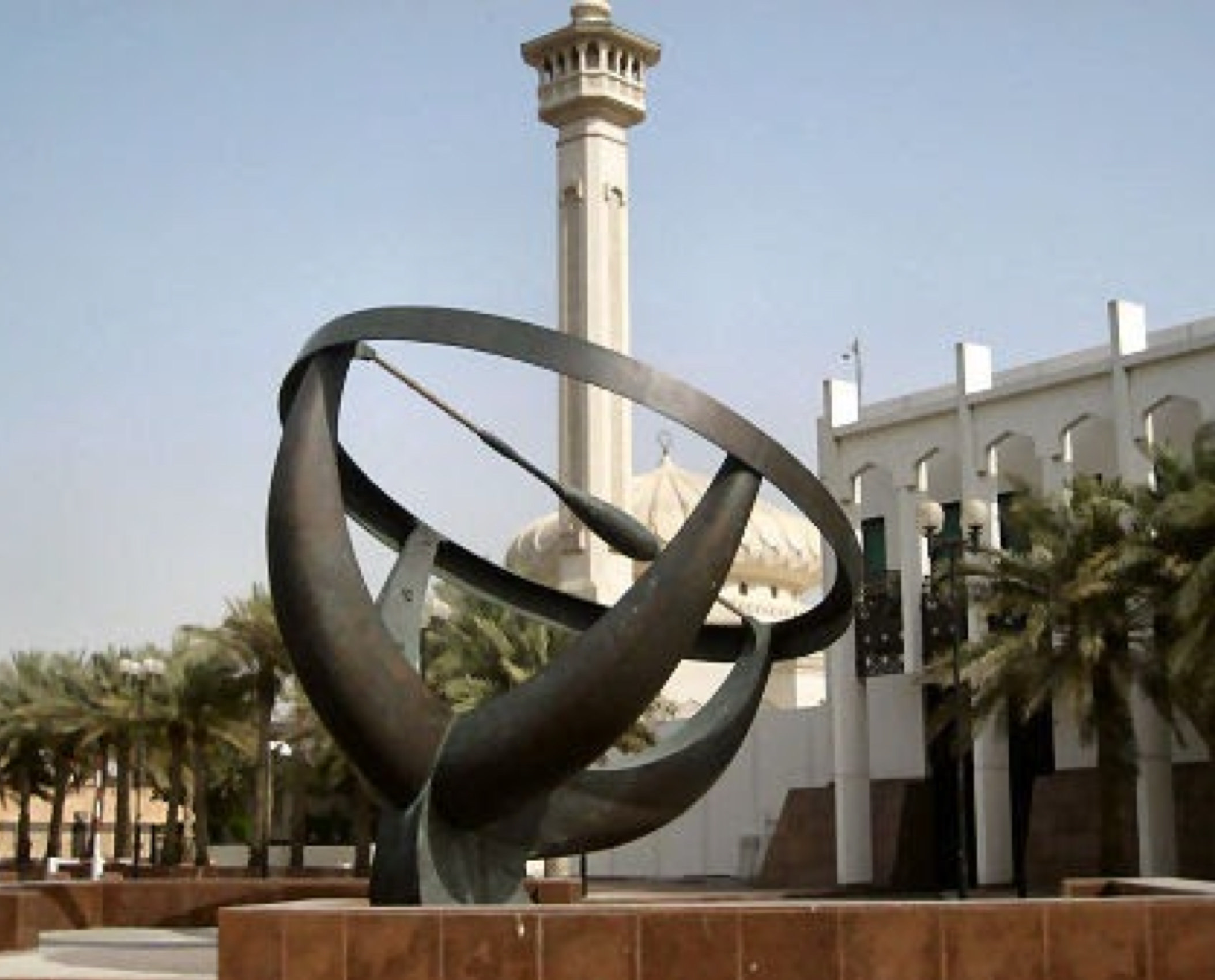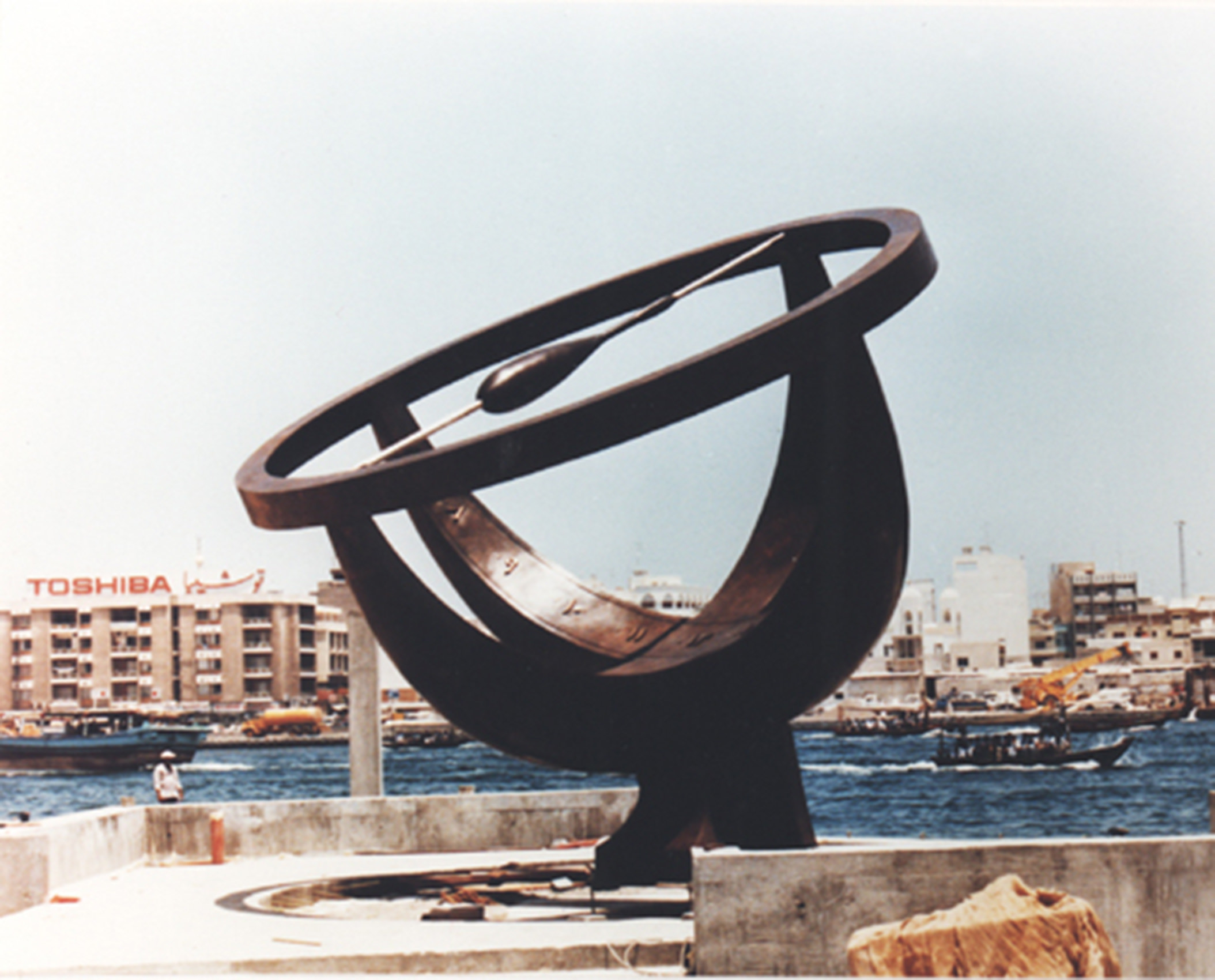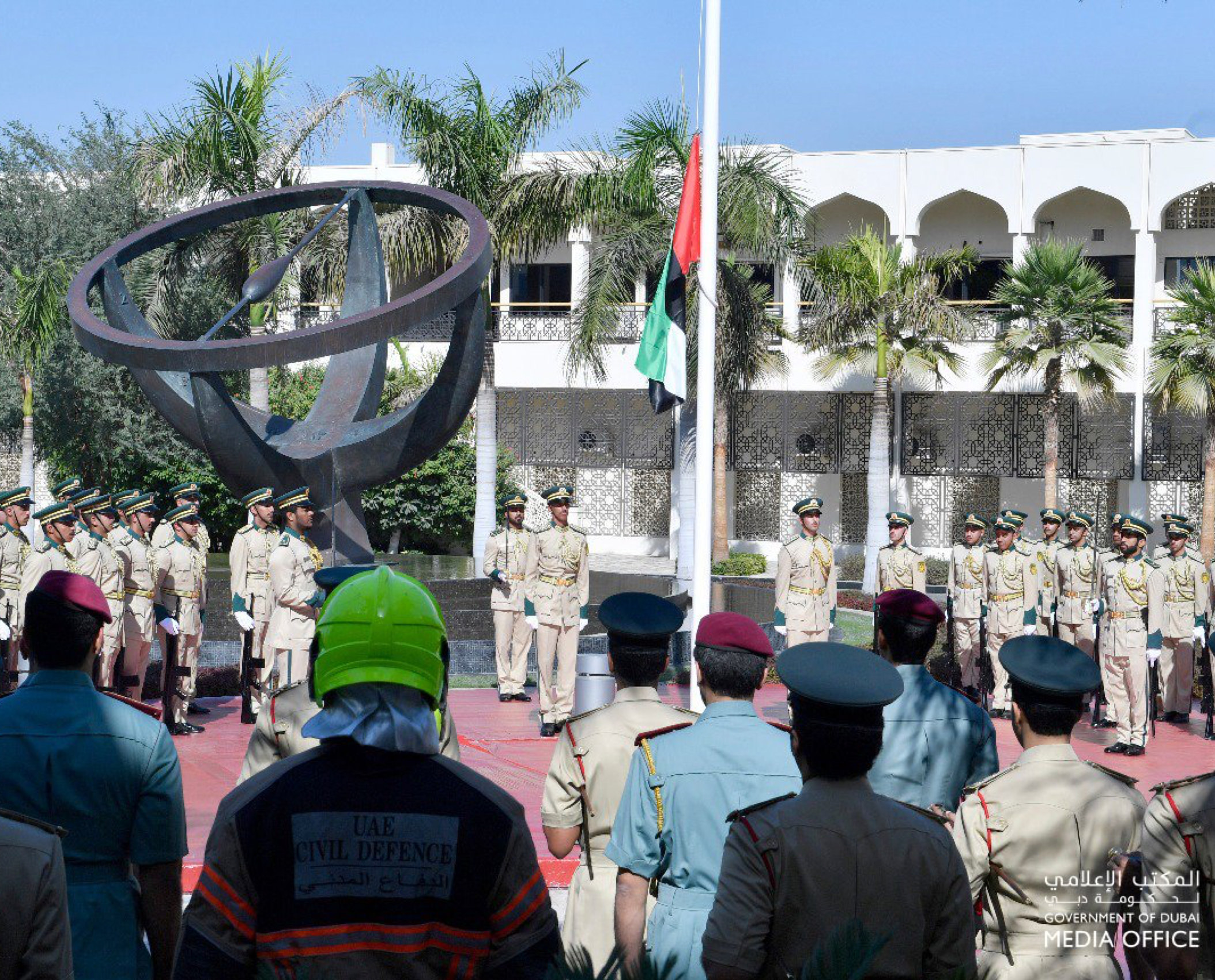 Miranda
Niagra, Canada
The 'Miranda' Dancing Girl sculpture from Shakespeare's 'Tempest' was sculpted for a pond in Girls School – Niagra, Canada. The photos below are from the UK, either Waterperry Gardens in Oxfordshire, or Pashley Manor Gardens in Kent.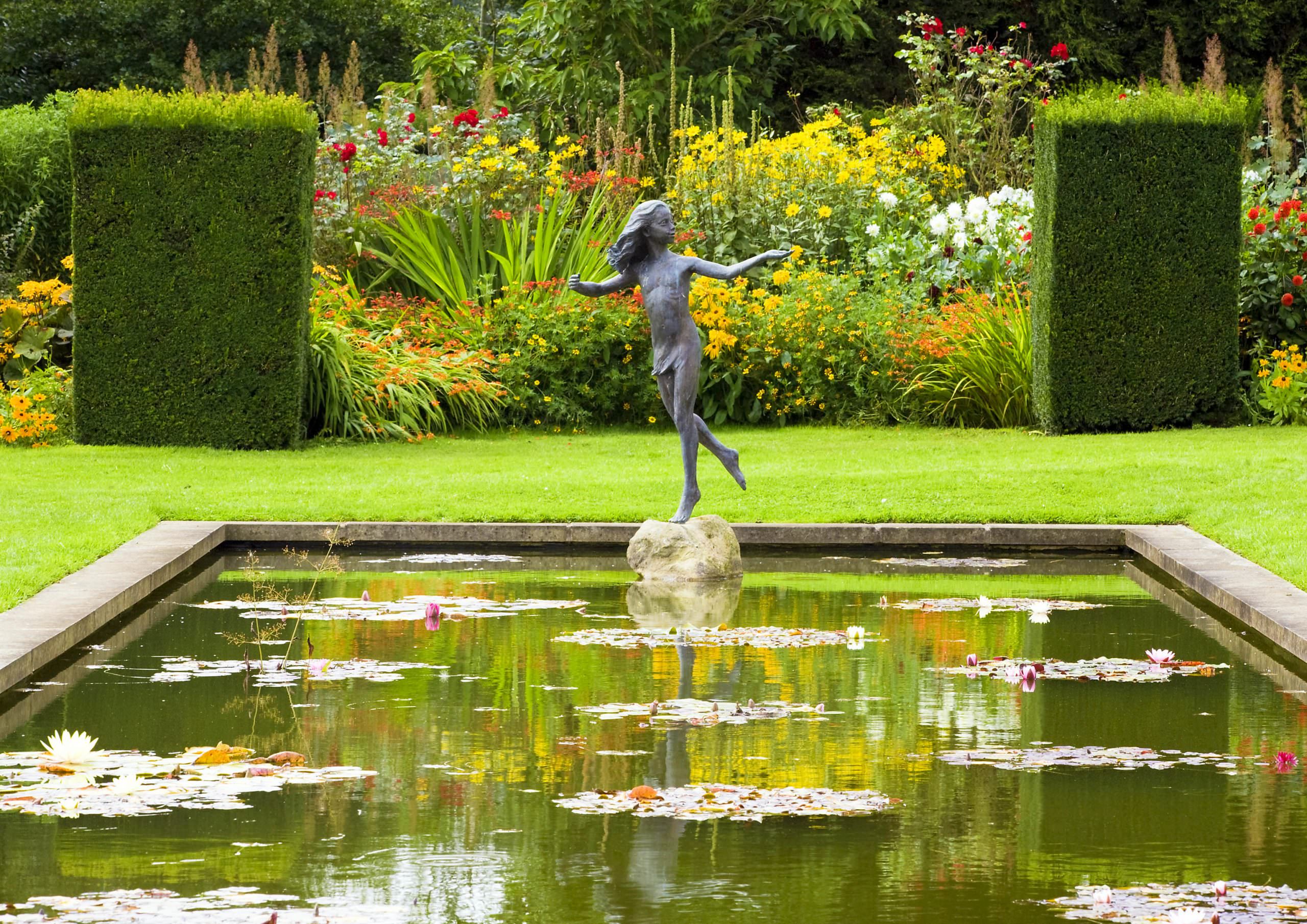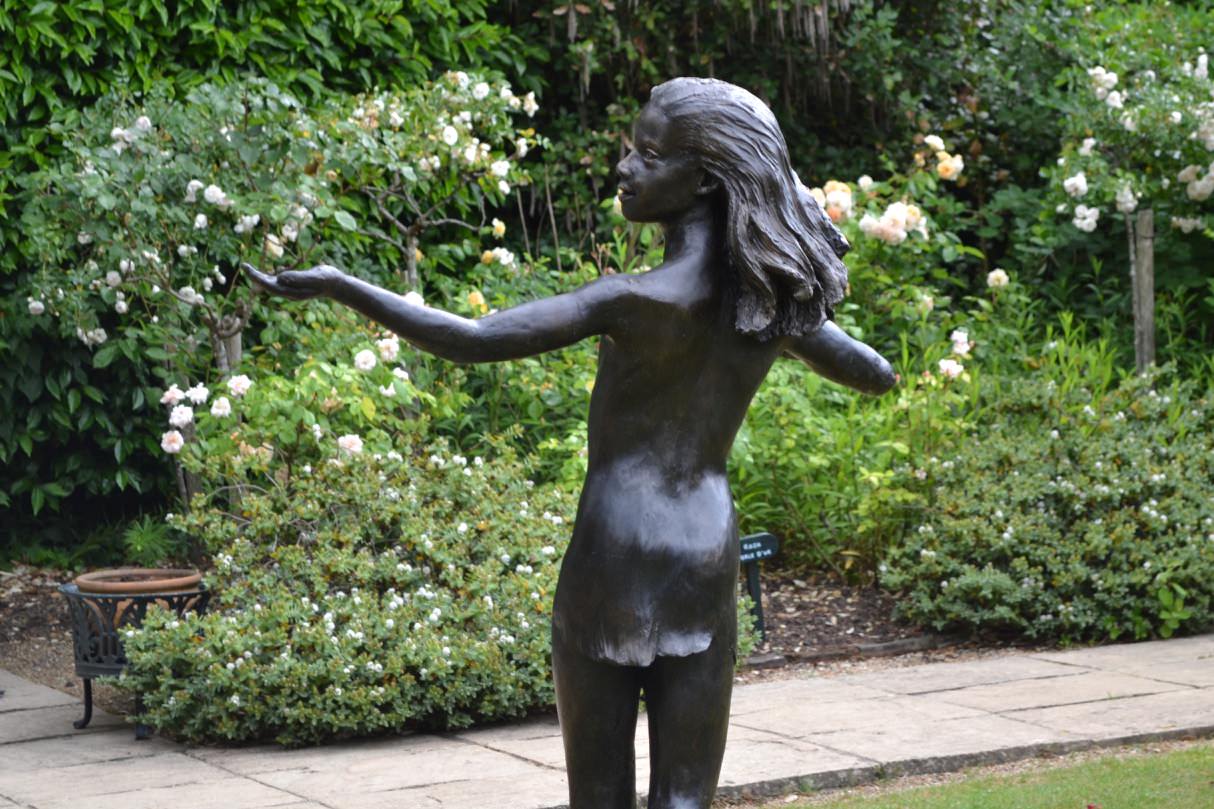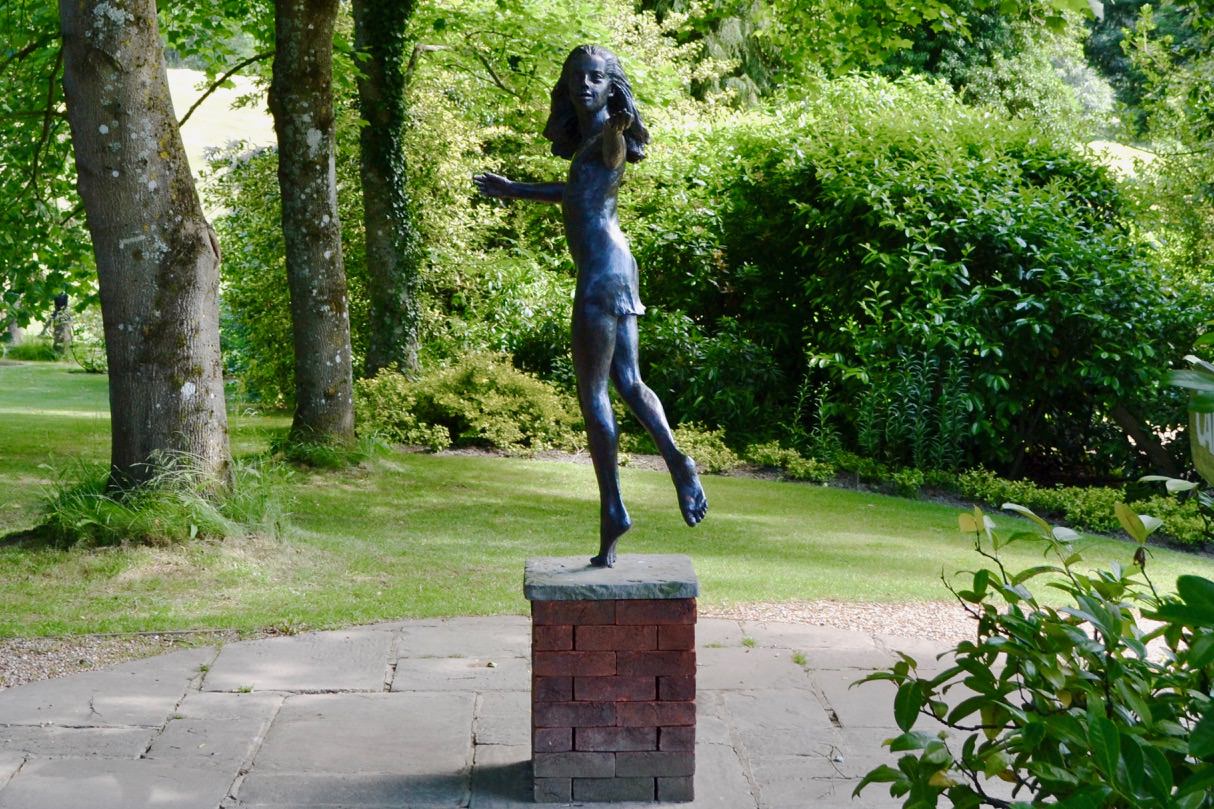 Unipath sculpture
Bedford, UK
Below Left: Commissioned by pharmaceuticals company Unipath (a subsidiary of Unilever). The design alluded to the single snake and staff, or 'Rod of Asclepius', which is a modern symbol of medicine very similar to the rod of Hermes, which carries two snakes.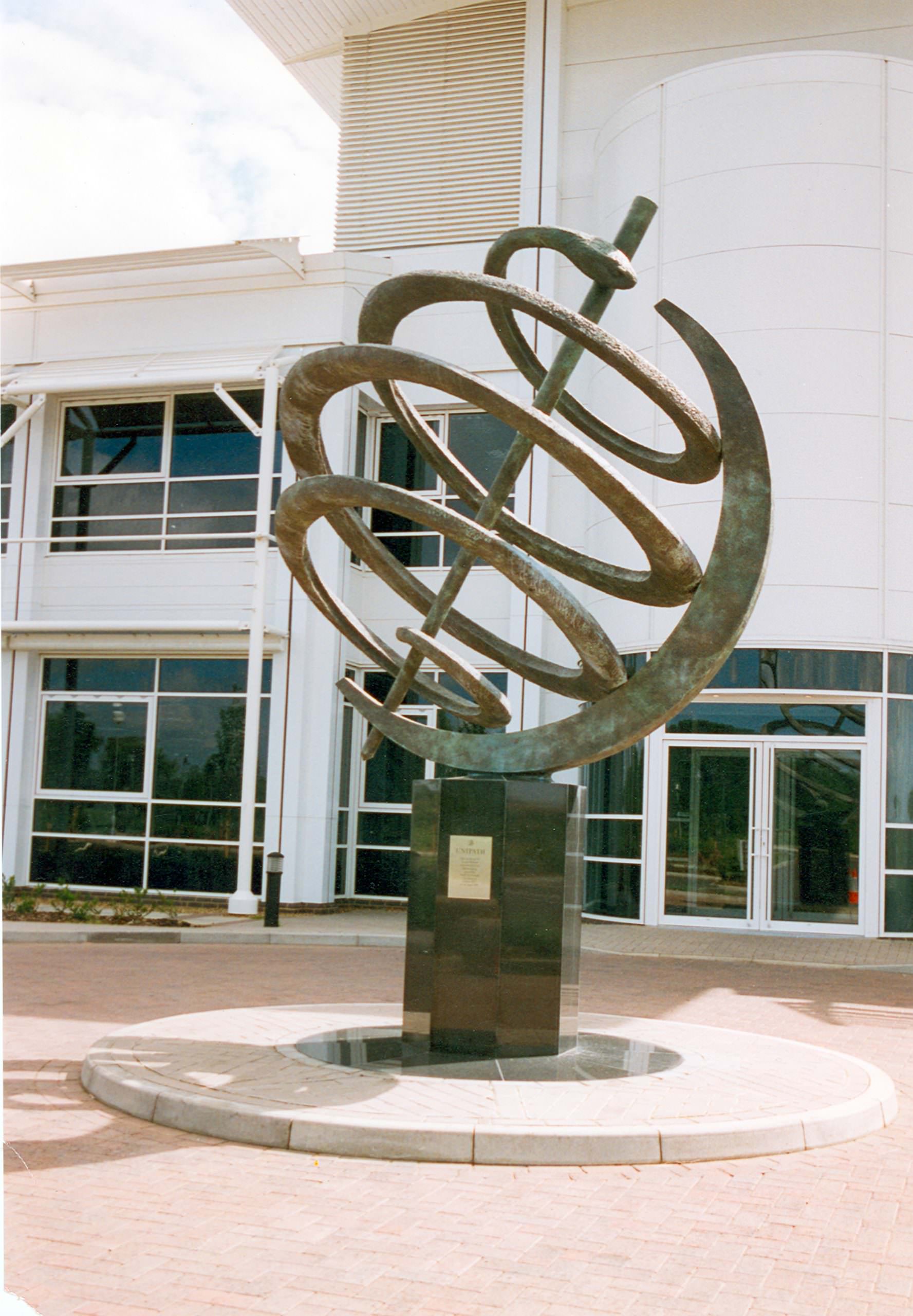 Below Right: Constructing the full-scale model in high-density foam. The foam is modelled by reduction to its intended shape before being moulded and cast.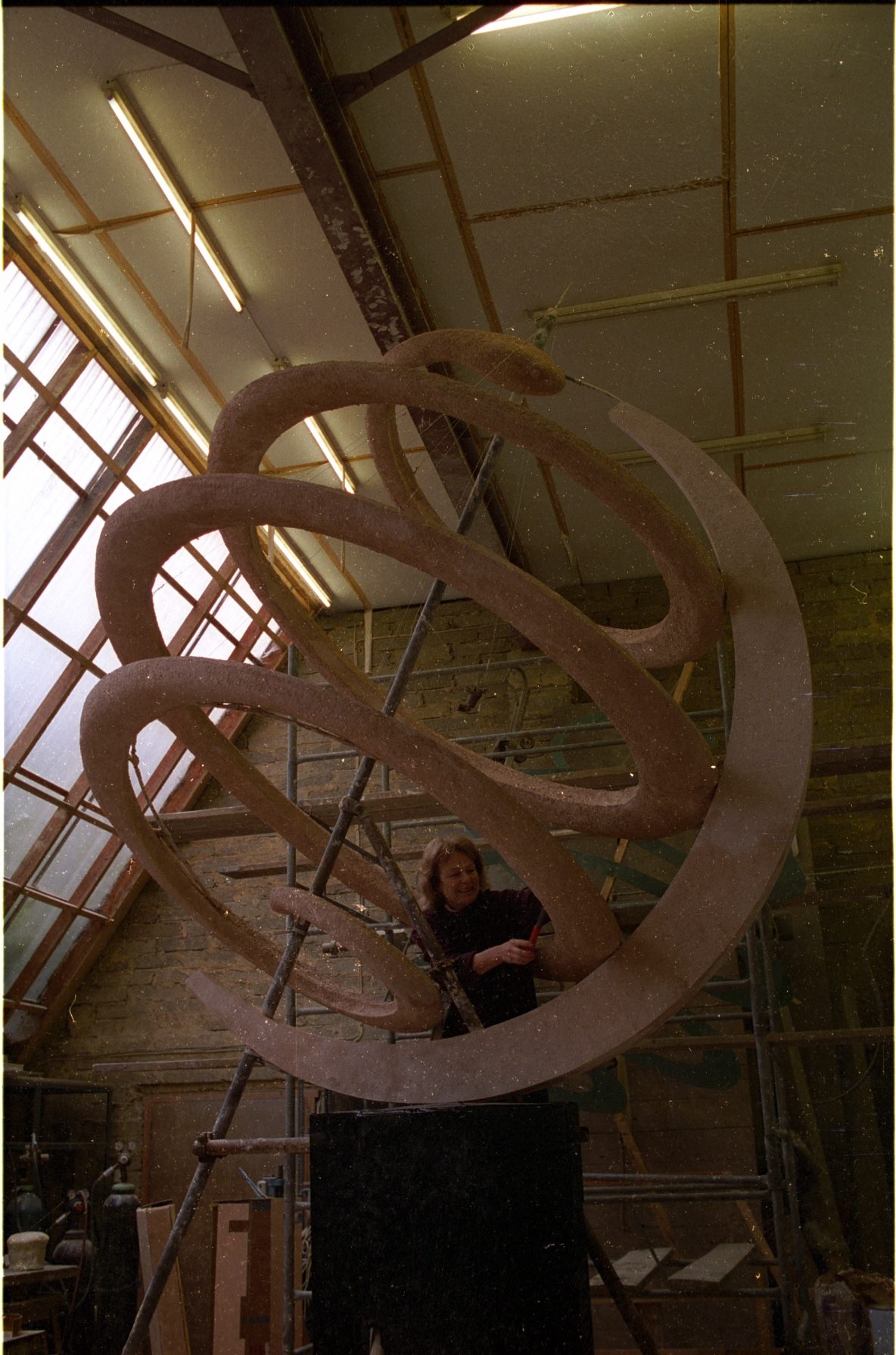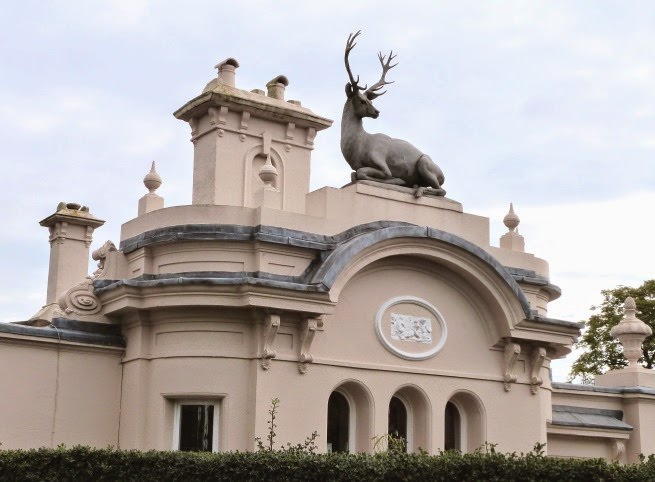 Lying Stag
Wimbledon, UK
This piece sits atop Stag Lodge in Wimbledon. It was commissioned to replace an older stag sculpture which had lost its antlers. The Lying Stag was based on the original, which had lost its antlers by the time ours replaced it.