St George City Ltd has commissioned sculptors Tanya Russell and Lorne McKean to create two large bronze sculptures at their Thames-side development Chelsea Creek, in Fulham, London. They were honoured to be selected from a large number of submissions with their designs about creating habitats for nature in our cities. The six-meter Space For Nature Spiral, and the 3-meter Swooping House Martins were unveiled on the 26th of April 2023 in the beautiful canal-side development.
The Idea
Each design references local animals and plants encouraged by the development.
We proposed relatable designs that were likely to be appreciated by Chelsea Creek's residents and visitors.
With an emphasis on accessible, site-specific urban and natural history, with
appropriate site-specific materials, we wanted contemporary designs with strong lines, semi-abstract figurative design, and simple, topical messages about environmental safeguarding, community building and connections. 
The finished, full-size clay models at our studio in Wales
Our goal was to show how each piece of reintroduced habitat adds a piece to a wider connected network of habitats throughout Fulham and London, creating space for nature alongside people in our most crowded built environments.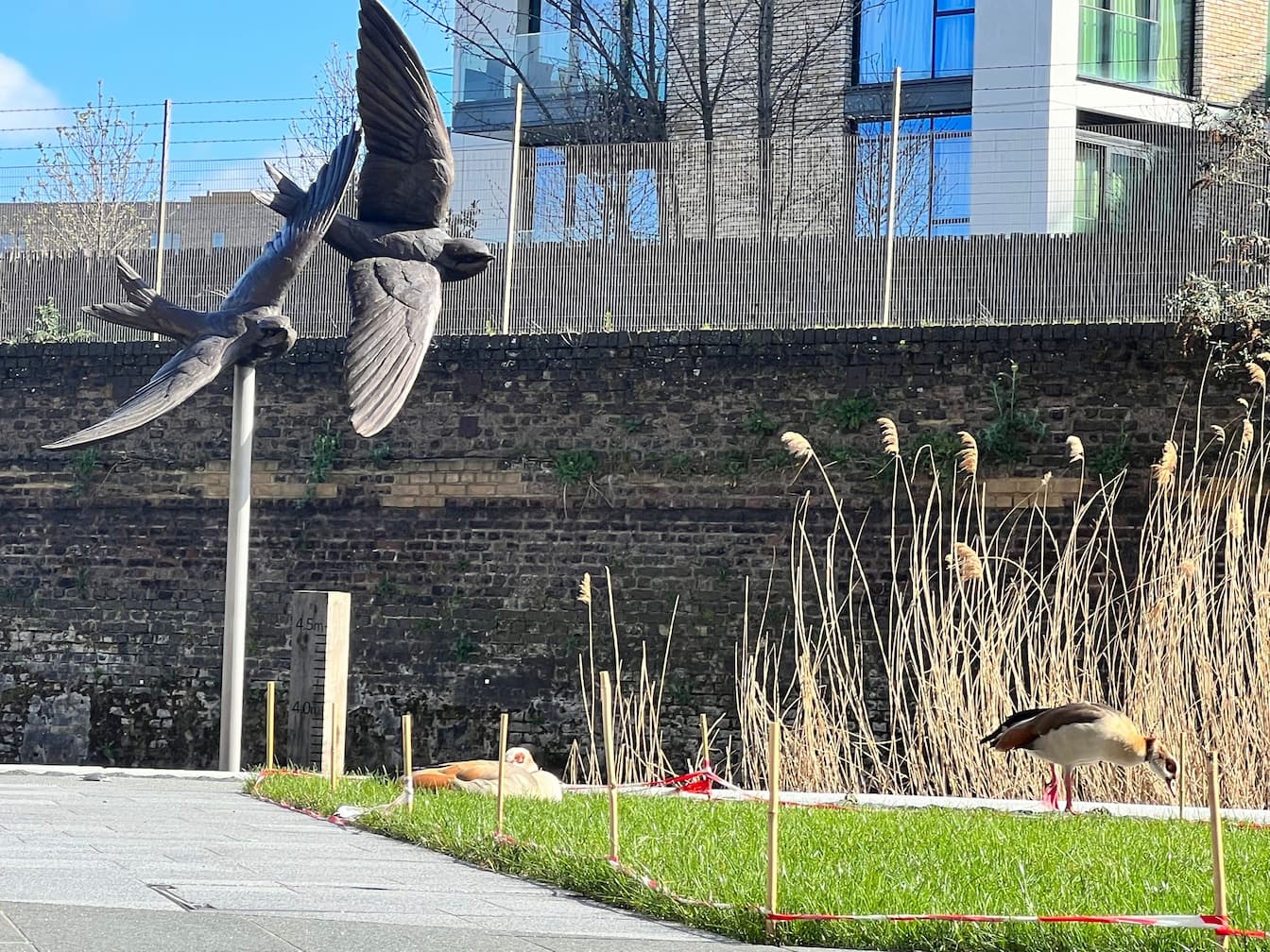 Swooping House Martins 
Depicting a pair of house martins feeding over the newly restored canals of Chelsea Creek, the two birds reference the largest colony of house martins in London, which reside just to the north of the site.
The Swooping House Martins sculpture seeks to capture the dynamism of these beautiful birds as they swoop and catch insects above the water. These local birds were chosen to appeal to residents and visitors, in the familiarity of their rapid, iconic flight. They highlight the work being done onsite to revive the waterways, creating clean, planned habitat for waterbirds, insects and many local species of animals, amphibians and fish.
The House Martins are depicted in a pose that can be appreciated in the round, from the multiple perspectives of the avenue, canal path, residences and railway. They are cast in Foundry Bronze metal, chosen for its longevity and beauty, and also referring to local history, including the creation of famous works by Henry More, Barabara Hepworth and others at the nearby Art Bronze Foundry.
Each house martin has an impressive 2-meter wingspan, and the two birds also feature elsewhere onsite, where they perch amongst the plants and animals on the large Space for Nature Spiral.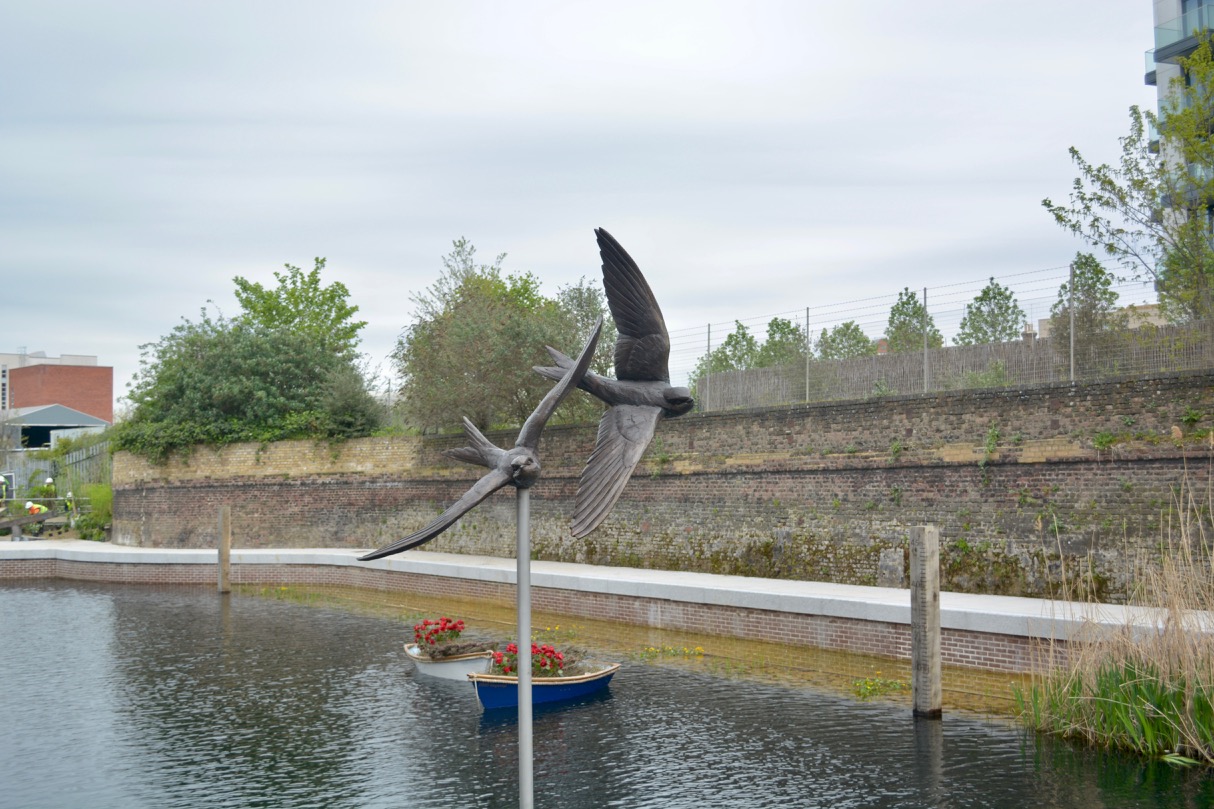 Space for Nature Spiral
This rising 6-meter spiral sculpture symbolises life and growth in an urban environment. Representing the revival of wildlife in London through sympathetic development, Space for Nature is covered in local plants and animals that can be found in Fulham and are being encouraged by St George in Chelsea Creek.
The sculpture references all the work that has gone into restoring habitats in the 70 years since the Thames was declared ecologically dead. It depicts St George's work at Chelsea Creek, clearing and restoring the canals, and introducing new waterways to the site of the old gasworks and its service basin.
This reintroduction of clean water, mud banks, reed beds, fish habitats, trees and flowering plants creates another piece of an interconnected network of habitats across Fulham and London. It is this introduction of new habitat and conservation of old ones that is allowing animals and plants to return to the city, and which will one day, we hope, allow them to thrive here.
Sixteen site-specific animals can be seen all the way around the spiral. The open, three-hundred-and-sixty-degree design encourages the viewer to pause while they look to see what they can find, and while doing so, to contemplate the animals who share their urban home.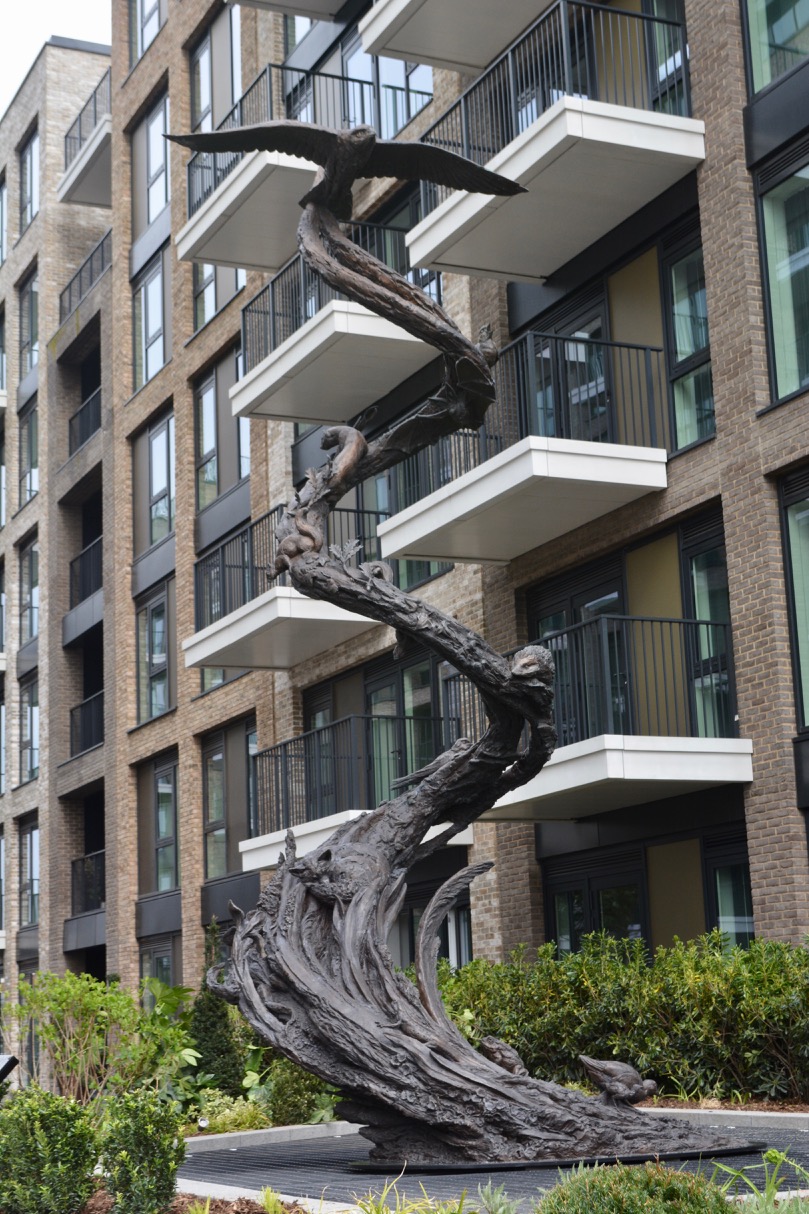 Amongst the reeds, oak, ivy, false oat grass and purple loostrife, a visitor might find common dace, sand gobies, Nilsson's pipe fish, a moorhen & chick, a common toad, a smooth newt, a common frog, a peacock butterfly, a fox, two House martins, a hedgehog, squirrels, a stoat, a long-eared bat, and a peregrine falcon.
They might also find Joseph Addison's nightingale, now gone from London and famously lamented in his writing penned here in Fulham. This bird's loss is transformed in the Spiral into a rising hope, that we can build into our own homes and spaces a home for wild things.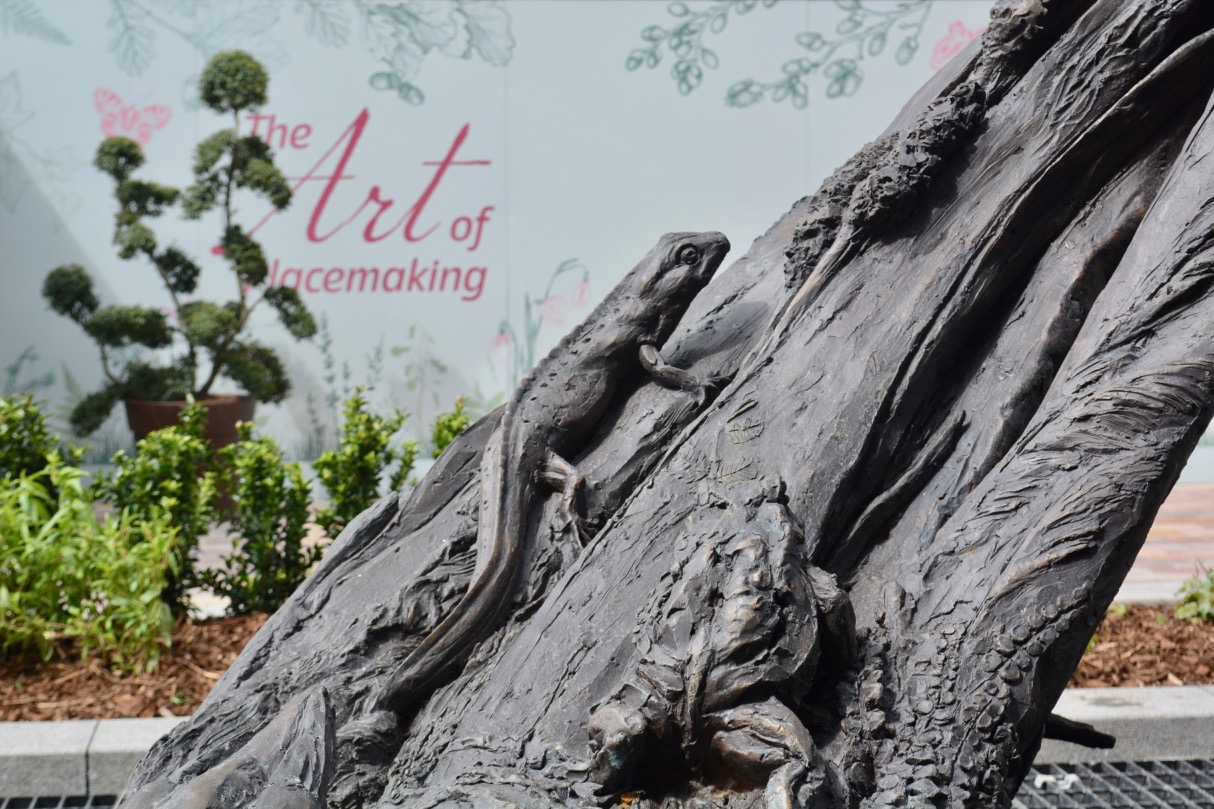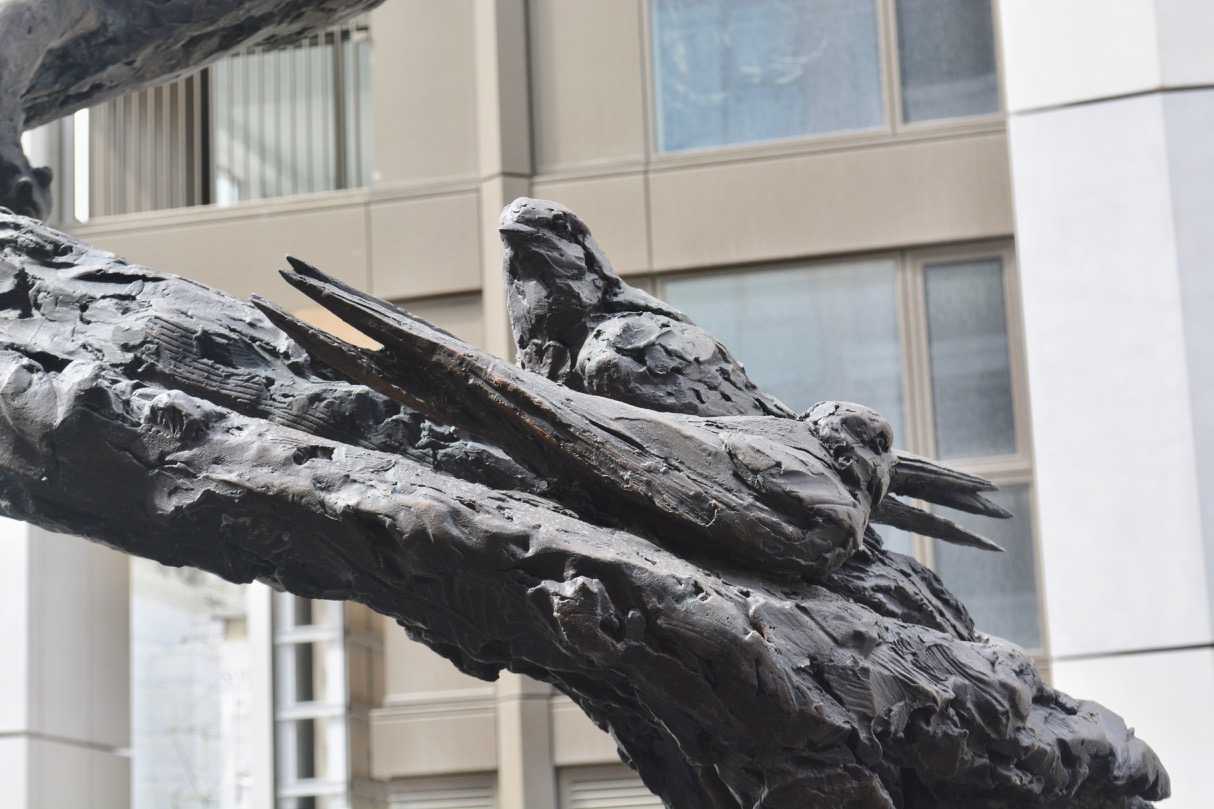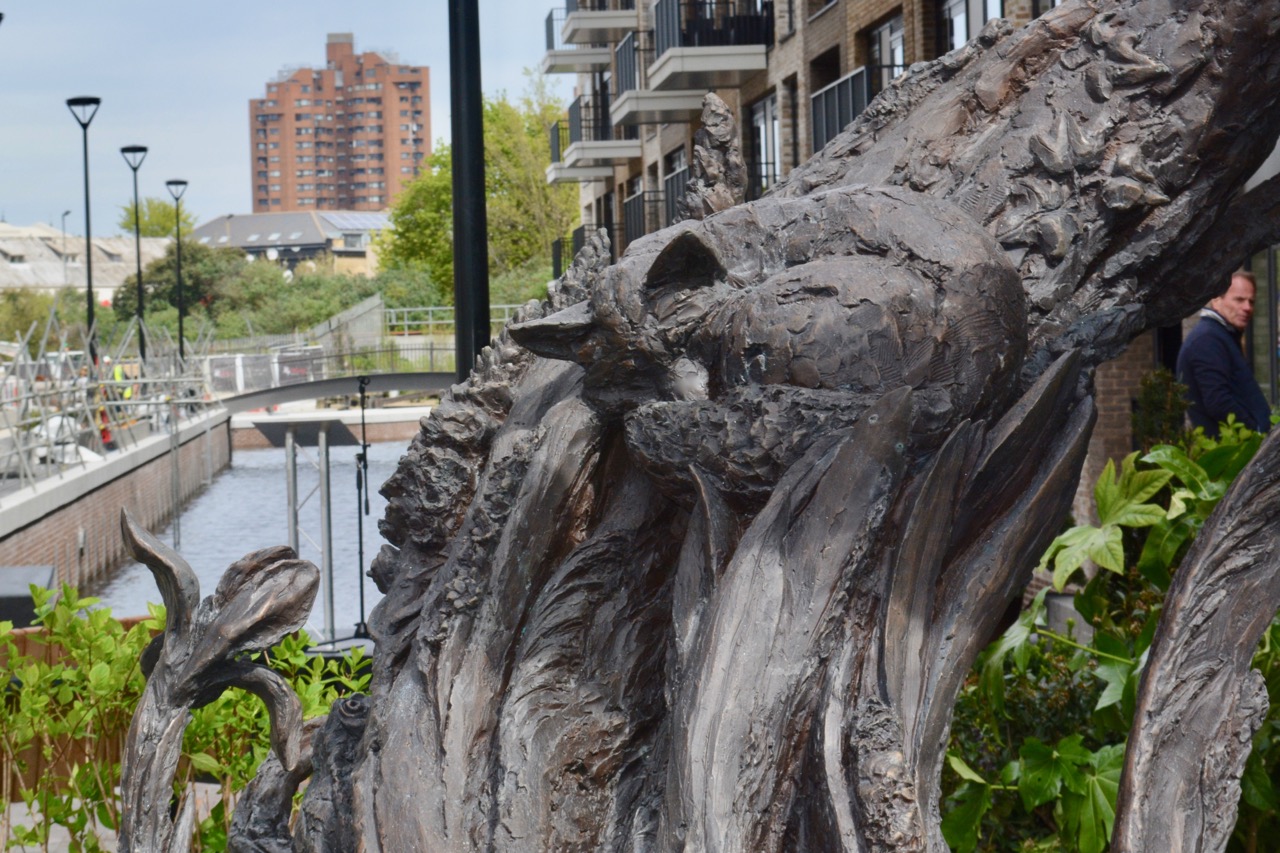 The Unveiling
It took 6 months to sculpt both statues in clay, and 8 months to mould and cast them. We were very happy to finally unveil them in April 2023, (see video below):
The Making
Making video below, which shows:
– The two small models (maquettes),
– The building of steel and wire supports for the full-size clay sculptures,
– The modelling of the two full-size clays in our studio,
– The moulding of the clay with a rubber silicone mould and fibreglass resin jacket,
– The making of the waxes, using the rubber mould,
– The creation of a one-use heat-resistant ceramic mould,
– The pouring of the molten bronze metal into the one-use ceramic mould,
– The welding together of the cast bronze pieces,
– The finishing of the bronze, including the seam lines,
– The patination (colouring) of the finished sculptures,
– And the transportation, installation and unveiling of the two bronze statues.
Press & People
The Daily Telegraph national newspaper published a photo of the Swooping House Martins sculpture.
Consideringart.com featured Tanya Russell and Lorne McKean interviewed by Bob Chaundy, in its podcast.
It was also a real pleasure to meet Rachel de Thame for a question and answer session. Rachel was famously presenter of Gardener's World. While speaking with her Tanya and Lorne discovered they had watched Rachel dance the Nutcracker alongside Tanya's godmother Merle Park, when Rachel was about ten. Merle Park was principal ballerina at the Royal Ballet.
Berkeley Group wrote about the unveiling. 
And we had great fun getting our hands dirty, along with Chairman of St George PLC Piers Clanford  in a sculpting session with the students of the local Langford Primary School.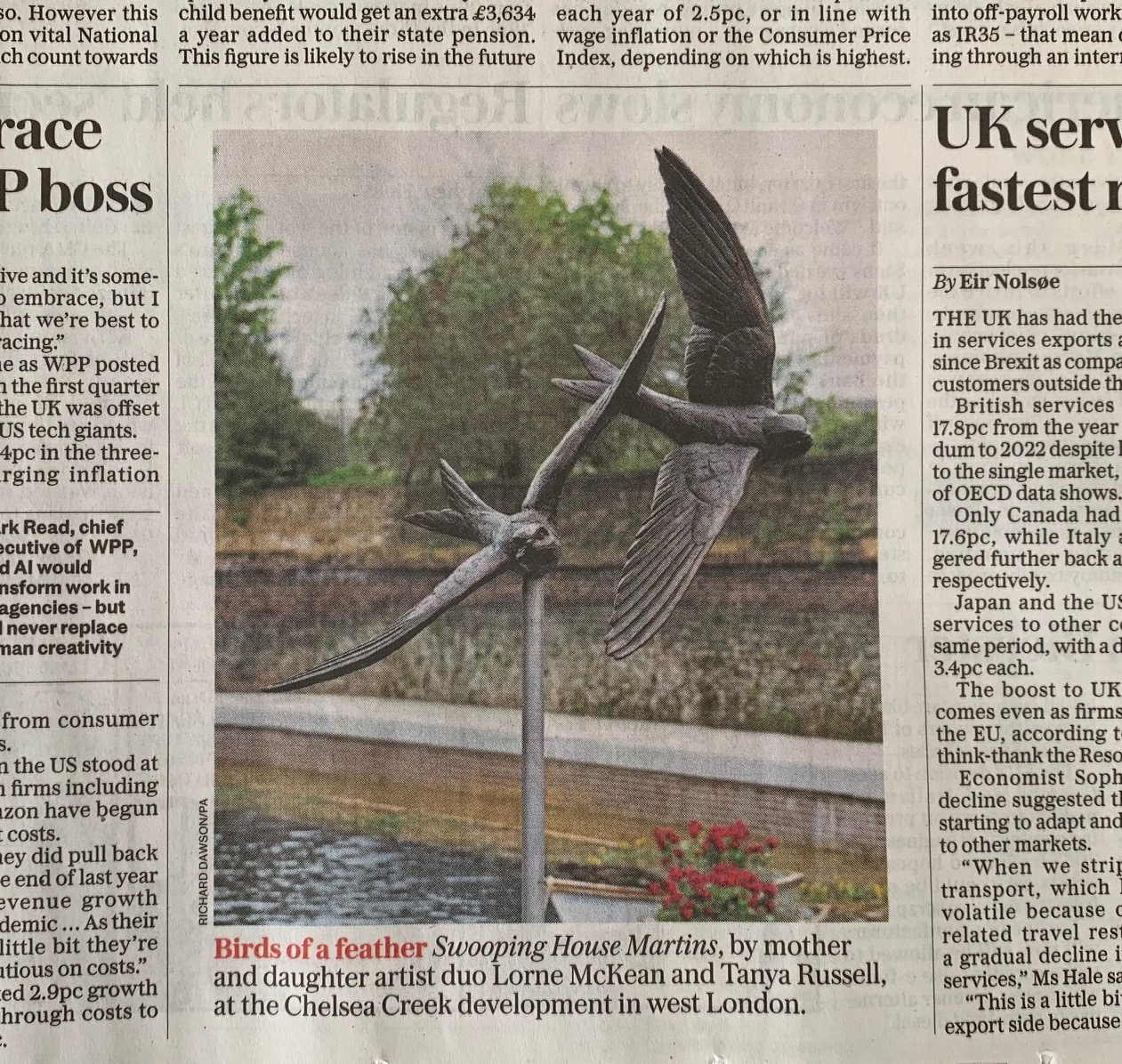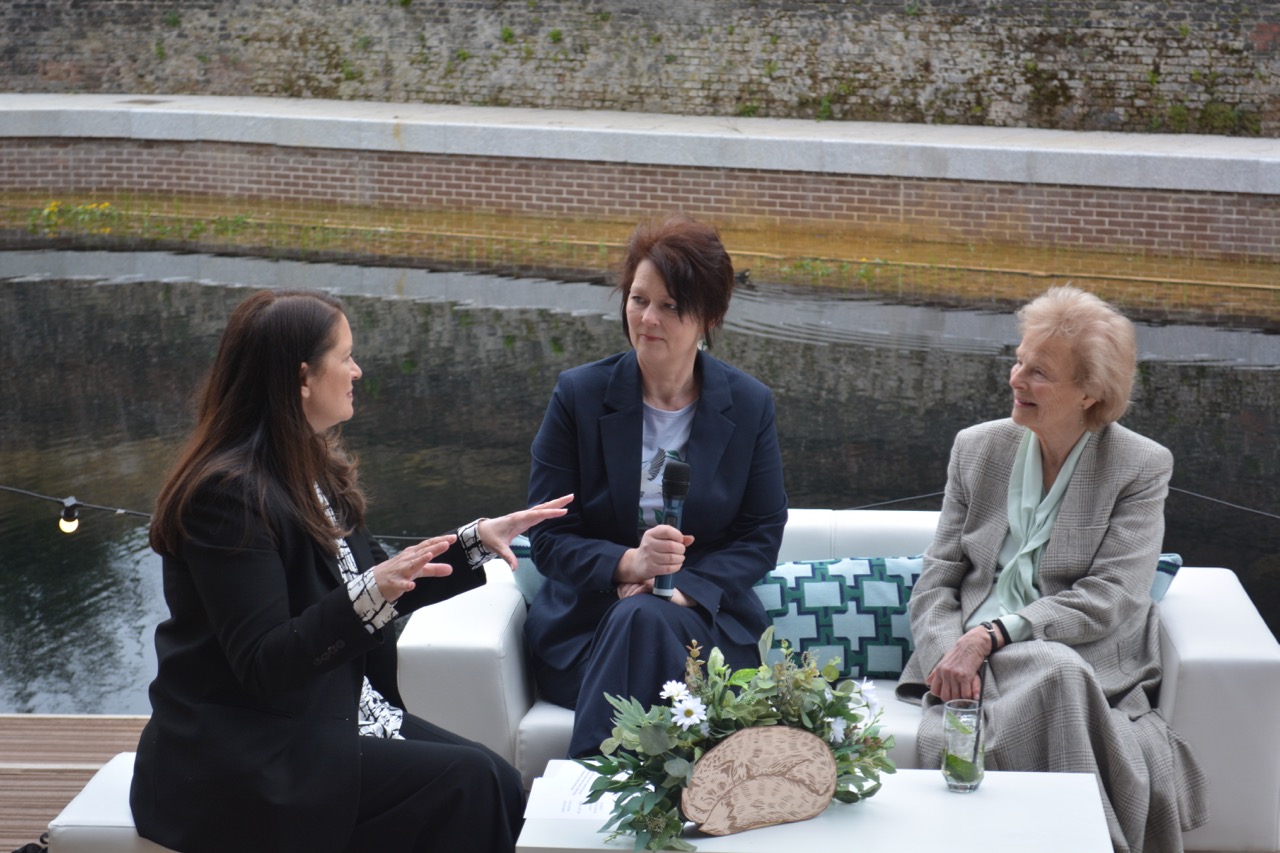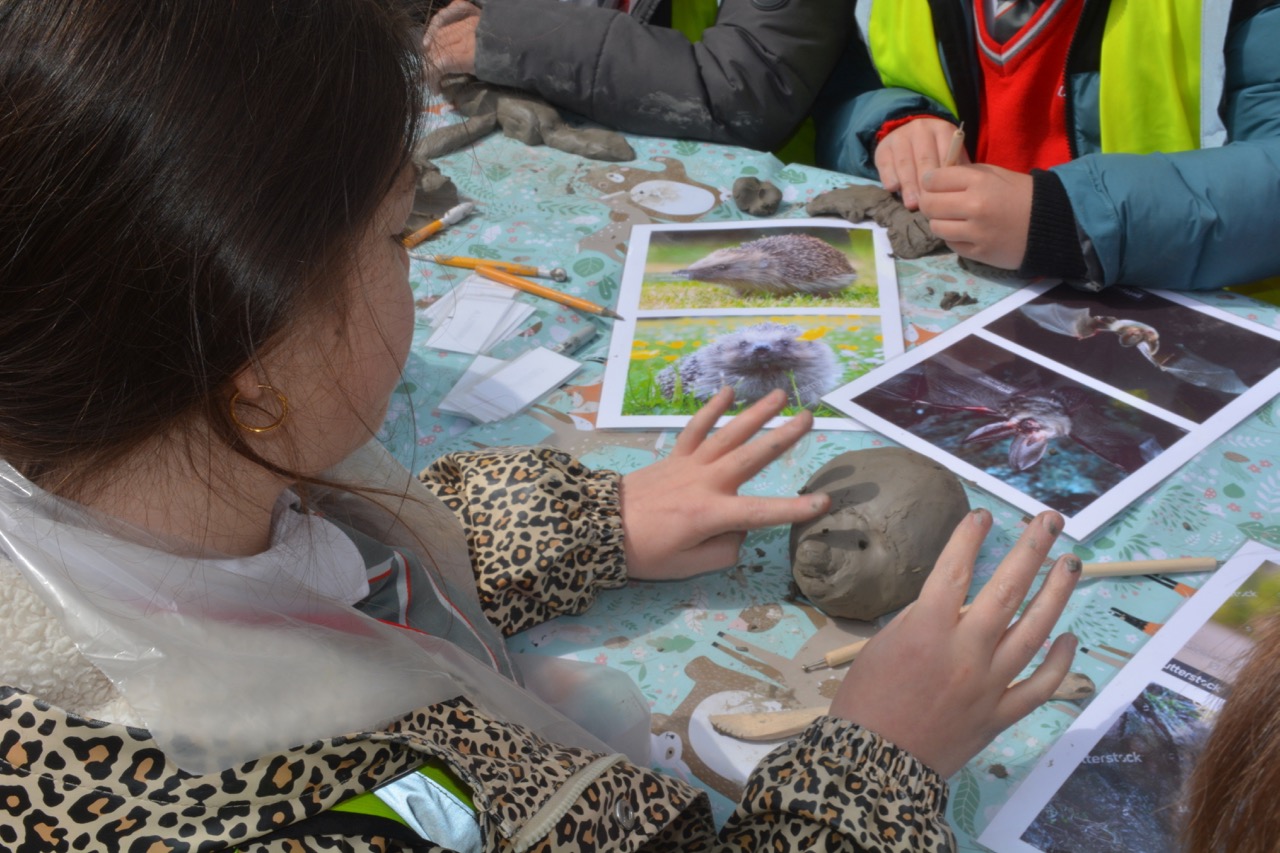 Explore Private & Public Commissions
Together, Tanya Russell and her mother Lorne McKean have a combined 90 years of experience creating public and private sculpture commissions.
We always work very specifically to the site and the client's brief. With our experience and many connections we can create public artworks in very different styles and materials. Get in touch and we will help you with yours.