LABRADOR LOOKING UP SCULPTURE
Life-sized bronze 'Labrador Looking Up' sculpture by Tanya Russell, MRBS – a labrador statue and labrador garden statue.
10% of the proceeds from this sculpture supports 'The Dogs Trust' dog rescue charity.
Dimensions (Metric):

H:80 W:78 D:30 cm

Dimensions (Imperial):

H:32 W:31 D:12 inches

Edition:

Foundry Bronze Limited Edition 25

Bronze Resin Limited Edition of 25

Colour:

Bronze. (This sculpture is handmade, so colour may vary.)
Creating the Labrador Looking Up sculpture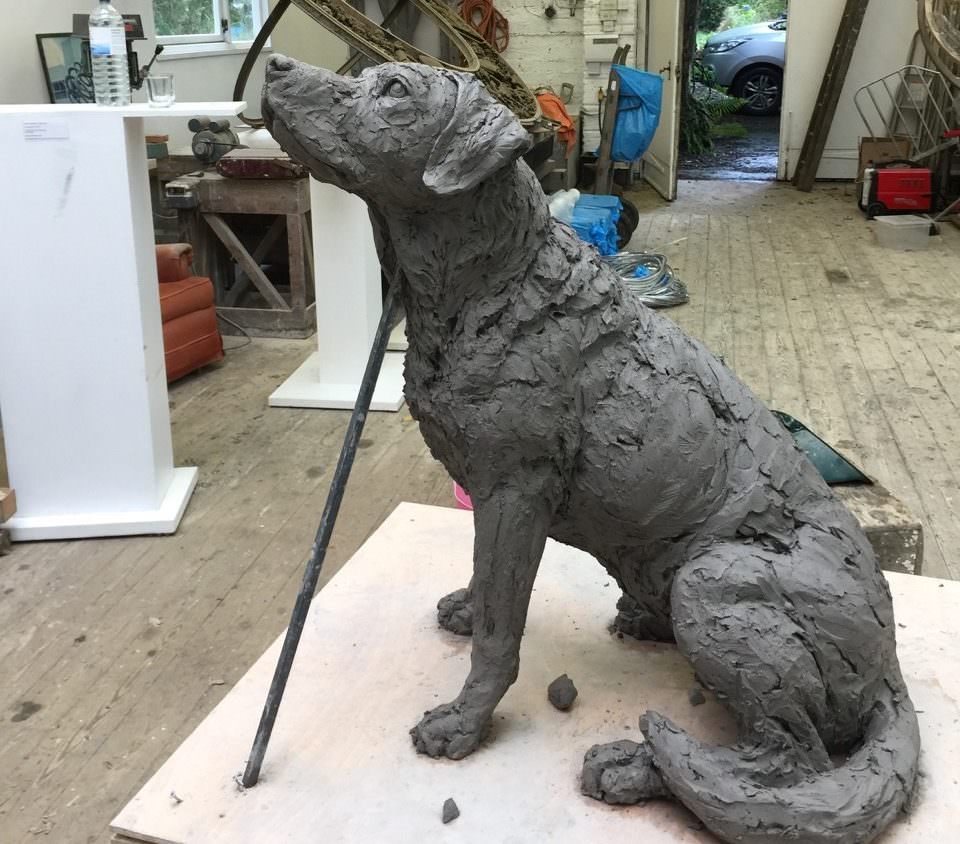 George the labrador was a gorgeous old boy who sadly passed away a few weeks before I completed the commission. He is now memorialised in foundry bronze in his home, and will likely outlast us all.
I enjoyed doing George very much as his owner had taken a large number of pictures of him throughout his life. Sifting through them I was able to enjoy his love of his family, and when I sculpted him I tried to capture George in his prime.
After taking George's measurements I proceeded to model him in clay. I worked with the client to get him just right and once I'd sculpted him a rubber mould was taken, with 'keys' placed in the rubber to ensure proper positioning. Then a shell of fibreglass was applied, to protect the mould and support it during the casting process.
Sculpting materials explained
Foundry bronze
Foundry bronze is the traditional method of casting molten bronze, using the lost wax process – used by sculptors in ancient Greece. The bronze is melted at extremely high temperatures and then poured into a single-use ceramic mould. It is a highly skilled, complex, time-consuming and labour intensive process. Combined with the innate worth of the bronze (which is made from copper and tin), this gives rise to the comparatively high value of a bronze sculpture. Foundry Bronze sculpture lasts indefinitely and is considered an investment, considered by many to be the premier and most authentic sculptural material. It is harder to repair than cold cast bronze if it is damaged, but damage is far less likely due to its great strength and durability.
Bronze Resin
Bronze Resin sculpture also known as "cold cast bronze", is made of real bronze powder, mixed with polyester, epoxy or another resin and poured into a rubber reusable mould. This is backed up with very strong fibreglass and resin. Because real bronze powder is used over its surface, cold cast bronze can be coloured or patinated (a chemical reaction with the metals in bronze) to look very similar to Foundry Bronze. Casting a cold cast sculpture is faster and less expensive than casting bronze. It is also much lighter and is still relatively strong, as it can be reinforced with an internal steel structure. Cold cast bronze can last outside for over 35 years, and many last longer. Depending on the shape some cracking may occur over time, if water pools constantly in one area,  some cracking may occur after a number of years, particularly along seam lines if water sits and then freezes. Indoors bronze resin treated with care can last indefinitely. It is more fragile than foundry bronze and knocking or dropping can break or crack vulnerable parts of the sculpture. However, larger artwork is generally very durable and much more affordable.
More sculptures like this labrador statue
Additional information about the bronze Labrador Looking Up statue
This sculpture is available to order when out of stock
If the Labrador Looking Up sculpture is out of stock, then I can have one cast for you within 14 weeks. I can possibly get it cast in 6 weeks, if your sculpture is for a special occasion.
Ordering from outside the European Union
Please be aware of other factors when importing this labrador garden ornament. For instance your local customs duties may apply. This is most applicable to high value sculpture. Meanwhile, you will not need to pay EU sales tax (VAT).
Commissioning a bespoke dog sculpture
If you would like to commission a made-to-order bronze labrador statue, first of all I recommend looking at the information about bespoke sculptures on my dog commissions page. In particular, this should help guide you on sizing and possibly pricing. Afterwards, please contact me about your idea.
Payment terms when ordering a sculpture that is not in stock
If you are purchasing a sculpture that has already been cast, you will be invoiced the full price. I'll also invoice the full price if you purchase a smaller piece. Otherwise, if you're ordering a larger sculpture which needs to be cast like this bronze labrador statue, I'll firstly take a deposit. In this event the deposit will likely be 50%. Finally, when your sculpture is finished, I'll invoice the rest.