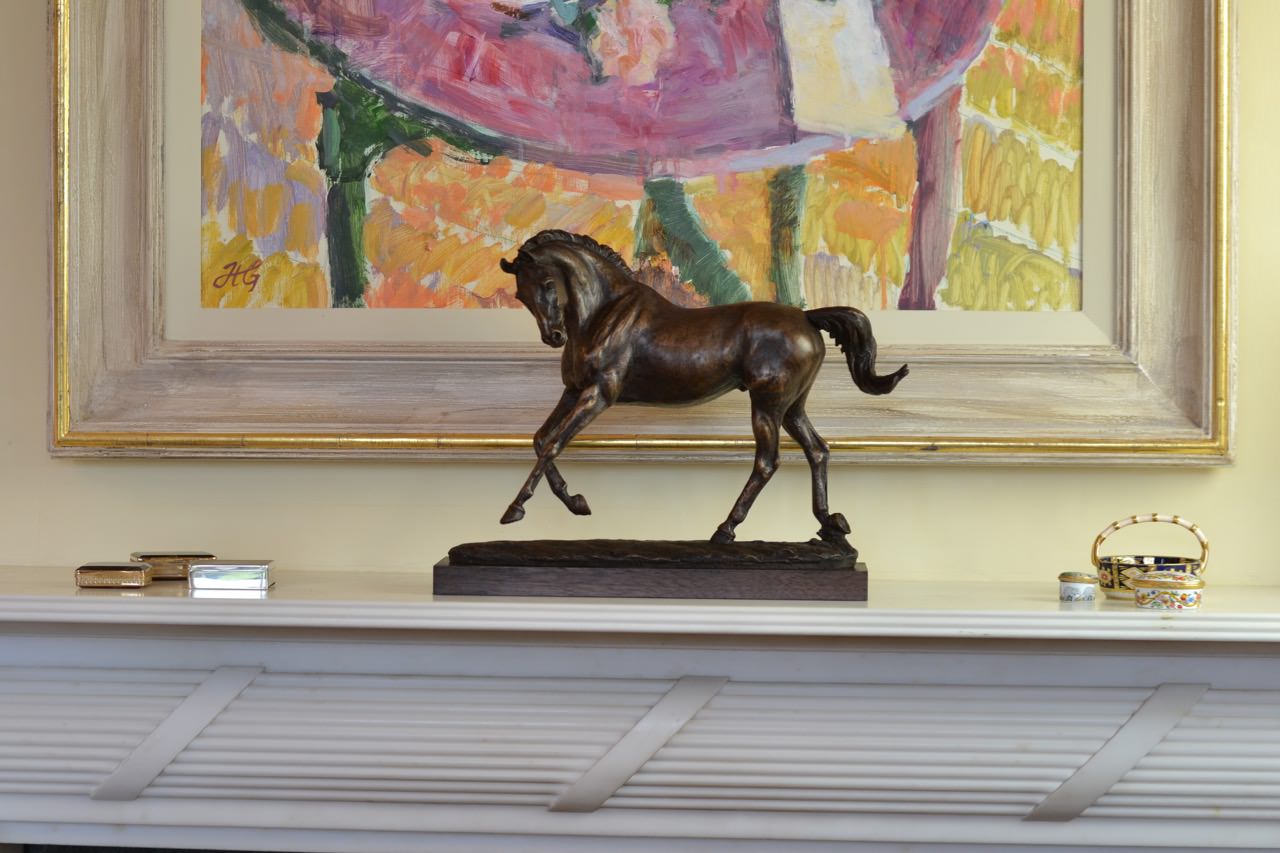 The Playing Horse sculpture was a private commission. My mother Lorne McKean is a sculptor and I apprenticed with her for seven years. Her specialism is polo sculpture and she has long experience in sculpting horses. She is now one of the premier equestrian sculptors in the country. I admire her patient attention to expression and energy, and I drew on her practised eye when I modelled the Playing Horse sculpture for this commission.
This bronze equestrian statue bears Tanya's signature and unique edition number. Your casting of the Playing Horse sculpture will be personally approved and will be accompanied by a certificate of authenticity.
10% of the proceeds from this bronze animal sculpture support the 'All Creatures Great and Small' animal charity.
FREE DELIVERY to the United Kingdom.
Dimensions & Sizing
Metric –  H: 25 W: 34 D: 12 centimetres
Imperial –  H: 10 W: 13 D: 5 inches
(Height / Width / Depth)
Edition
Foundry Bronze Edition:  25
Bronze Resin Edition:  225
Which Material to Choose
Bronze Resin – bronze metal powder is mixed with a resin to create the appearance of foundry bronze metal, but is more affordable and lightweight.
Foundry Bronze – refers to the poured molten metal that is cast solid or hollow, depending on size, at a bronze foundry (using the traditional lost wax process). It is more robust and will appreciate in value.
Sculpture Description, Bases & Fixings
Suitable for indoor display as a horse ornament or bronze horse gift.
This sculpture is mounted on a slate base in Bronze Resin, and a black granite base in Foundry Bronze metal. If you would like this statue to be mounted on an alternative stone or wooden base, please contact me for a quote.
Learn more about bases and plinths…
This windowsill-sized horse statue is sculpted by the artist Tanya Russell, who is well known for her life-like animal sculptures. Tanya has a passion for improving the welfare of the animals she sculpts and 10% of all proceeds from the Playing Horse statue will go to 'All Creatures Great and Small', a charity that provides sanctuary and rehoming services for domestic animals rescued in England and Wales.
The Playing Horse is a limited edition sculpture, and your piece will be a superb recreation of the original wax horse sculpture, taken from a mould. Your bronze horse sculpture can be cast in Bronze Resin or Foundry Bronze metal depending on which material you prefer.
How The Sculpture Was Made
When I model animals I try where possible to find examples from life. I also use many photos – often hundreds – showing the animal (and other animals of the breed or species). This helps me sculpt their anatomical features. I study the way that hair, fur or skin lies over their muscles or alters their shape, and their different poses and attitudes.
The Playing Horse sculpture was modelled in wax, over a steel and aluminium armature for support. After the Playing Horse statue was finished a rubber mould was taken, with 'keys' placed in the rubber to ensure proper positioning. Then a shell of fibreglass was applied, to protect the mould and support it during the casting process.
Delivery & Returns
The delivery costs of your sculpture are calculated once you add a sculpture to your bag. Contact us for other delivery options like collection or express delivery for bulky sculptures.
International delivery is available. If you are an international buyer, you may need to pay local customs duties or taxes when importing a sculpture into your country. This most often applies to more valuable sculptures.
Your local customs and taxes are not prepaid for you.
If you contact us we can try to estimate them for you. Sculpture that is broken in transit to you may be returned, and a replacement sculpture will be sent to you, at no further cost. If no replacement is available, we will cast a new one for you, or offer you a refund.
Client Testimonials
This sculpture doesn't have a written testimonial yet. However, you can view all our written testimonials below: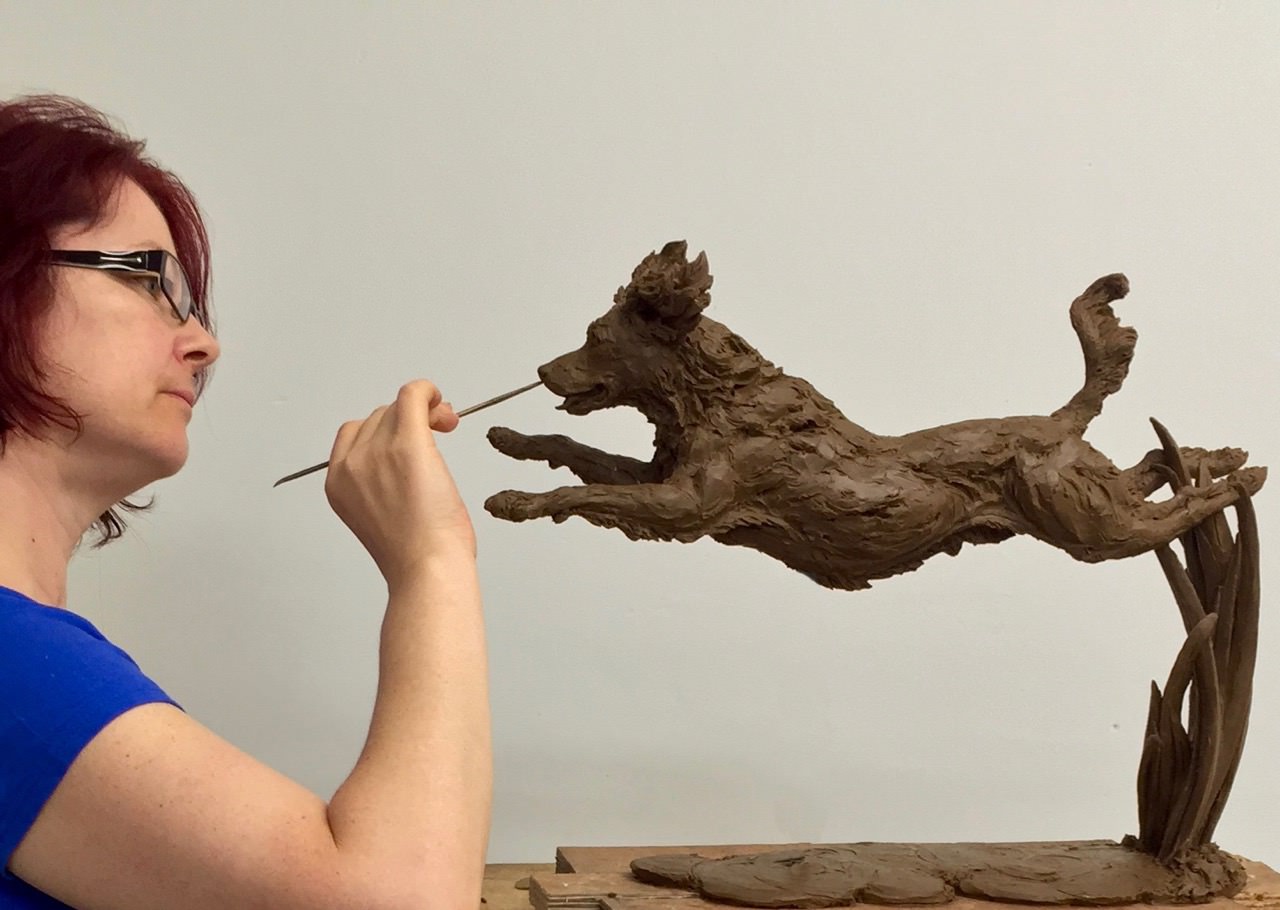 Commission A Bespoke Animal Sculpture
If you would like to commission a made-to-order animal sculpture, first of all I recommend looking at the information about bespoke sculptures on my animal commissions page. In particular, this should help guide you on sizing and possibly pricing.
Afterwards, please contact me about your idea.
More sculptures like this