The life-sized English Bulldog sculpture by Tanya Russell, ARBS. Limited edition, from the 'Affection' range. Handmade in England.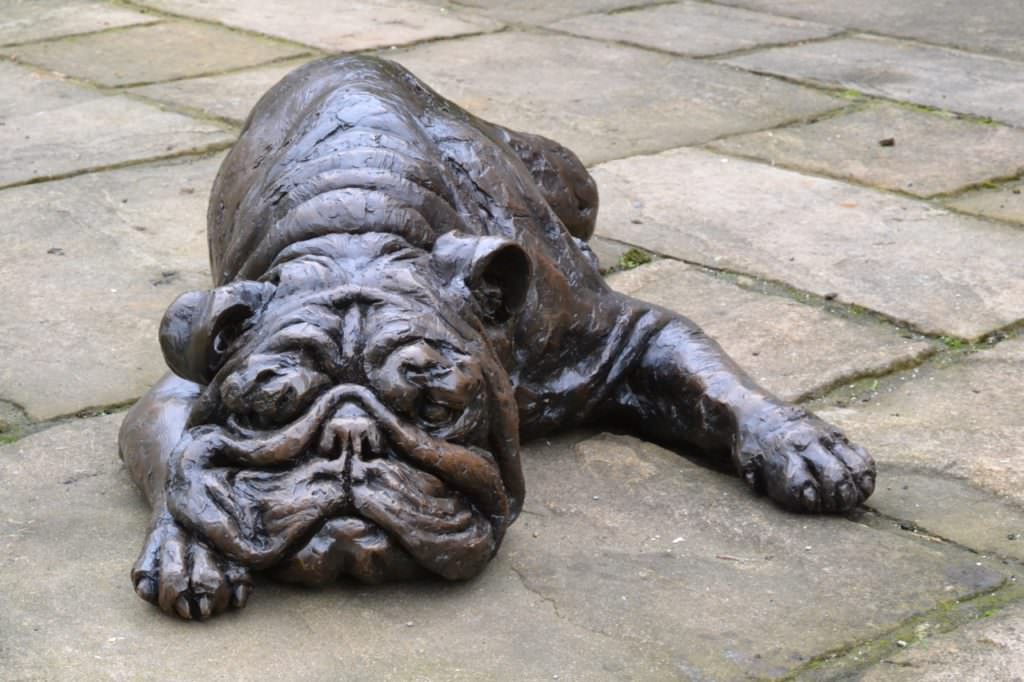 Material: either Bronze Resin or Foundry Bronze
Size: H:280 W:950 D:470 mm, H:11 W:37 D:18 inches
Bronze Resin, Edition 25: Price £900.
Foundry Bronze, Edition 25: Price £4,280. 
(Prices include VAT and exclude delivery)
To purchase the English Bulldog sculpture please contact the artist. As this artwork is handmade colour can vary slightly.
Materials explained
Bronze Resin (known also as Cold Cast Bronze) is made from a polyester epoxy resin with real bronze powder mixed into the surface layer. The final product is patinated (a term that describes the reaction of chemicals with the bronze powder in the surface) to give it a very similar colour to foundry bronze.
Foundry Bronze is made from molten metal using the lost wax method. Bronze metal is a blend of copper and tin along with other metals to give different characteristics to the final product.
Both forms begin as a clay or wax sculpture, from which a mould is taken, but Foundry Bronze casting is a costly and time-consuming process. Cold Casting allows for faster production and a more affordable sculpture.
The intention behind the English Bulldog sculpture
This English Bulldog sculpture was modelled on Arthur. It was modelled from life, with Arthur sitting right in front of me at the 2015 Art in Action fair in Oxfordshire. He was an excellent sitter, staying still for a long day while lots of dogs walked by and lots of people came and patted him. He was a gentle sweetheart with a lot of character in his big friendly face and was a big success. He was quite old and a bit wobbly, so he had a special parking permit from the organisers.
Once I'd sculpted Arthur in clay a rubber mould was taken, with 'keys' placed in the rubber to ensure proper positioning. Then a shell of fibreglass was applied, to protect the mould and support it during the casting process. Arthur was originally commissioned in Bronze Resin.