The Wiggling Spaniel sculpture by Tanya Russell, ARBS. Limited edition, from the 'Affection' sculpture range. Handmade in England.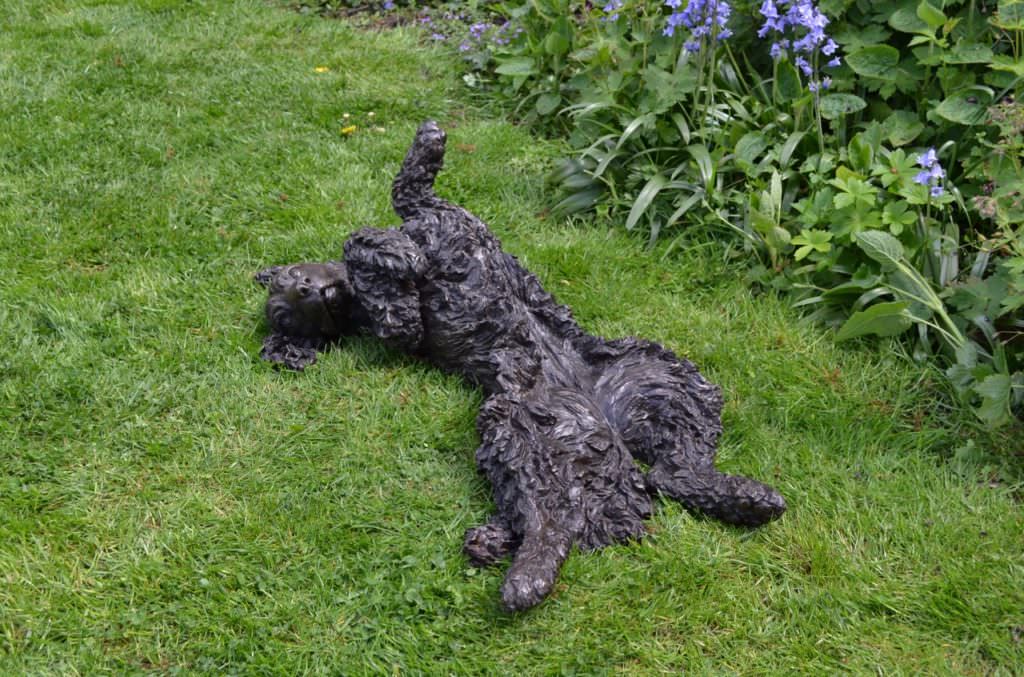 Material: either Bronze Resin or Foundry Bronze
Limited Edition 25 – Bronze Resin £1,320. 
Limited Edition 25 – Foundry Bronze £4,720.
(Prices include VAT and exclude delivery)
Size: H:30 W:97 D:38 cm, H:12 W:34 D:15 inches
To purchase this Wiggling Spaniel sculpture please contact the artist. As this artwork is handmade colour can vary slightly.
Materials explained

Bronze Resin (known also as Cold Cast Bronze) is made from a polyester epoxy resin with real bronze powder mixed into the surface layer. The final product is patinated (a term that describes the reaction of chemicals with the bronze powder in the surface) to give it a very similar colour to foundry bronze.

Foundry Bronze is made from molten metal using the lost wax method. Bronze metal is a blend of copper and tin along with other metals to give different characteristics to the final product.
Both forms begin as a clay or wax sculpture, from which a mould is taken, but Foundry Bronze casting is a costly and time-consuming process. Cold Casting allows for faster production and a more affordable sculpture.
The intention behind the Wiggling Spaniel sculpture
The Wiggling Spaniel sculpture is based on Millie, a lovely cocker spaniel owned by a gentlemen who commissioned the sculpture as a surprise gift for his wife. The spaniel sculpture was shown by arrangement at Chelsea Flower Show, where its discovery brought the lady quite to tears. I was extremely happy to have been able to bring joy to Millie's lovely family, and I particularly enjoyed sculpting such a natural, wonderful pose.
When I model animals I try where possible to find examples from life, but where I can I also use many photos – often hundreds – showing the animal (and other animals of the breed or species). This helps me sculpt their anatomical features, the way that their hair or fur lies over their muscles, and their different poses and attitudes.