'LARGE STARGAZERS' MAN AND DOG ON RING SCULPTURE
The 'Large Stargazers Ring' Man and Dog on Ring sculpture was a public sculpture commissioned by a US developer for their luxury 24-storey residential 'M' Building in Seattle. It is based on a smaller 80 centimetre tall stargazers sculpture, and was made so a person could walk through the 6 foot ring.
The stargazers ring was created to explore simple lines and elegant forms. It draws the viewer's eye upwards to the figure and dog standing on the top of the ring to reflect their upward gazing pose. As with the small version, the piece was aiming to portray our collective experiences and the oneness between person and dog in a shared moment of peace and wonder at our magnificent world.
This bronze Large Stargazers Ring bears Tanya's signature and unique edition number. Your casting of the Large Stargazers sculpture will be personally approved and will be accompanied by a certificate of authenticity.
Dimensions & Sizing
Metric –  H: 271 W: 182 D: 27 centimetres
Imperial –  H: 107 W: 72 D: 11 inches
(Height / Width / Depth)
Edition
Foundry Bronze Edition:  Edition 7
Bronze Resin Edition:  Edition 7
Which Material to Choose
Bronze Resin – bronze metal powder is mixed with a resin to create the appearance of foundry bronze metal, but is more affordable and lightweight.
Foundry Bronze – refers to the poured molten metal that is cast solid or hollow, depending on size, at a bronze foundry (using the traditional lost wax process). It is more robust and will appreciate in value.
Sculpture Description, Bases & Fixings
Suitable for outdoor display as a garden or park ornament.
If requested this statue can be provided with screw-in threaded rods, which allow you to bolt it onto, or glue it into, hard surfaces. Alternatively, if requested, we can provide fixed (for bronze metal only) or screw in security rings, which will allow you to lock the sculpture to a buried security chain.
Learn more about security for outdoor sculptures…
This abstract Large Stargazers statue of a figure and dog on a ring is sculpted by the artist Tanya Russell, who is well known for her life-like wildlife and animal sculptures. Tanya has a passion for improving the welfare of the animals she sculpts and 10% of all proceeds from the Stargazers statue will go to the 'David Shepherd Wildlife Trust', a charity that fights for greater legal protection of endangered species.
The Stargazers is a limited edition sculpture, and your piece will be a superb recreation of the original sculpture, taken from a mould. Your Stargazers sculpture can be cast in Bronze Resin or Foundry Bronze metal depending on which material you prefer.
How The Sculpture Was Made
The 'Large Stargazers' Man and Dog on Ring sculpture was modelled in clay, over a steel and aluminium armature for support. After the 'Large Stargazers' Man and Dog on Ring statue was finished a rubber mould was taken, with 'keys' placed in the rubber to ensure proper positioning. Then a shell of fibreglass was applied, to protect the mould and support it during the casting process.
Delivery & Returns
The delivery costs are calculated once you add a sculpture to your bag. Contact us for other delivery options. e.g. collection, express delivery for bulky sculptures etc.
International delivery is available. If you are an international buyer, you may need to pay local customs duties or taxes when importing a sculpture into your country. This most often applies to more valuable sculptures.
Your local customs and taxes are not prepaid for you.
If you contact us we can try to estimate them for you. If a sculpture is broken in transit, it may be returned and a replacement sculpture will be sent to you at no further cost. If no replacement is available, we will cast a new one for you or offer you a refund.
Client Testimonials
"Thank you so much for all of your help in driving this to completion. It has been an absolute pleasure working with you both and the sculptures are beautiful!!"
Jill, Commissioner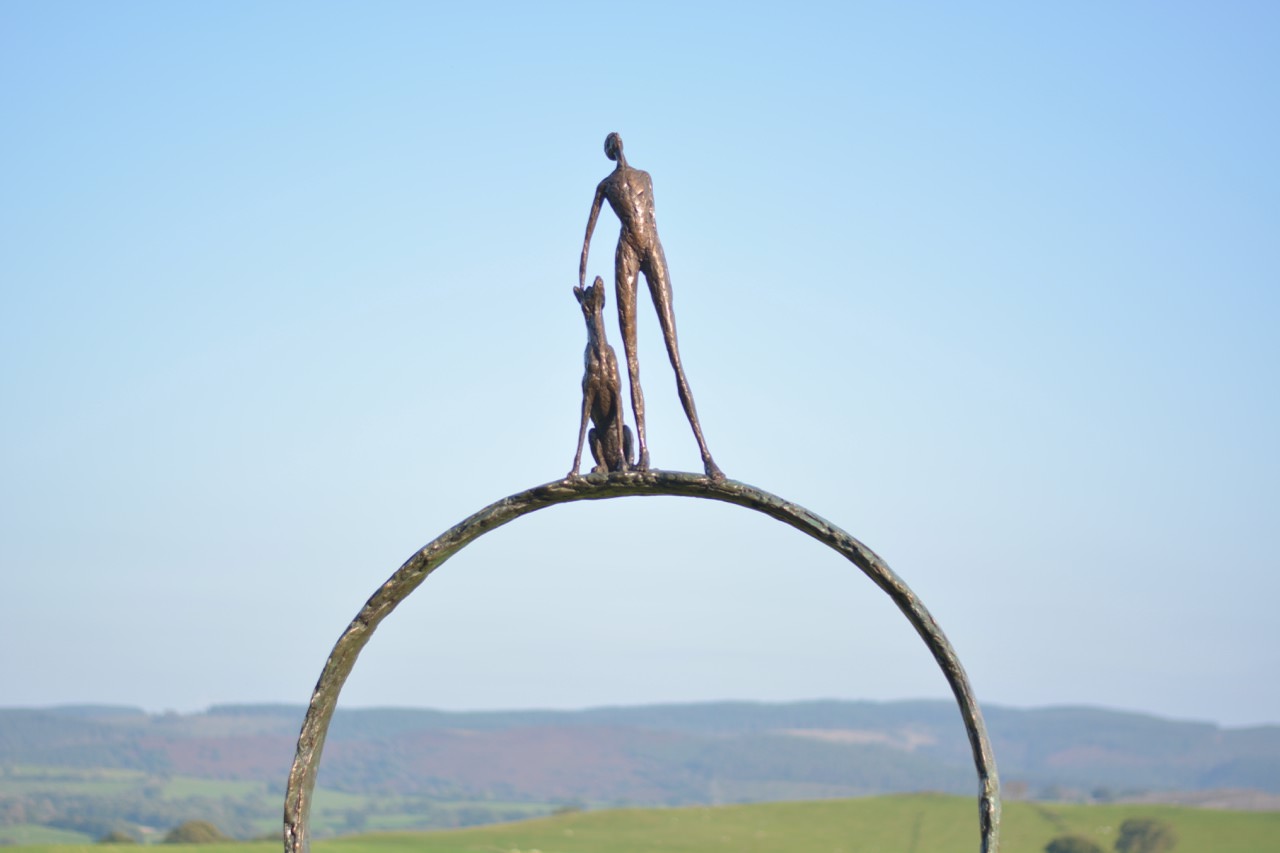 Commission A Bespoke Sculpture
If you would like to commission a made-to-order sculpture, first of all I recommend looking at the information about bespoke sculptures on my commissions page. In particular, this should help guide you on sizing and possibly pricing.
Afterwards, please contact me about your idea.
More sculptures like this